This post may contain affiliate links. Please read our disclosure and privacy policy.
Easy to prep roasted veggie lunch bowls that will make your week so much easier!
These roasted veggie lunch bowls are satisfying, delicious and can serve double duty. Let me explain…On the weekend, I like to make a double batch of a meal like this and I serve it for dinner or a lunch that weekend, then I store the rest in bowls for lunches. These roasted veggie bowls are packed with plant based protein and are so very yummy! The balsamic dressing is so good, I think you guys will really enjoy these.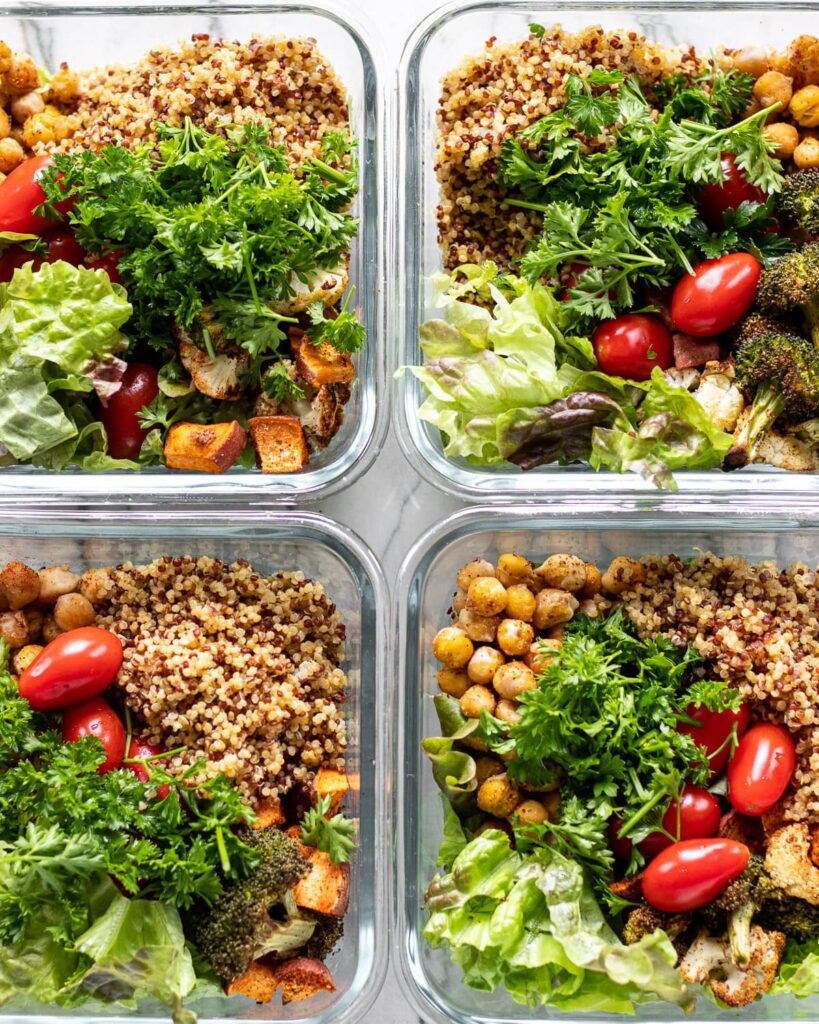 You will need four 4 cup containers to store your salads and four small containers for dressing. The pictured square Pyrex containers are pretty old and I haven't been able to find them in sets. I have bought several sets of these 4.5 cup containers. You get 5 of them and I really love how the lids snap on. Check them out here. I use 4 oz. glass jars for the dressing. They are the perfect size for meal prep and to store leftovers. They are sold in 4 packs and 12 packs on Amazon.
These roasted veggie lunch bowls can be enjoyed fresh while still warm or cold for a satisfying lunch or dinner. The benefits of eating this fresh is the chickpeas are still crispy and the veggies are warm. However, warm or cold, these bowls are delicious!
If you want to try some other meal prep lunch bowl recipes, check out the Easy Mediterranean Lunch Bowls, the Fresh Tex-Mex Lunch Bowls, or the Ramen Veggie Lunch Bowls.
Roasted Veggie Lunch Bowls
These delicious roasted veggie lunch bowls are packed with delicious roasted vegetables, quinoa, fresh veggies and a balsamic vinaigrette!
Ingredients
Salad
2

(15.5 ounce) cans

chickpeas,

drained and rinsed

1

cup

quinoa

1 – 2

cups

vegetable broth

7

cups

raw vegetables

(vegetable suggestions – butternut squash, Brussels sprouts, sweet potato, baby potatoes, broccoli, cauliflower)

1

large

head lettuce

(I used red leaf lettuce)

½

pint

cherry tomatoes

½

cup

chopped parsley
Roasted Veggie Oil and Spices
1 ½

teaspoons

avocado oil

1

teaspoon

cumin

1

teaspoon

garlic powder

1

teaspoon

paprika

½

teaspoon

black pepper

¼

teaspoon

fine sea salt
Chickpea Oil and Spices
1

teaspoon

avocado oil

½

teaspoon

cumin

½

teaspoon

garlic powder

½

teaspoon

paprika

¼

teaspoon

black pepper

pinch of sea salt
Classic Balsamic Viniagrette
½

cup

extra-virgin olive oil

¼

cup

balsamic vinegar

1

tablespoon

honey or maple syrup

1

teaspoon

dijon mustard

1

clove

garlic,

minced

¼

teaspoon

fine sea salt

¼

teaspoon

black pepper
Instructions
Preheat oven to 425°F. Line 2 large baking sheets with a silicone liner or parchment paper.

Drain and rinse chickpeas. Add the chickpeas to one of the baking sheets and dry them some using a towel. Spread them out to dry for a bit.

Cook 1 cup of quinoa using the veggie broth using your preferred method. See notes below.

Chop vegetables in pieces that will bake at similar rates. For example, cut potatoes and other hard veggies in 1/2 inch or smaller pieces. For veggies like broccoli and cauliflower, you can leave them in 1 inch or larger pieces. Brussels should be cut in half. Place all the veggies on the tray. (If you selected any tender veggies to roast, for example, asparagus, this only needs roasted for 12-15 minutes so add those to the tray later)

Add avocado oil (1 1/2 tsp) to the veggies. I use a spray bottle to add the olive oil. Sprinkle the spices on (1 tsp paprika, 1 tsp cumin, 1 tsp garlic powder, 1/2 tsp black pepper, 1/4 tsp fine sea salt). I sprinkle the spices directly from the container to ensure even application. You don't have to be exact on the spices.

Mix veggies with hands and then spread them out on the tray. Place veggies in the oven and set a timer for 15 minutes.

Add oil and spices to the chickpeas (1 tsp avocado oil, 1 tsp paprika, 1 tsp garlic powder, 1/4 tsp black pepper, pinch of salt).

When timer goes off, add the pan of chickpeas to the oven. Flip veggies to ensure even cooking. Cook both the veggies and chickpeas for 15-20 minutes or until chickpeas are crispy and the vegetables are roasted to your liking.

Make the dressing by combining all ingredients in a jar and shake vigorously to combine.

Assemble bowls. Per bowl, add 1 generous cup of lettuce, small handful tomatoes, generous cup of roasted vegetables, 3/4 cup quinoa and 3/4 cup of chickpeas, few tomatoes, and some parsley. Add your dressing to four containers

These bowls will keep for up to five days in the fridge.
Video
Notes
Quinoa cooking directions:
If your quinoa is not pre-rinsed, rinse it by putting it in a fine mesh strainer and rinsing it in the sink under running water. The package should say if it is pre-rinsed. 
Instant Pot: To the Instant Pot, add one cup quinoa, one cup vegetable broth or water, and stir. Secure lid and turn the valve to sealing. Set for one minute high pressure and let it release for 10 minutes. If the red indicator has not dropped, carefully move the valve to release. Wait for the indicator to drop and remove the lid. Fluff it with a fork and let it cool.
Stovetop: In a medium saucepan (3 quart) combine 1 cup quinoa and 2 cups vegetable broth or water. Bring to a boil. Reduce heat, cover and simmer until liquid has evaporated (approximately 15 minutes). Let stand for 5 minutes. Fluff with a fork and let it cool.