This post may contain affiliate links. Please read our disclosure and privacy policy.
Easy healthy granola recipe with oats, coconut, maple syrup, vanilla and cinnamon. So crunchy and perfect to top smoothie bowls and yogurt!
This easy healthy granola is my favorite granola to top beautiful smoothie bowls and yogurt. It is naturally sweetened with maple syrup. This recipe is easily made gluten-free by using certified gluten-free oats. This also features many other pantry staples like oats, pumpkin seeds, coconut, cinnamon and vanilla extract. Likely you will have most of what you need on hand!
You will love how crunchy this granola is! The maple syrup, coconut, vanilla and cinnamon lend a pleasantly sweet taste that is delicious just on its own as a snack or as a topping for your favorite.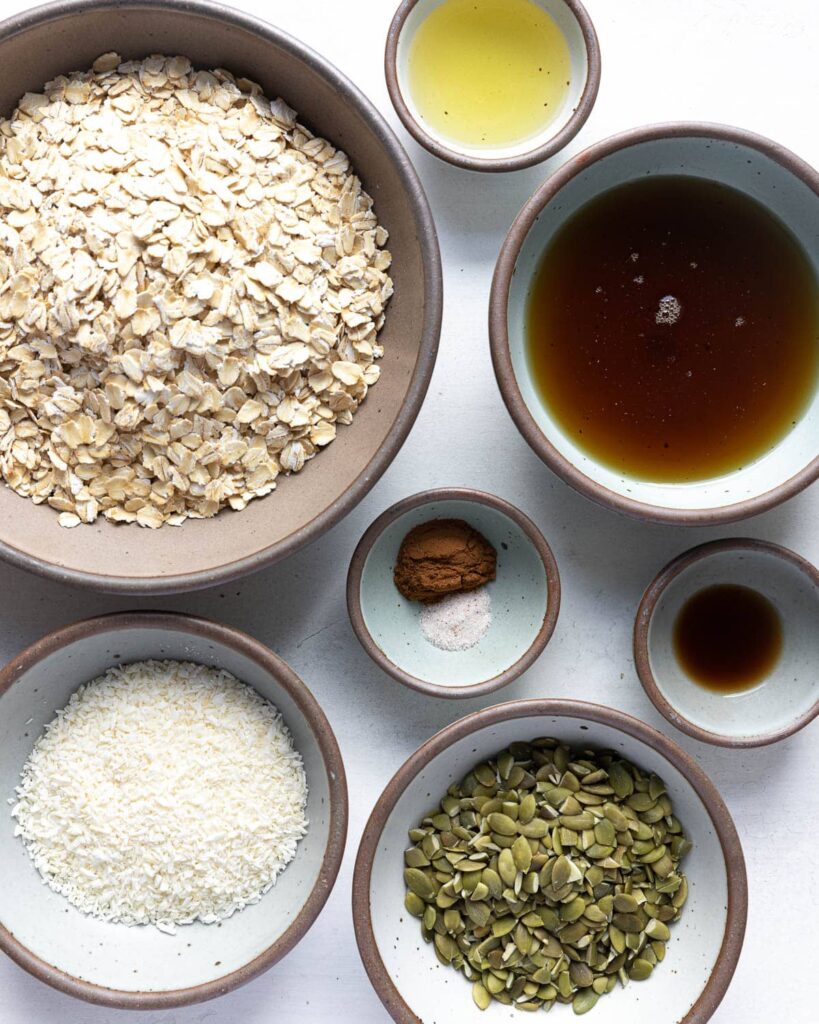 Easy healthy granola ingredients
Rolled Oats
Rolled oats are both hearty and delicious! They are the result of rolling out whole oat groats. I like to buy organic oats as most conventionally grown oats contain glyphosate. Glyphosate is a chemical found in Roundup.
Coconut
Shredded coconut adds a slightly sweet coconut flavor to this granola. There are many varieties from finely shredded to large flakes and chips. Feel free to use whatever you have on hand.
Pepitas
Pepitas are hulled pumpkin seeds. They are green and tender and have a slightly sweet, nutty flavor. Roasting or baking them brings out a more developed flavor.
Maple Syrup
Did you know it takes 30-50 gallons of maple sap to make 1 gallon of maple syrup? Only 10% of the maple tree's sap is collected each year. Some trees can have up to four taps and each tap produces one quart of maple syrup.
Maple syrup contains antioxidants and minerals, including manganese, riboflavin, zinc and magnesium. Be sure to purchase 100% maple syrup as some can be mixed with corn syrup.
Avocado Oil
Avocado oil is my preferred oil for high heat cooking due to its high smoke point. Another great option would be extra-virgin coconut oil. You would need to melt it prior to adding it to the granola.
Salt and Cinnamon
Fine sea salt is preferred for this recipe. Using a larger size salt will result in some pretty salty bites here and there. The cinnamon I prefer is Ceylon cinnamon. Most cinnamon found in grocery stores is Cassia cinnamon.
Cassia cinnamon is considered lower quality and is less expensive. It is more bitter and spicier than Ceylon cinnamon. It contains higher levels of coumarin which can be toxic when consumed in high quantities. Consuming 1-2 teaspoons a day of cassia cinnamon can put you over the recommended limit for coumarin. If you have kidney disease or are on blood thinners, and consume a lot of cinnamon as a supplement or in foods, you should consider speaking to your doctor about it.
Ceylon cinnamon is considered a "true cinnamon." It has a more mild flavor, less bitter flavor and is better quality. It contains much lower amount of coumarin and is considered safer to use in foods and as a supplement. Ceylon cinnamon is more expensive and can be harder to find. I typically buy it from Thrive Market or Vitacost.
How to make easy healthy granola
This granola is so easy to make! First combine the maple syrup, avocado oil and vanilla. Next combine all the dry ingredients and stir together.
Slowly pour the wet ingredients into the dry and stir. Make sure all of the oats are look moistened. Add mixture to a parchment lined baking sheet and bake for 25 minutes at 325°F.
After you let the granola cool completely, use a spoon to break it up into pieces.
How to store this healthy granola recipe
Homemade granola can be stored in an airtight on the counter for up to a week or in the fridge for up to one month. It stays nice and crunchy even in the fridge!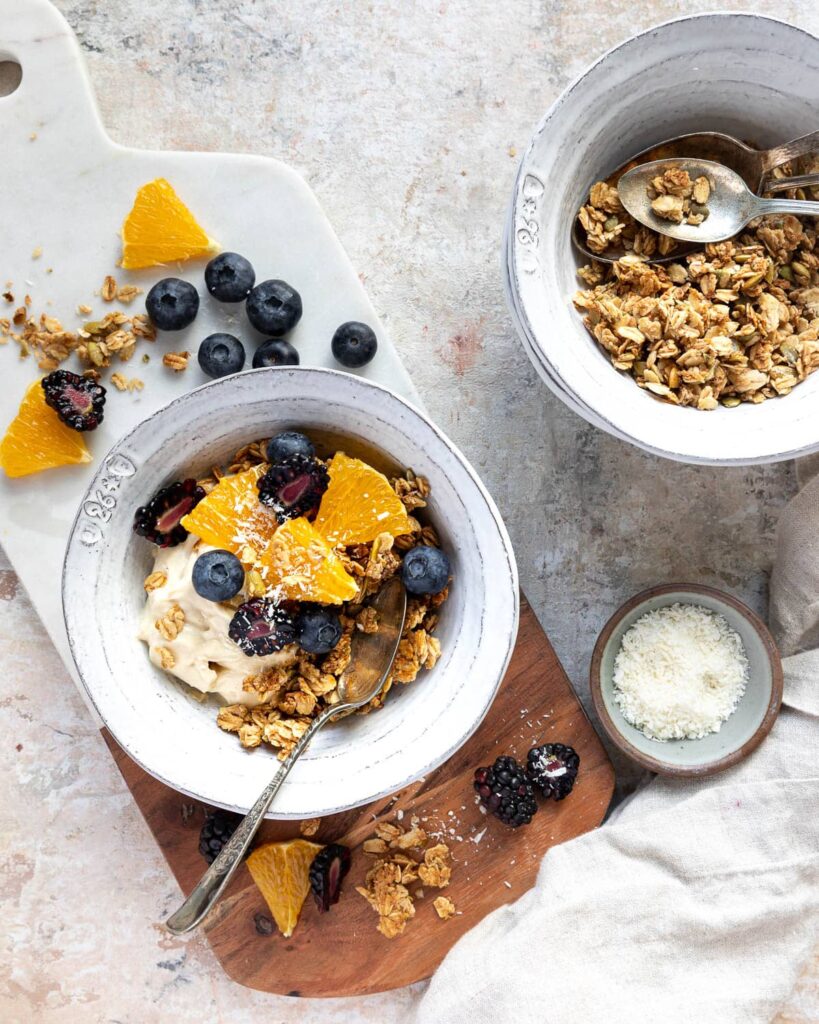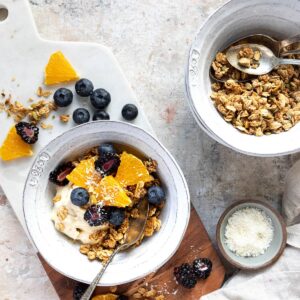 Easy Healthy Granola Recipe
Delicious healthy granola with oats, coconut, maple syrup, vanilla and cinnamon. So crunchy and perfect to top smoothie bowls and yogurt!
Ingredients
½

cup

maple syrup

2

tablespoons

avocado oil

1

teaspoon

vanilla extract

2 ½

cups

rolled oats

(gluten-free if needed)

½

cup

pepitas (hulled pumpkin seeds),

coarsely chopped

½

cup

finely shredded coconut,

sulfite-free

1

teaspoon

cinnamon

¼

teaspoon

fine sea salt
Instructions
Preheat oven to 325°F. Line a large baking sheet (use one with edges) with parchment paper.

In a small bowl, combine maple syrup, avocado oil and vanilla. Stir or whisk to combine.

In a large bowl, add oats, pumpkin seeds, shredded coconut, cinnamon and salt. Stir to combine.

Slowly pour the wet ingredients into the dry ingredients, stirring to combine. Stir until all of the oats look wet and mixture is evenly combined.

Bake for 20 minutes. Granola should look lightly golden.

Let cool completely. After the granola is completely cooled, use a spoon to break the granola up into pieces. Store in a covered container on the counter for up to a week or in the fridge for up to one month.
Notes
Makes 4 1/2 cups of granola.