This post may contain affiliate links. Please read our disclosure and privacy policy.
This wild rice holiday salad recipe is sponsored by USA Rice and the feedfeed. All thoughts and opinions are my own.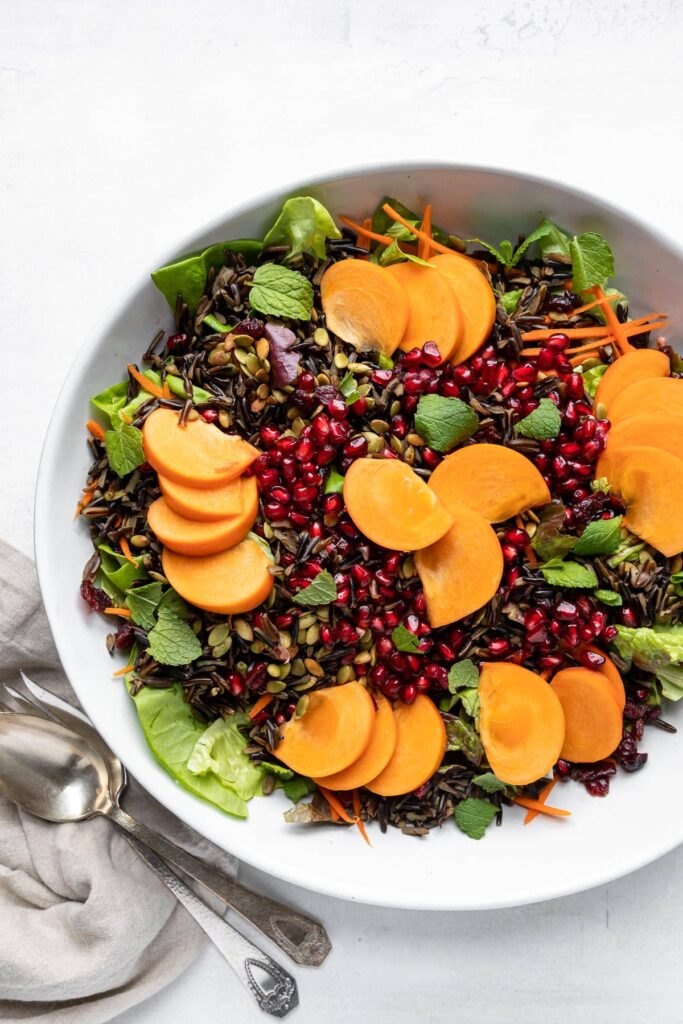 A flavorful salad that is a perfect compliment to your holiday meal!
You and your family will love this flavorful wild rice holiday salad that features wild rice, fresh greens, pomegranate, toasted pumpkin seeds and pomegranate. If needed, this salad is easily made ahead the day before. If you decide to make it ahead of time, prepare the dressing and add it just before serving the salad.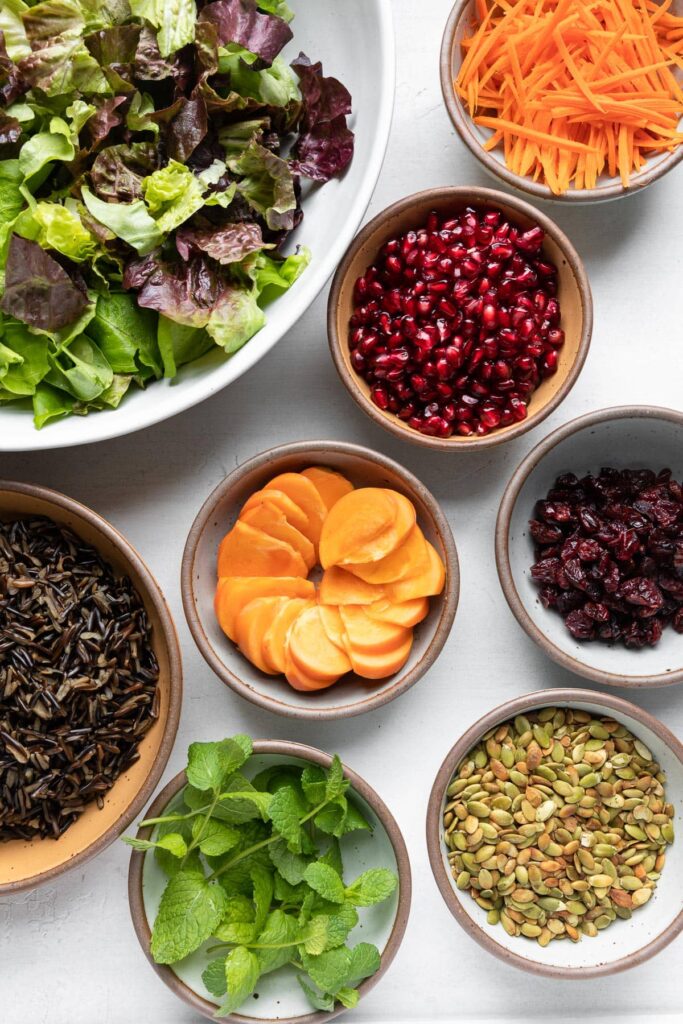 What you need to make this holiday salad
This rice starts with nutty and chewy wild rice! I use U.S.-Grown wild rice. Wild rice is the seed of a native North American long-grain marsh grass. It is mainly produced in California and Minnesota. If you would like to learn more about where and how rice is grown in the U.S., visit thinkrice.com.
For the greens, I suggest using whole head lettuce as it is usually more tender and fresh. This recipe includes red leaf lettuce and butter lettuce. Also, green leaf lettuce is another great choice. Fresh greens are very important!
If you don't have a salad spinner, this is where one comes in handy. After you chop the lettuce, you can add the greens to the colander portion of the salad spinner and wash and rinse them throughly. Then add the lid and spin it dry!
Salads are all about the toppings!
Other toppings for this salad include shredded carrots, toasted pumpkin seeds, dried cranberries, pomegranate, persimmon, mint and a zingy lemon maple vinaigrette.
For the dried cranberries, try to find a brand that does not contain oil and sugar. I buy dried cranberries sweetened with apple juice in health food stores.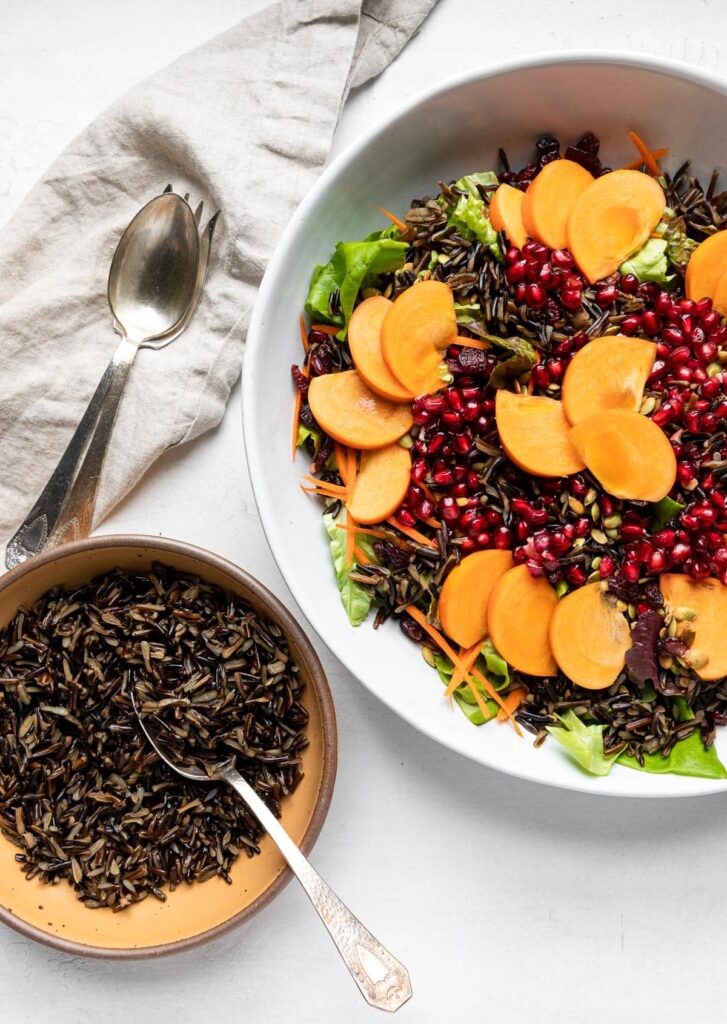 I hope you enjoy this holiday salad! It is:
festive
flavorful
colorful
and makes a beautiful addition to any holiday table.
If you love holiday salads, check out this Roasted Maple Brussels Sprouts Salad with Fresh Lemon Vinaigrette! For meal prep lunch salad ideas, check out a variety of options here.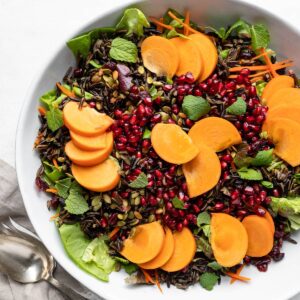 Wild Rice Holiday Salad
This flavorful holiday salad features wild rice, fresh greens, pomegranate, toasted pumpkin seeds and pomegranate. Fresh greens and a zingy lemon vinaigrette make this a salad that everyone can enjoy!
Ingredients
1

cup

U.S. Grown wild rice

½

cup

pumpkin seeds

1

head

red leaf lettuce,

chopped

1

head

butter leaf lettuce,

chopped

1

each

pomegranate,

arils removed

1

each

fuyu persimmon,

sliced

¾

cup

dried cranberries

⅔

cup

extra-virgin olive oil

¼

cup

fresh lemon juice

2

tablespoons

raw apple cider vinegar

3

tablespoons

maple syrup

2

teaspoons

yellow mustard

1

clove

garlic,

minced

½

teaspoon

sea salt

½

teaspoon

freshly cracked black pepper
Optional Ingredients
additional sea salt to taste

mint leaves for garnish
Instructions
Prepare wild rice. I suggest a rice cooker or Instant Pot for the easiest preparation.

-For instant Pot, add 1 1/2 cups water and 1 cup wild rice. Secure lid and adjust valve to "sealing." Select manual, high pressure, 25 minutes. Let naturally release for 10 minutes and then move the valve to "venting." Remove the lid, fluff with a fork and let cool.

-To prepare on a stovetop instead, in a medium sauce pot, bring 4 cups of water, 1 cup wild rice and salt to taste, to a boil. Reduce heat, cover and simmer for 50-55 minutes. Fluff with a fork and let cool.

While the rice is cooking, prepare the other ingredients. Start by toasting the pumpkin seeds. Add to a preheated pan on medium heat. Toast for 5 minutes, stirring frequently, to prevent the seeds from burning. Once toasted, remove from heat and set aside.

For the dressing, combine all ingredients in a resealable jar and shake to combine (extra-virgin olive oil, fresh lemon juice, raw apple cider vinegar, maple syrup, yellow mustard, garlic, sea salt, freshly cracked black pepper).

Build your salad by adding the greens to a large serving bowl, then top with the wild rice. Next, layer the remaining toppings over the rice. Add the dressing just before serving.