This post may contain affiliate links. Please read our disclosure and privacy policy.
Smoothie bowls that naturally satisfy your sweet tooth and even contain a hidden veggie!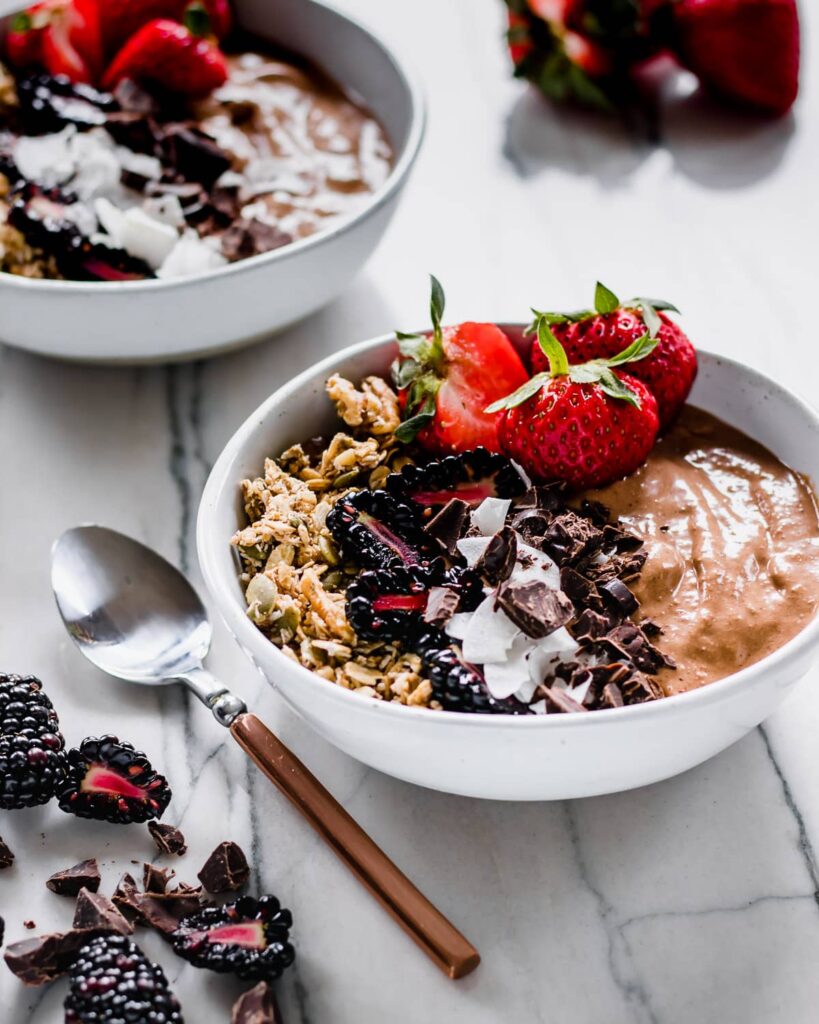 These chocolate and peanut butter smoothie bowls are a delicious way to start the day! In these bowls we have lots of plant based fiber, natural sweetness, healthy fats, antioxidant packed berries, and even frozen cauliflower. Imagine a healthy chocolate and peanut butter milkshake!
Chocolate and Peanut Butter Smoothie Ingredients
How to freeze cauliflower and bananas
Before we get too far into the ingredients, please note that you must freeze some cauliflower and bananas in advance. To freeze cauliflower, I wash a cauliflower, trim ends and then I cut it into florets. I also use the stem and the leaves. Everything goes into a freezer bag and straight into the freezer. There is no need to blanch or steam the cauliflower first if you are going to use it relatively quickly.
To prep some frozen bananas, wait until your bananas are spotty. Then peel them, break them into several pieces and put them in a container or freezer bag before putting them in the freeze. I recommend only having one layer to prevent them from sticking together. Alternatively, you can freeze the banana pieces on a tray and then put them in a container once frozen.
Ground flax seed
You can buy flax seed already ground. I buy whole flax seed and grind it in small batches in my coffee grinder. Flax can oxidize quickly once ground, so I prefer to do it this way. Once I grind it, I put it in the freezer.
Flax seeds are high in omega 3's and fiber. They are a rich source of lignans which may help prevent cancer. Lignans are plant compounds that have both estrogen and antioxidant properties which can help lower the risk of cancer. Flax seeds may help reduce cholesterol and lower blood pressure. It is even recommended in the book How Not to Diet by Dr. Michael Greger to help with weight loss.
Raw cacao powder
Raw cacao is made by cold-pressing unroasted cacao beans. The process keeps the living enzymes in the cacao and removes the fat or cacao butter. Cocoa powder is raw cacao that has been roasted. In the process, it looses the living enzymes and some of the nutritional value
Raw cacao has more antioxidants than acai berries, goji berries and blueberries! It has been shown to help lower insulin resistance, reduce blood pressure, and reduce risk of cardiovascular disease. Raw cacao contains magnesium, iron, potassium, calcium, zinc, copper, and manganese.
To get smoothie bowls to blend really well, you need a high speed blender. I use a Vitamix. A Blendtec would work great as well. The Vitamix has a tamper that helps blending things like this. If this works using a regular blender, please let me know in the comments so that I know. I appreciate it!
If you like your smoothie bowls super thick, reduce the amount of almond milk. You can always add more later to help with blending. This recipe makes a smoothie that is similar to soft serve ice cream.
Lastly, if you are looking for the best granola to put on top of your smoothie bowls, try this Easy Healthy Granola Recipe. It is super crunchy and so very delicious on top of smoothie bowls! I hope you try it.
These Chocolate and Peanut Butter Smoothie Bowls are:
decadent
chocolatey
satisfying
great to share with someone you love!
Do you love smoothies? Try these next: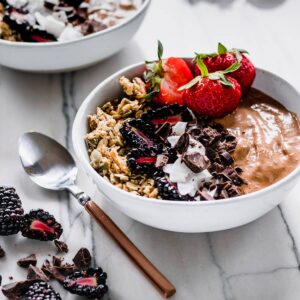 Chocolate and Peanut Butter Smoothie Bowls
Chocolate and Peanut Butter Smoothie bowls that naturally satisfy your sweet tooth and even contain a hidden veggie!
Equipment
High speed blender (i.e. Vitamix, Blendtec)
Ingredients
¾

cup

almond milk

2

tablespoons

ground flax seeds

1

cup

frozen cauliflower florets

¼

cup

natural peanut butter

(just peanuts and sea salt)

3

tablespoons

raw cacao powder

2

large

frozen bananas

1

tablespoon

maple syrup
Optional toppings
Granola, chopped dark chocolate, berries, coconut, peanut butter
Instructions
Prepare toppings (cut up fruit, get out the granola and other toppings).

To a high speed blender, add almond milk and ground flax. Blend for a few seconds.

Next add raw frozen cauliflower, natural peanut butter, cacao powder, frozen bananas, and maple syrup.

Blend thoroughly. I have a vitamix and I have to use the tamper and add a splash of almond milk on the top to get it going. All blenders are a little different. If you do not have a high speed blender like a Vitamin or Blendtec, you may have to add more almond milk to get it to blend. If it gets too runny, you can always put it in a container and place it in the freezer for about 30 minutes to firm up before you eat it.

Add some granola or other toppings to the bottom of two bowls. Add the smoothie mixture, and then add any toppings you like. Enjoy immediately.
Notes
If you do not have ground flax, you can quickly make your own ground flax. Add 2 tablespoons of whole flax seeds to your high speed blender and blend until they are ground into a meal. Then add your almond milk and other ingredients.