This post may contain affiliate links. Please read our disclosure and privacy policy.
Healthier Peanut Butter Cookies that are delicious, vegan and gluten-free!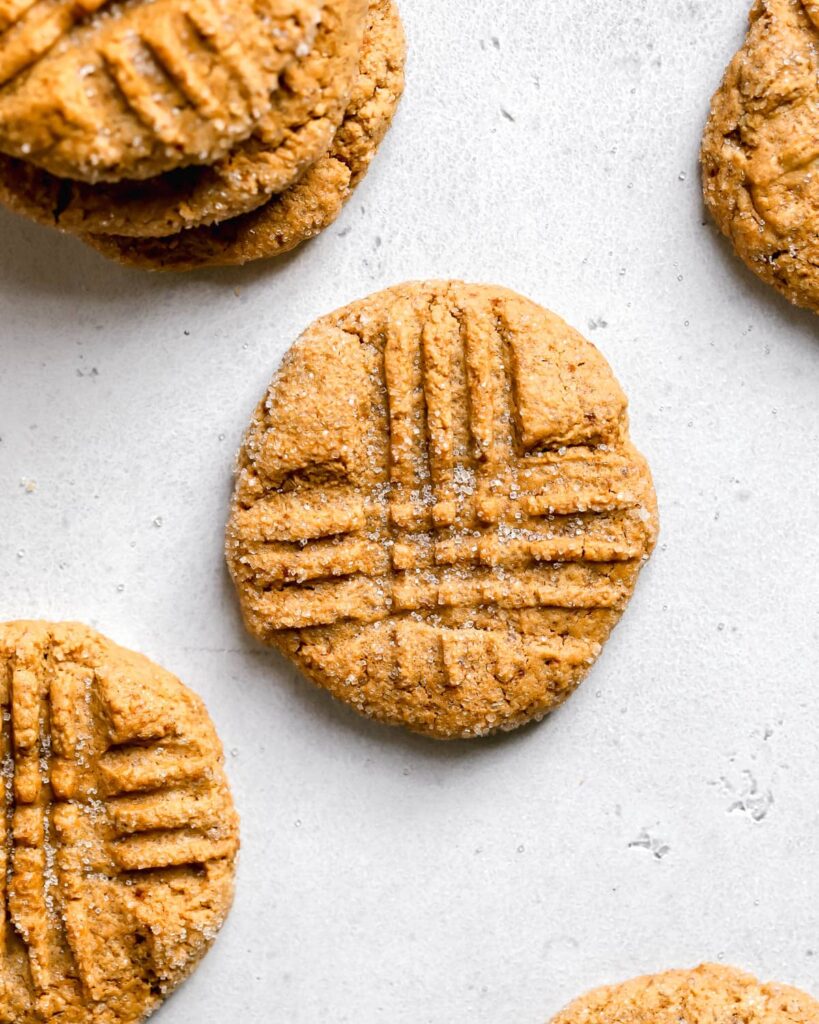 Peanut butter cookies are one of the things I remember making with my mom. I honestly don't remember too many things from my childhood but I remember making these cookie and doing the little crisscrosses on the top with a fork. These cookies are a healthier version of the classic peanut butter cookies. They are crispy on the outside and soft on the inside. They happen to be both vegan and gluten-free! I love to dip them in almond milk. They are so delicious. I hope you try them!
Let's discuss some of the healthier ingredients we will use for these peanut butter cookies
How to make flax eggs
First you will make two flax eggs. You need ground flax seeds and warm water. When you combine the two and let them sit for a few minutes, they thicken and help bind the ingredients together. I buy my flax seeds whole and grind them using a coffee grinder. I grind small batches and store the ground flax seeds in the freezer to keep them fresh. Most recipes that call for flax eggs use a ratio of 2.5 or 3 tablespoons of water to 1 tablespoon of ground flax. We are using a ratio of 2.5 to 1. Since we want 2 flax eggs, we combine 2 tablespoons of ground flax seeds with 5 tablespoons of warm water. I like this brand.
After you make the flax eggs and let it sit for three to five minutes to thicken, you will add peanut butter, maple syrup, coconut sugar and vanilla extract.
The importance of stirrable peanut butter
You want to use natural peanut butter that is just peanuts and sea salt or just peanuts. It must be a stirrable type and not a solid, thick kind of peanut butter. There will be some separation at the top of the jar. It's important to give it a good stir before measuring out is needed. Do not make the mistake of using a thick peanut butter with added sugar. It will make the cookies too sweet, you will not be able to stir it in, and it will affect the consistency of the cookies.
Coconut sugar, also called coconut palm sugar, is derived from the sap of a coconut palm. It is an unrefined sugar that still contains minerals like iron, zinc, potassium and calcium and even contains antioxidants. It is brown in color and lends a brown color to most baked goods. While it is a healthier alternative to white refined sugar, it is still sugar; which means it is high in calories. Consumed in excess, added sugars may contribute to weight issues, diabetes and other diseases. You can find coconut sugar in most grocery stores in the sugar section or in the natural foods area.
Vanilla extract is non-negotiable in baking! It adds a warming vanilla flavor that you will find in almost every cookie recipe.
Gluten-free flour
After you have the wet ingredients mixed together, you will add in gluten-free flour, oat flour, baking soda, arrowroot starch and sea salt. For gluten free flour, I use Bob' Red Mill Gluten free 1 to 1 Baking Flour. You can use it to replace wheat flour in any recipe that calls for regular flour. I have found this particular blend to have a great flavor, and when used in the right proportions, you can't even tell you aren't using regular wheat flour. You can certainly replace this ingredient with flour or a better alternative would be spelt. I did not test the recipe like this, but see no reason why it would not work out well.
How to make oat flour
Oat flour is made by simply grinding up oats. You can buy it already ground or you can do it in a high speed blender. I make my own in my Vitamix. You simply add a cup of oat flour to the blender and let it run for about 30 seconds or until it is mostly finely ground. Store the extra oat flour in the fridge in a sealed container. If you do not consume gluten and need gluten-free oats, make sure you buy certified gluten free oats.
Arrowroot starch is also called arrowroot flour. It is a starchy substance that's extracted from the root of a tropical plant known as Maranta arundinacea. Arrowroot starch can be used as a thickener, similar to cornstarch. In baked goods, it is used as part of gluten free flour mixtures or in Paleo recipes (since it is grain free). I find that it helps crisp up baked goods like cookies, so this is why it is included in this recipe.
How to make healthier peanut butter cookies
After you have your dough ready, you are ready to make little balls, roll them in sugar and make your crisscross on top before baking. I use a 1 1/2 tablespoon scoop like this one. After you have the dough scooped, roll each into balls and the roll them in the sugar.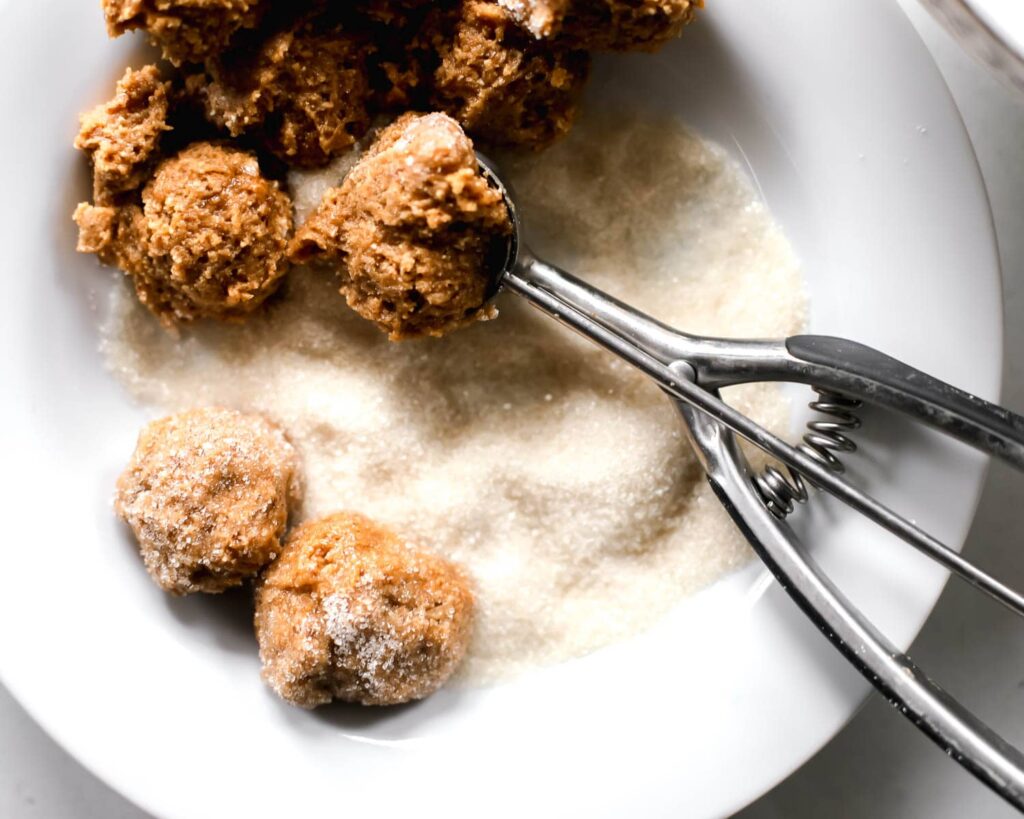 Place each one on your baking sheet, spaced out to give each one some room, and make a crisscross on the top using a fork and a bowl of warm water. Dip the fork in the water, shake excess from fork, then make a crisscross on top. Make sure you shake the excess water from the fork before you press each one. Each cookie should end up about 1/4 of of inch thick, similar to the below photo.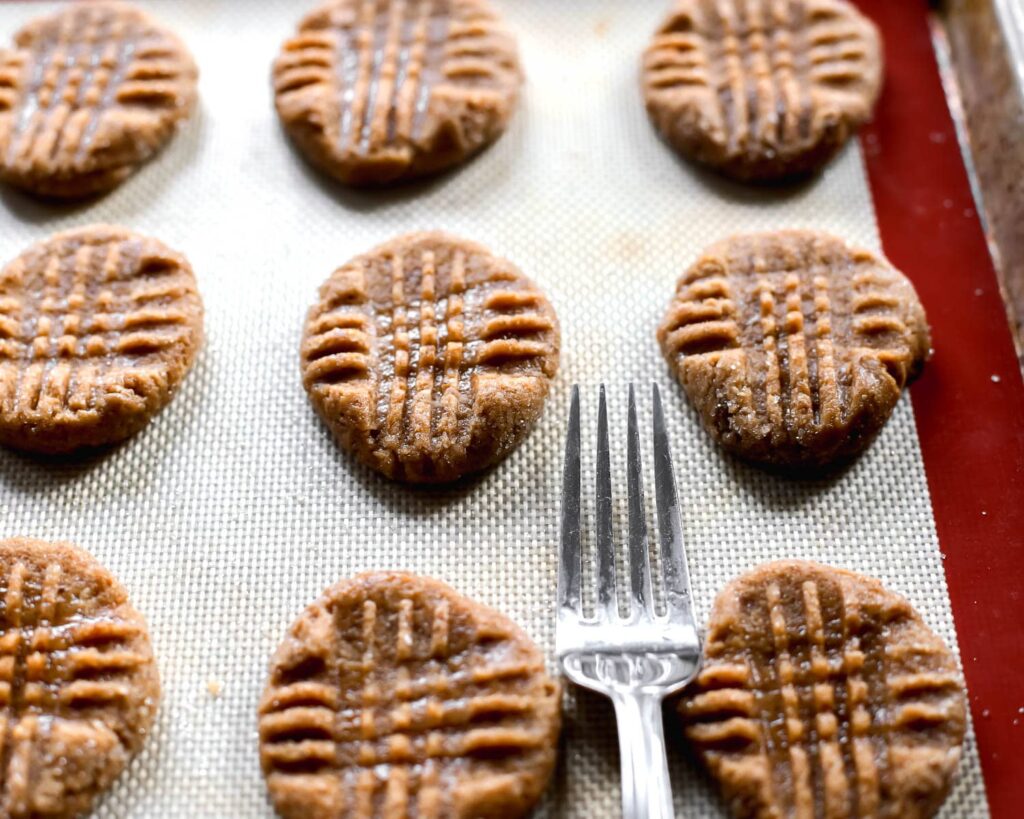 I hope you love these cookies! They are:
crispy on the outside and soft on the inside
just the right amount of sweet
perfect dunked in milk
delicious!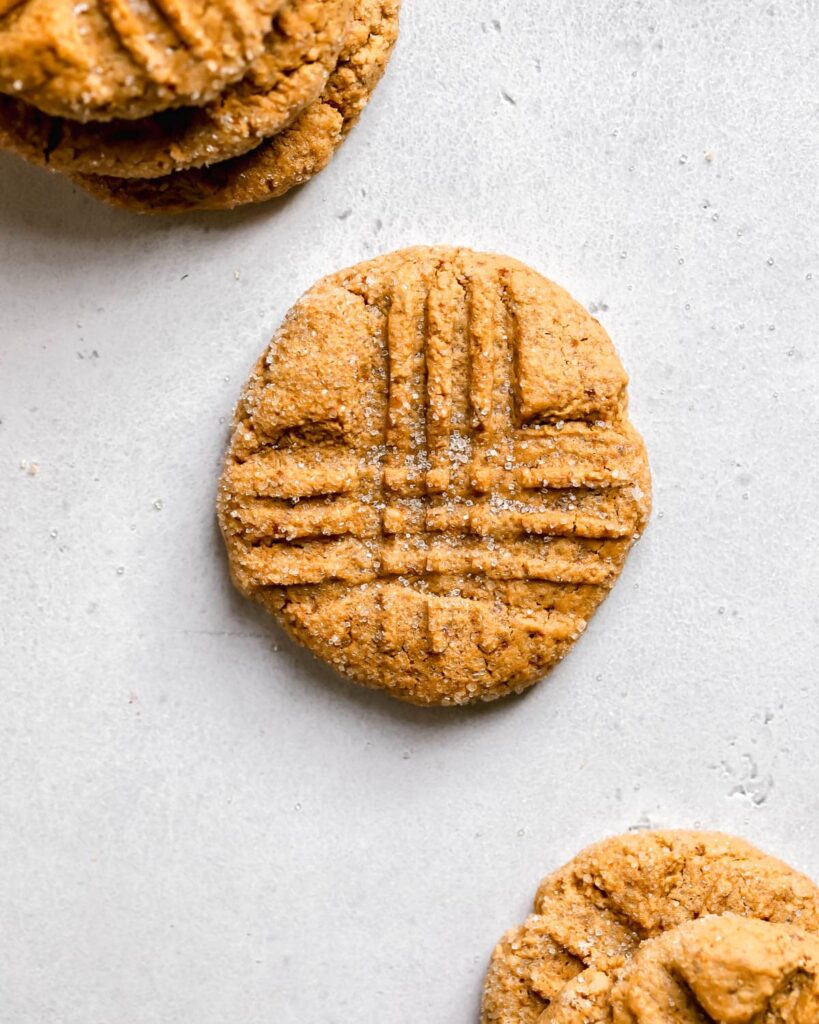 If you love peanut butter, look no further than these Double Peanut Butter Cup Cookies! These Chocolate Chip and Oat Cookie Bars get rave reviews! They are a great vegan and gluten-free treat to keep on hand or take to a get together.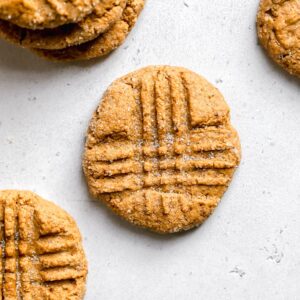 Healthier Peanut Butter Cookies
Healthier Peanut Butter Cookies made with just one bowl and are so deliciousl! They are both vegan and gluten-free.
Ingredients
2

flax eggs

(2 tablespoons ground flax seeds and 5 tablespoons warm water)

1

cup

stirrable natural peanut butter

(just peanuts and sea salt)

½

cup

maple syrup

½

cup

coconut sugar

1

teaspoon

vanilla extract

½

cup

oat flour

½

cup

gluten-free flour

3

tablespoons

arrowroot starch

1

teaspoon

baking soda

¼

teaspoon

sea salt

3

tablespoons

organic pure cane sugar
Instructions
Preheat the oven to 350°F.  Prepare two large baking sheets with parchment paper.

In a medium sized bowl, combine 2 tablespoon ground flax seeds with 5 tablespoon warm water.  Stir and let rest for 3-5 minutes.  In the meantime, you can prepare and measure other ingredients.

Stir the peanut butter before measuring it out. To your bowl add 1 cup peanut butter, ½ cup maple syrup, ½ cup coconut sugar and 1 tsp vanilla.  Stir thoroughly.

To your bowl add remaining ingredients (except the pure cane sugar); 1/2 cup oat flour, 1/2 cup gluten free flour, 3 tablespoons arrowroot starch, 1 teaspoon baking soda, 1/4 teaspoon sea salt.  Stir to combine until just mixed.  Do not over stir.

 Using a 1 ½ tablespoon scoop, measure out the dough and roll into balls.  I am just a smidge generous while scooping.  Roll each ball in the pure cane sugar and place each one on the cookie sheet, dividing them between the two sheets. 

Press each cookie flat and make a crisscross pattern on top.  To do this, dip a fork in a small bowl of warm water, shake off excess and press onto top of cookie. Press it again with the fork crosswise. Make sure you are doing a good job shaking off the excess water so there is not a lot of excess moisture sitting on top of each cookie.

Place in oven for 15 minutes.  If you like very soft, delicate cookies, bake for 13 minutes. Remove from oven and let cool on baking sheet for 5-10 minutes, then move to a cooling rack.    Store in a sealed container on the counter for up to 3 days or in the fridge for up to a week. They can also be frozen for up to 3 months.
Notes
The peanut butter I use is just peanuts and sea salt. If your peanut butter does not have any salt in it, bump up the salt by a bit (1 or 2 pinches).
When I make oat flour, I make several cups worth so I have it on hand.  I place it in an airtight container or a sealed bag in the refrigerator.  To make oat flour, add 2 cups of rolled oats to a blender or food processor and blend/process until you have a fine flour. In a high speed blender this takes about 20-30 seconds.  In a regular blender or food processor it may take 1 minute.