This post may contain affiliate links. Please read our disclosure and privacy policy.
These cookies are for all my peanut butter loving friends!
These cookies are called double peanut butter cup cookies because there is peanut butter in the dough and we also use peanut butter cups. You can never have too much peanut butter right? These cookies are vegan and gluten-free.
It's funny because my husband told me the other day he doesn't like candy in cookies. Umm haha, I've proved him wrong and it won't be the last time! (evil laugh)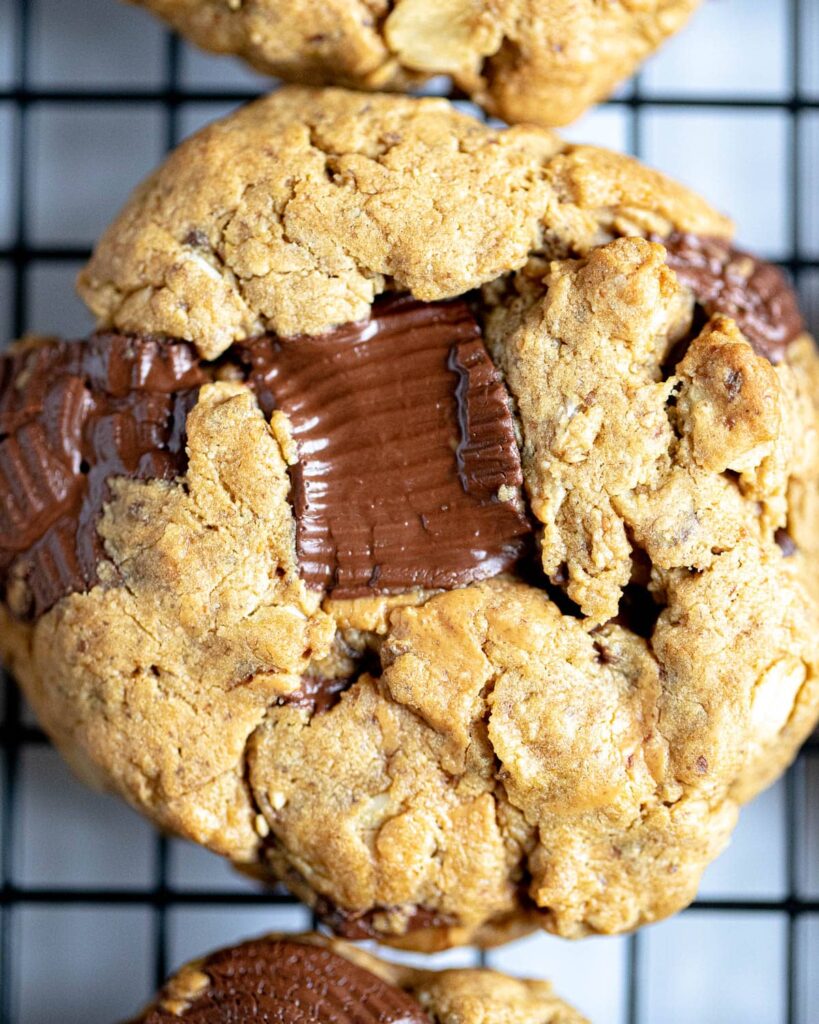 How do you make a flax egg?
So you are probably familiar with my cookie drill by now. I always start with making flax eggs. Why do I use flax eggs? Because I don't regularly eat eggs and because ground flax is a wonderful source of healthy fats and fiber. The ground flax mixed with water become a binding agent that works like egg in a recipe.
I buy my flax seeds whole and grind them in small batches in a coffee grinder. Any extras get stored in a small container in the freezer. I also store my flax seeds either in the fridge or freezer to help preserve them. So after you combine your ground flax and warm water you will let it set for 3-5 minutes. The longer you let it set, the more gelled up it will get. It honestly does not matter if you wait 3 or 5 minutes, it's totally up to you. I'm a little impatient, so I generally go with 3 minutes.
How to make Double Peanut Butter Cup Cookies
After you flax egg is prepared, you add in your peanut butter. I buy natural or organic peanut butter that is just peanuts and sea salt. You will see some separation at the top of the jar which is natural. Make sure you stir it before you measure out 1/2 cup.
Next, add in the rest of the wet ingredients: maple syrup, coconut sugar, avocado oil and vanilla, and give it a good stir.
This recipe calls for rolled oats. Rolled oats are also called old fashioned oats and whole rolled oats. They are whole oats which have been rolled out and pressed. I did not test this recipe with quick oats and do not recommend you using them. However, if that is all you have on hand you could use them. I would try using just a tiny bit less than a 1/2 cup, or in other words, a scant 1/2 cup.
For gluten free flour, I use Bob' Red Mill Gluten free 1 to 1 Baking Flour. You can use it to replace wheat flour in any recipe that calls for regular flour. I have found this particular blend to have a great flavor, and when used in the right proportions, you can't even tell you aren't using regular wheat flour.
After you add the rolled oats and gluten free flour, you will add baking soda and sea salt, then give it a stir.
Choosing peanut butter cups and chocolate chips
I suggest using Justin's mini dark chocolate peanut butter cups. At my local grocery store, they have them in the natural aisle near the chocolate. These peanut butter cups are organic and are a better choice compared to a brand like Reese's which includes the preservative TBHQ in them.
TBHQ is a controversial food additive that helps preserve foods. It has been proven to be safe in small doses but toxic in large doses, so it is something that I choose to avoid. I unwrap the chocolates line them up in a couple rows and chop them into quarters. In this way, you still get some good chocolate and peanut butter chunks in your cookies. If you chop them too small, you won't get the same effect.
I love using Enjoy Life's chocolate chips! They are so good and are super clean. I use both the dark chocolate chips and the semi-sweet. They are both good in this recipe, so it is up to you.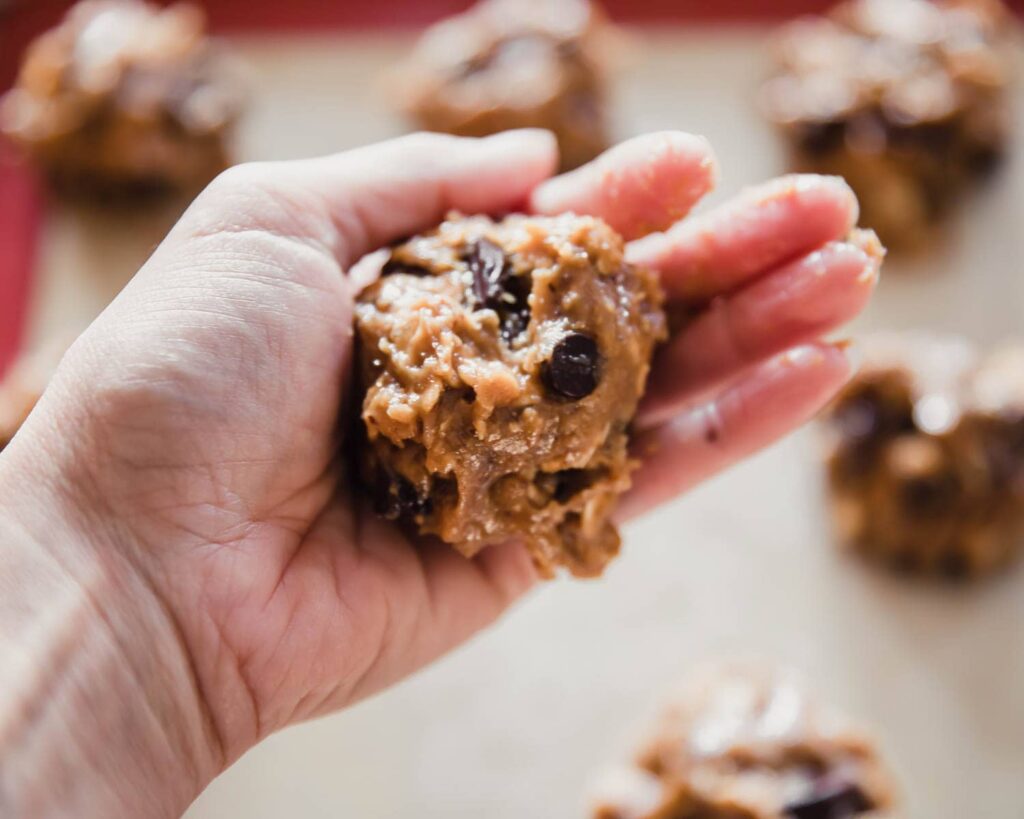 Last but not least, you fold in the peanut butter cups and chocolate chips! Now you are ready to get to the fun part! Using a spoon, take a spoonful and make a ball roughly the size of a golf ball or a bit smaller. Your dough will be a bit stickier and softer than traditional cookie dough. Place each one on your baking sheet.
This is the most important step for double peanut butter cup cookie success!
You must press each one to the desired shape before baking them. This is a very important step as they will not spread on their own. See the below photo to get an idea of how thick they should be.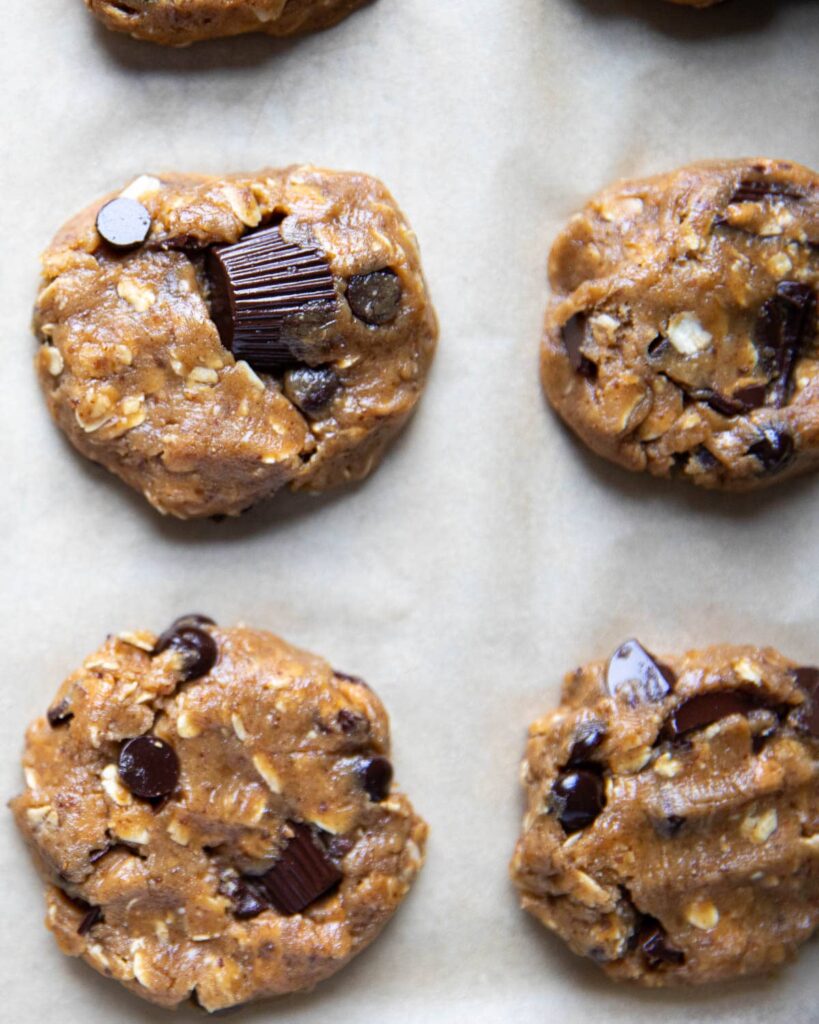 Also try these Vegan Chocolate Chunk and Tahini Oatmeal Cookies! They are equally delicious and of course are a healthier treat!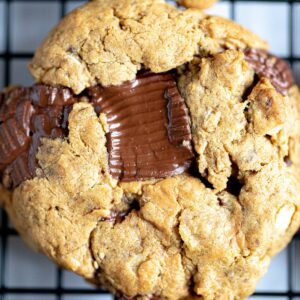 Double Peanut Butter Cup Cookies
These double peanut butter cup cookies are a healthier version and include hearty oats! They are vegan, gluten-free and delicious!
Ingredients
2

flax eggs

(2 tablespoons ground flax seeds and 5 tablespoons warm water)

½

cup

stirrable natural peanut butter

(just peanut and salt) see recipe notes

¼

maple syrup

¼

coconut sugar

2

tablespoons

avocado oil

1

teaspoon

vanilla extract

½

cup

rolled oats

½

cup

plus two tablespoons gluten-free flour

½

teaspoon

baking soda

¼

teaspoon

sea salt

12

mini dark chocolate peanut butter cups,

cut in quarters

¼

dark or semi-sweet chocolate chips
Instructions
Preheat oven to 350°F.  Prepare a large baking sheet with parchment paper or a silicone baking sheet.

In a medium sized bowl make two flax eggs by combining 2 tablespoons ground flax seeds with 5 tablespoons of warm water.  Stir and let rest for 3-5 minutes.  In the meantime, you can prepare and measure other ingredients.

Stir the peanut butter before measuring it out. To the same bowl add peanut butter, maple syrup, coconut sugar, avocado oil and vanilla.  Stir thoroughly.

To the same bowl add rolled oats, gluten free flour, , baking soda, 1sea salt.  Stir to combine until just mixed.  Do not over stir.

Fold in the chopped peanut butter cups and chocolate chips.

Scoop spoonfuls and make approximately golf ball sized balls. Space them out on the cookie sheet. Press each one to spread them and shape them as desired. This step is important as these cookies will not spread on their own.

Bake in the oven for 16 minutes or until slighly golden on edges. Remove from oven and let cool on baking sheet for 5-10 minutes, then move to a cooling rack. Store in a sealed container on the counter for up to 3 days or in the fridge for up to a week. They can also be frozen for up to 3 months. 
Video
Notes
The peanut butter I use is just peanuts and sea salt. If your peanut butter does not have any salt in it, bump up the salt by a bit (a pinch or two). The peanut butter should be stirrable with a spoon.  Most natural peanut butter separates some and you must stir it to combine the oil and peanut butter before using.  Do not use a thick, peanut butter like Jif. It will not easily stir into the mixture and will affect the overall flavor and texture.