This post may contain affiliate links. Please read our disclosure and privacy policy.
Aromatic and grounding spices and tomatoes make this savory dish so comforting and delicious!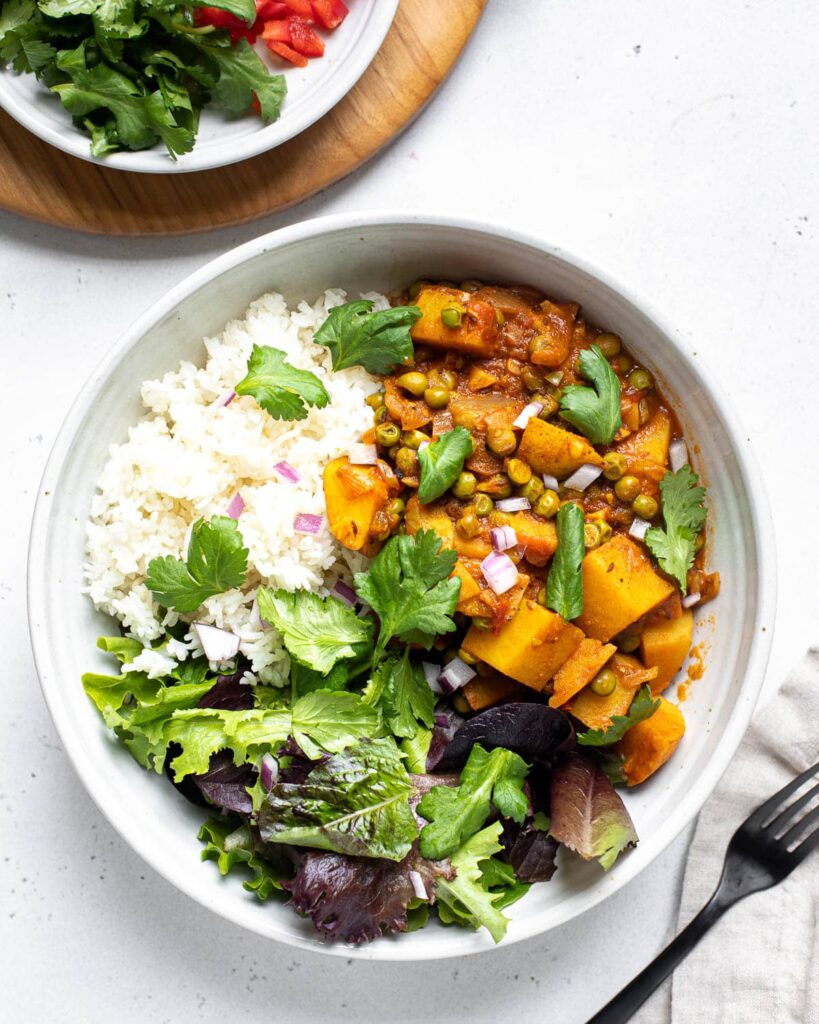 Indian dishes are so warming and flavorful and this potato and pea curry is no exception! The thing I love about Indian food is, it is so easy to accommodate different types of eaters and it's easy to make dishes vegetarian or vegan. This is a simplified Aloo Matar recipe or potato and pea curry. This recipe has so many wonderful warming spices and flavors.
Aloo Matar, also called Aloo Mutter, is a Punjabi dish consisting of potatoes, peas, tomatoes and spices. Punjabi cuisine originates in the Punjab, a region on the northern part of India. Aloo matar is naturally a vegan dish and is considered a favorite Indian dish in India.
This recipe is not super spicy; it is mildly spiced. If you want very mild, do not use the serrano/jalepeño. If you want mild use 1/2 of a pepper, for medium, go with one, and if you want spicy, well you do you! I'm a medium spicy kinda girl but when I am making dinners for my family, I keep things spiced very mildly so that my youngest can eat it.
Both of my boys love this recipe! I love finding plant based dinners that everyone will eat. My husband and my boys eat some meat, and I do not eat meat. Therefore, finding something that everyone can enjoy is a win in my book!
Aloo Matar ingredients
You want to cook with an oil that can withstand high heat and does not easily go rancid. Another issue with cooking oils is that some contain GMO ingredients, like canola oil for example. I recommend cooking with avocado oil. The refined (versus unrefined) variety of avocado oil withstands up to 500°F. I buy large bottles from Costco of the Chosen Foods brand. My local grocery store also carries this brand.
Once you have heated the pan and added the avocado oil, you will add some whole cumin seeds until they crackle (one minute or less). You can find whole cumin seeds in Indian grocery stores, places like Amazon, and Thrive Market. If you don't have any, you can add some extra ground cumin later in the process.
I never realized how much more flavorful, sweet and crunchy red onions are in cooked recipes until I started cooking with them more often. I noticed my favorite local Indian restaurant cooks with them all the time, and I really think they add incredible flavor.
Let's get spicy
Next, you will add garlic, ginger and serrano or jalapeño pepper. If you have never peeled ginger before, the quickest method is to use the back of a spoon to scrape off the skin. To mince up the ginger, you will need a large, heavy knife. Another good option is to grate it using a microplane grater like this one. I've had this zester/small grater for years and it is still sharps and works so well. Please be sure to use a glove while using it, as it is very sharp. In regards to the serrano or jalapeño, please remember to de-seed your pepper! If you don't, your dish will be noticeably spicier.
You can find the ground spices (cumin, coriander, garam masala, turmeric, and curry) at most grocery stores. Each of these spices lends a different flavor and quality to this dish. Turmeric is widely known for its anti-inflammatory properties and for adding an earthy, slightly bitter, and grounded taste to foods.
Why gold potatoes
I prefer to use gold potatoes for everything. They have a creamy consistency and a thin skin that is perfect for cooking. Because of their thin skin, you do not have to peel the potatoes, which is an added bonus.
The last ingredient to discuss is basmati rice. Basmati rice is a thin, long grain rice that is known for its aromatic fragrance. This rice is the best type of rice to serve with Indian dishes. If you have never tried it, please give it a try. It is naturally less sticky, and easily separates and fluffs with a fork. You will find basmati rice next to the other rice in your grocery store and sometimes in the ethnic section of the store.
If you've made it this far, let me tell you a super short story. When my husband and I were younger, we went out to eat ALL of the time. I wasn't too into putting effort into cooking and quite frankly, I didn't know how to make very many dishes. My definition of a salad was a bagged salad mix with cheddar cheese, Hidden Valley Ranch dressing and Bac-Os on top. OMG.
Anyway, a new Indian restaurant opened up in our little town and I really wanted to try it. My husband decidedly told me "I don't do curry." Haha. So somehow I talked him into it. He was hooked right away and to this day, Indian food is one of his most favorite things to eat. Go figure?! Ha. "I don't do curry." We still say that to this day and joke about it.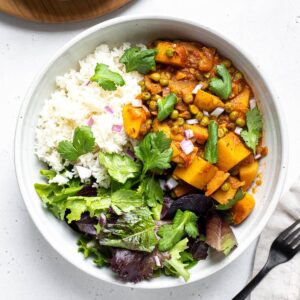 Aloo Matar (Potato and Pea Curry)
This aloo matar is a delicious warming potato and pea curry. Aromatic and grounding spices and tomatoes make this savory dish so comforting and delicious!
Ingredients
1 ½

tablespoons

avocado oil

2

teaspoons

cumin seeds

½

red onion,

finely diced

4

cloves

garlic,

minced

1 ½

inches

ginger root,

peeled and minced

½ -1

serrano or jalepeño pepper,

to taste, minced

1

teaspoon

curry

1

teaspoon

turmeric

1

teaspoon

cumin

1

teaspoon

coriander

½

teaspoon

garam masala

1 ½

teaspoons

sea salt

½

teaspoon

black pepper

2

pounds

gold potatoes,

washed and diced into 1/2 inch pieces (approximately 5 medium potatoes)

1

(14.5 ounce) can

diced tomatoes

2 ½

cups

water

1

(16 ounce) bag

frozen peas
For serving
Prepared basmati rice

Cilantro and greens
Instructions
In a 4 quart dutch oven or other large pot, add avocado oil and turn a burner to medium heat. If you have not prepared the rice yet, prepare the rice per the package directions or see below for instant pot basmati rice option.

Once heated add the cumin seeds and sauté until they crackle. Add the red onion and sauté about 5 minutes, then add garlic, ginger and serrano/jalapeño. Sauté an additional 1 minute, then add the spices (curry, turmeric, cumin, coriander, garam masala, salt and pepper). Saute for one to two minutes.

Add potatoes ,can of diced tomatoes, and 2 ½ cups of water. Turn up the heat until bubbling and give it a good stir. Then turn the heat down to medium heat and cover for 10 minutes.

After 10 minutes, remove lid and stir. Add the bag of frozen peas and continue to cook until the potatoes are tender, stirring as needed. This can take 10-15 minutes depending on the size of your potatoes. You may need to add a little more water if it cooks down too much.

Serve with prepared basmati rice. Garnish with cilantro and greens if desired.

Leftovers will keep for up to five days in a covered container in the fridge.
Notes
Instant Pot Basmati Rice
Ingredients
2 cups basmati rice
2 cups filtered water
Rinse and drain basmati rice in a fine mesh strainer. Add the rice to the Instant Pot and add 2 cups of water. Stir the rice so it is distributed evenly.

Secure the lid and set the valve to "sealing." Select manual program and set the rice to cook for 4 minutes on high pressure.

When the time is up, let it naturally release for at least 10 minutes or until you are ready to serve the rice. If the valve is not released yet, carefully move the valve to "venting." When the valve drops, open the lid, carefully avoiding the steam.

Fluff rice with a fork before serving.