This post may contain affiliate links. Please read our disclosure and privacy policy.
This is an easy one bowl recipe that is both vegan and gluten-free! They are one of our favorites and are perfect to take to a family gathering.
These chocolate chip and oat cookie bars were a wonderful accident! I was thinking granola bars in my head but I guess my hands were thinking cookie bars, because as I began to throw ingredients together, they became more like a cookie than a granola bar. My husband says these bars remind him of 7 layer bars. Have you ever had them? They have coconut, chocolate, graham cracker, butter, butterscotch chips, and condensed milk.
These bars do resemble them but don't have all of the layers. I think my husband really wants me to make a healthier version of the 7 layer bars. He only mentioned it like 3 times. So look for a recipe for them in the future. In the meantime, these bars are my husbands new favorite. Let me know if you try them and what you think.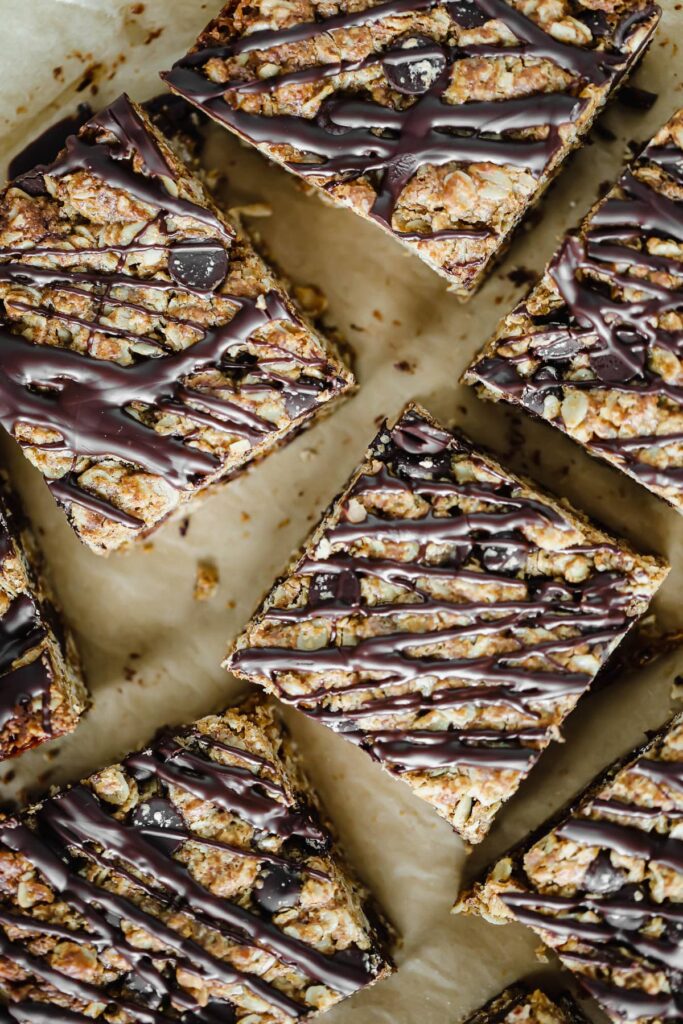 Surprisingly, these chocolate chip and oat cookie bars have no flour in them (remember I was going for granola bar haha). They are also vegan if you use dairy-free chocolate.
I want you guys to feel comfortable with the ingredients. When you know where to find them and what the ingredients are, it will make trying this recipe easier. If you ever have any questions, feel free to leave a comment or send me an email.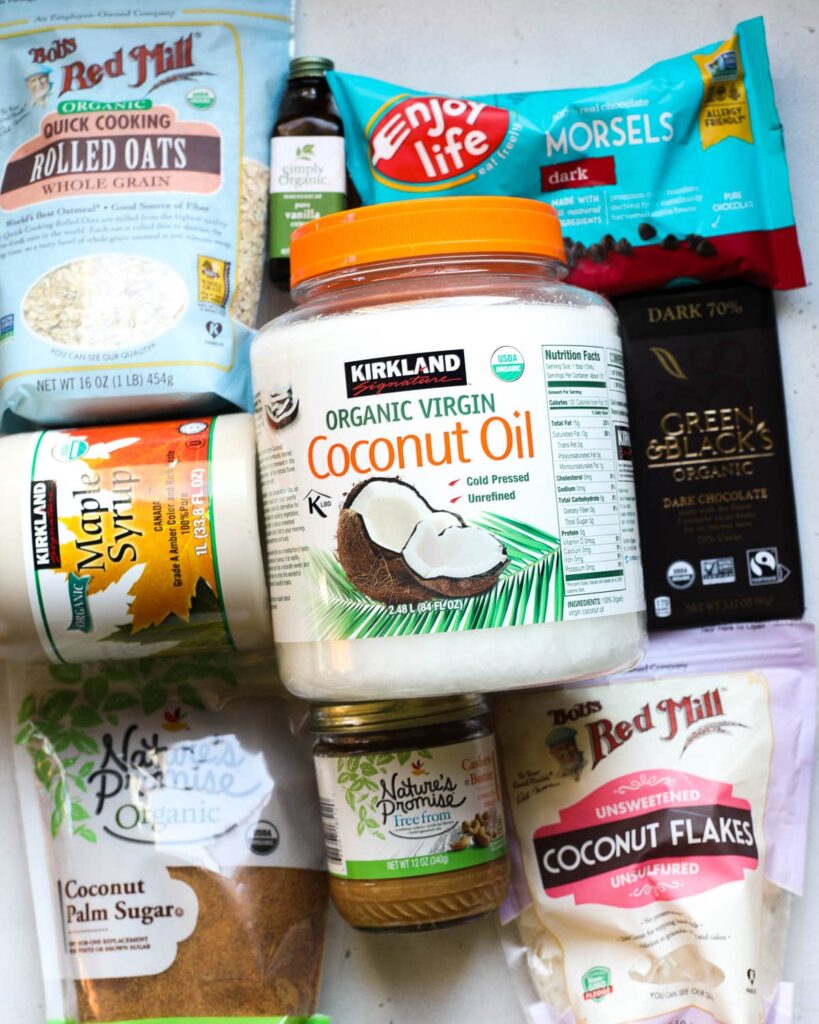 Chocolate Chip and Oat Cookie Bar ingredients!
Cashew butter
Cashew butter is just ground cashews and sea salt. If yours is salt-free, that works too. You will notice that some of the oil separates at the top. Just give it a really good stir before you measure out what you need. My local grocery store has a natural/organic brand that is priced well and is good quality. You are most likely to find cashew butter in the natural section (if your grocery store has one) or just go to the peanut and nut butter section. This item is widely available and you should be able to easily find it.
Coconut sugar
Coconut sugar, also called coconut palm sugar, is derived from the sap of a coconut palm. It is an unrefined sugar that still contains minerals like iron, zinc, potassium and calcium and even contains antioxidants. Coconut sugar is brown in color and lends a brown color to most baked goods. While it is a healthier alternative to white table sugar, it is still sugar; which means it is high in calories. Consumed in excess, added sugars may contribute to to weight issues, diabetes and other diseases. You can find coconut sugar in most grocery stores in the sugar section or in the natural foods area.
Maple syrup
I think we all know what maple syrup is, but did you know it takes 30-50 gallons of maple sap to make 1 gallon of maple syrup? Each year, only 10% of the maple tree's sap is collected. Some trees can have up to four taps and each tap produces one quart of maple syrup.
I love the flavor it lends to baked goods, oatmeal and the like. It also helps make things like fruit crisps and granola crispy. Maple syrup contains antioxidants and minerals, including manganese, riboflavin, zinc and magnesium. Select 100% maple syrup as some can be mixed with corn syrup. You can find maple syrup in the same section that you find traditional pancake syrups. I purchase maple syrup from Costco and find they have a great price on it, as it can be expensive.
Coconut Oil
Virgin Coconut Oil is extracted from the fresh milk of the coconut and is not refined. Regular coconut oil is made from the dried coconut kernel. The dried coconut kernel is pressed and the oil is usually refined, bleached and deodorized. You will be able to find this in your local grocery store. I buy it from Costco. You could replace this oil with avocado oil and for those of you that are concerned about saturated fat intake, replacing the coconut oil with avocado oil would be a good option. Coconut oil lends a nice flavor to sweet baked goods and is good for high heat baking and cooking.
Rolled oats
Rolled oats (also called old fashioned or whole oats) are the result of taking the whole oat groat, steaming it and then pressing them to flatten them. I don't recommend using quick oats in this recipe. The texture will be much different. (Funnily enough, when I went to take the above pic of the ingredients, all I had left was quick oats because I used them all). Most conventional oats have glyphosate (the chemical in the weed killer Roundup) in them. Since we eat oats pretty often I prefer to buy organic oats.
Coconut flakes
Coconut flakes are different than shredded coconut, but shredded coconut would work great as well. Flakes are larger, wider, and in more random sizes. I always make sure I buy sulfite-free coconut. Sulfites are inorganic salts that are commonly used as a preservative to prolong shelf life, retain color, and soften foods. Some people are sensitive to sulfites and people with asthma are at a higher risk or developing a reaction to it. On the other hand, some people are totally fine with sulfites.
Vegan chocolate chips
Enjoy Life chocolate chips are wonderful and are dairy-free. I use both the semi-sweet and the dark chocolate chips. They are delicious and contain minimal ingredients. The dark chocolate chips contain unsweetened chocolate and cane sugar, and the semi-sweet chips contain cane sugar, unsweetened chocolate and cocoa butter. Our local grocery store carries this brand in the natural section.
Dark chocolate
For the dark chocolate drizzle, I melt 2-3 ounces of a dark chocolate bar in the oven in an oven safe dish or over a double boiler. I used Green & Black's Organic Dark Chocolate. It is 70% cacao. You can use your favorite dark chocolate or you can eliminate the chocolate drizzle if you prefer. Our local grocery store carries this brand in the natural section.
Where to buy pantry items for these Chocolate Chip and Oat Cookie Bars
For many of my pantry items and especially some the items used to make these cookie bars, I buy the ingredients from Thrive Market and Vitacost. Most of the items they carry are less than what you find in grocery stores. I would say their pricing is closer to sale pricing and many times less than sale pricing. Thrive Market has excellent prices, however, they do have a yearly fee.
Either way you go, both of these retailers will be less than the grocery store, however, it is always nice to support your local grocery store. I buy a lot of pantry stuff from the store as well.
So let's get down to the recipe. If you make these chocolate chip and oat cookie bars, please drop me a review below!
If you love cookies bars, try these Chocolate Oatmeal Almond Butter Cookie Bars. For you peanut butter lovers, check out these Double Peanut Butter Cup Cookies!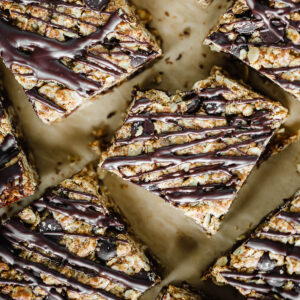 Chocolate Chip and Oat Cookie Bars
Chocolate Chip and Oat Cookie Bars are a hearty and decadent healthier treat! They are vegan, gluten-free and delicious!
Ingredients
¾

cup

cashew butter

(stirrable cashew butter)

⅔

cup

coconut sugar

¼

cup

maple syrup

3

tablespoons

virgin coconut oil,

melted

2

cups

rolled oats

(gluten-free if desired)

¼

cup

coconut flakes or shredded coconut,

sulfite-free

¼

teaspoon

sea salt

1

cup

dark chocolate or semi-sweet chocolate chips

(vegan if desired, I use Enjoy Life)
Optional
2-3

ounces

dark chocolate,

melted (vegan if desired, I use Green and Black Organic)
Instructions
Preheat oven to 350°F. Line a 9 x 9 square baking dish with parchment paper. If you add a little bit of oil to the dish before you add the parchment paper, it helps the parchment to stay in place.

To a medium bowl add 3/4 C cashew butter, 2/3 C coconut sugar, 1/4 C maple syrup, 3 tbsp melted coconut oil, and stir thoroughly.

Add 2 cups rolled oats, 1/4 C coconut flakes and 1/4 tsp sea salt, and stir thoroughly

Add mixture to baking dish and flatten it out. Press it down with your hand until it is nice and firm.

Bake for 30 minutes. Bars should look golden and slightly browned at edges. Let the bars cool completely.

(Optional) Melt 2-3 ounces of dark chocolate in the oven in an oven safe dish or over a double boiler. When the chocolate is melted, use a spoon to drizzle the chocolate on top. Put in freezer for 5 minutes to set or in the fridge for 10-15 minutes.

When bars are completed cooled, slice them into 9 large or 12 smaller bars. Store in a sealed container on the counter for up to 3 days, or in the fridge for up to a week. They can also be frozen for up to 3 months.