This post may contain affiliate links. Please read our disclosure and privacy policy.
Lunch bowls that are tasty and satisfying! They make your week so much easier!
These harvest lunch bowls will make your healthy lunch choice a no brainer! You guys love the lunch bowls, so I'm gonna keep 'em coming! I love the lunch bowls too; I love testing them, having them on hand for lunches, and giving them to my mom and dad to try.
Especially my dad because he stopped eating meat this year as an experiment to see if it would help his blood pressure. In fact, it ended up helping significantly; he noticed a difference in his blood pressure right away!
One of my favorite books!
The book that convinced my dad to try eliminating meat was How Not to Die by Dr. Michael Greger. I love this book and I recommend it to so many people. This book goes through the top diseases and shows how to prevent and even reverse them. It is evidence based and packed with information.
Lunch bowls in just 35 minutes
So on to these bowls! If you have 35 minutes then you can have lunches done for the week. There is even extra time in the 35 minutes because it's not all active time, so you can be working on dinner or just relaxing.
First, you need four 4 cup containers to store your salads and four small containers for dressing. My square Pyrex containers are pretty old. You could try these round 4 cup containers on Amazon here. Next, you need dressing containers. These little jars are the perfect size and great for meal prep and to store leftovers and really come in handy. They sell them in 4 packs and 12 packs on Amazon.
These lunch bowls will keep for up to five days in the fridge. The secret to making them last is using fresh ingredients. Check the date on your greens or use whole head lettuce. Also I like to prep these bowls within one to two days of buying the produce. Trust me, they are just as good on the first day as they are on the last.
In my opinion, these bowls don't get boring! You can add a piece of crusty sourdough bread, some avocado, crackers, or have you tried my Chocolate Chunk and Tahini Oatmeal Cookies?! They are my favorite cookies right now. Not only are they vegan and gluten-free, but they are filled with wholesome oats, tahini, and flax meal. Get the recipe here!
More lunch bowls to try
If you want to try some other meal prep lunch bowl recipes, check out the Easy Mediterranean Lunch Bowls, the Fresh Tex-Mex Lunch Bowls, or the Ramen Veggie Lunch Bowls. The Mediterranean lunch bowls only take 20 minutes to prepare and the only thing you have to cook is quinoa!
I hope you enjoy these bowls! They are:
super fresh
savory and sweet
satisfying
and super versatile!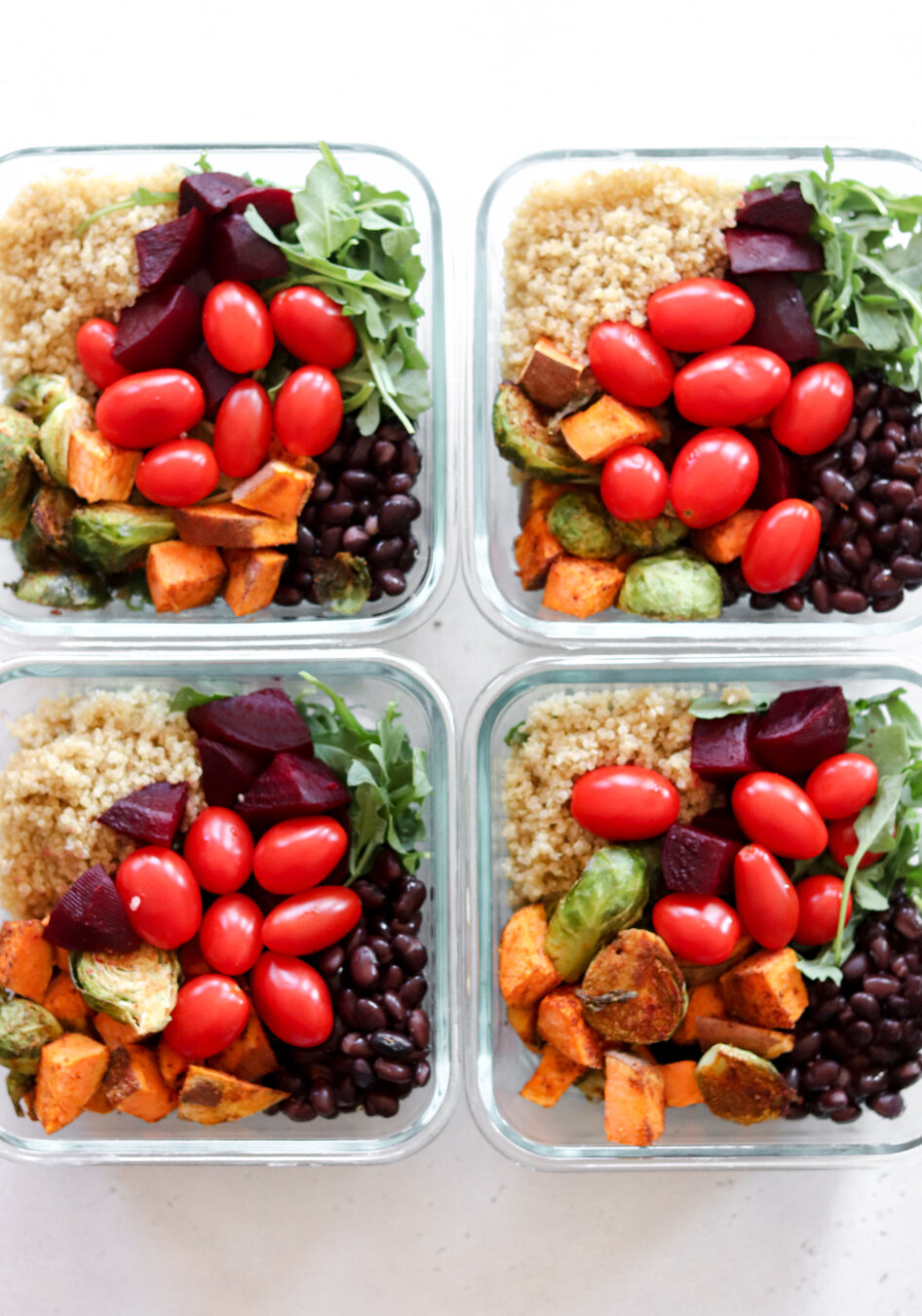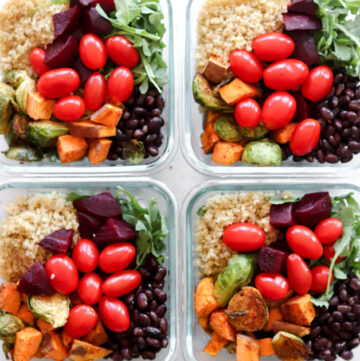 Healthy Harvest Lunch Bowls
Easy meal prep healthy harvest lunch bowls that will make your work lunches a win! These bowls are easy to customize as needed.
Ingredients
Salad
1

(12 oz) bag

brussels sprouts,

ends trimmed and halved

2

medium

sweet potatoes,

cut in ½ inch pieces

2

teaspoons

avocado oil

1

teaspoon

cumin

1

teaspoon

garlic powder

½

teaspoon

ginger

½

teaspoon

paprika

¼

teaspoon

sea salt

¼

teaspoon

black pepper

1

cup

quinoa

1-2

cups

vegetable broth

2

(14.5 ounce) cans

black beans,

drained and rinsed

4

large

handfuls arugula or other greens

1

pint

cherry tomatoes

2

cups

steamed beets
Dressing
½

cup

extra-virgin olive oil

¼

cup

raw apple cider vinegar

2

tablespoons

raw honey or maple syrup

2

teaspoons

whole grain dijon mustard

2

cloves

garlic,

minced

¼

teaspoon

sea salt

¼

teaspoon

black pepper
Instructions
Preheat oen to 400°F and line a large baking sheet with a silicone liner or parchment paper.

Wash and rinse the Brussels sprouts and sweet potatoes. Cut the ends off each Brussels sprouts and cut each in half or in quarters depending on their size. Cut the sweet potatoes in 1/2 inch pieces. Add to baking sheet, spray or drizzle on the 2 tsp of avocado oil and add all spices (1 tsp garlic powder, 1/2 tsp ginger, 1 tsp cumin, 1/2 tsp paprika, 1/4 tsp sea salt, 1/4 tsp black pepper). Toss to combine and spread evenly on baking sheet. Place baking tray in oven and set timer for 25 minutes.

Cook the quinoa with vegetable broth or water according to the package instructions or see below for quinoa cooking directions and an instant pot option.

Add dressing ingredients to a glass jar or other container and shake thoroughly. Pour into 4 small dressing containers. I use these 4 oz jars.

When the timer goes off check few of the sweet potatoes with a fork for tenderness. If they are done and the Brussels are roasted nicely, remove them from the oven. If not, cook for another 5 minutes.

Divide the arugula, tomatoes, 2 cans beans, quinoa, beets, and roasted veggies evenly between four containers. You may find you have some extra roasted veggies. If I have some left, I save them for my kid's lunches. Depending on your meal requirements, you may find you like smaller or larger bowls, so adjust them per your liking. Add lids and store in the refrigerator for up to five days.
Video
Notes
To make it easier, you can pick up the pre-steamed beets by the brand Love Beets. Alternatively, you can steam your own very easily. Some people cook them, then peel them later. I prefer to trim off the ends, peel them and cut into 3/4 inch chunks. Then I steam them until tender.
Quinoa cooking directions:
If your quinoa is not pre-rinsed, rinse it by putting it in a fine mesh strainer and rinsing it in the sink under running water. The package should say if it is pre-rinsed. The kind I purchase from Costco is pre-rinsed.
Instant Pot: To the Instant Pot, add one cup quinoa, one cup vegetable broth or water, and stir. Secure lid and turn the valve to sealing. Set for one minute high pressure and let it release for 10 minutes. If the red indicator has not dropped, carefully move the valve to release. Wait for the indicator to drop and remove the lid. Fluff it with a fork and let it cool.
Stovetop: In a pot combine 1 cup quinoa and 2 cups vegetable broth or water. Bring to a boil. Reduce heat, cover and simmer until liquid has evaporated (approximately 15 minutes). Let stand for 5 minutes. Fluff with a fork and let it cool.