Fresh salsa featuring crisp sweet corn, black beans, and tomatoes! The perfect side to take to your next get together.
Is there anything better than fresh salsa?! This sweet corn and black bean salsa is the perfect thing to make for a party or to take with you. Everyone always asks me for this recipe, so here you are!
You can serve this as an appetizer, or to go along with your main dish for dinner. This would be perfect for Taco Tuesday! I love to serve this with the blue corn tortilla chip or a mix of both blue corn and yellow corn.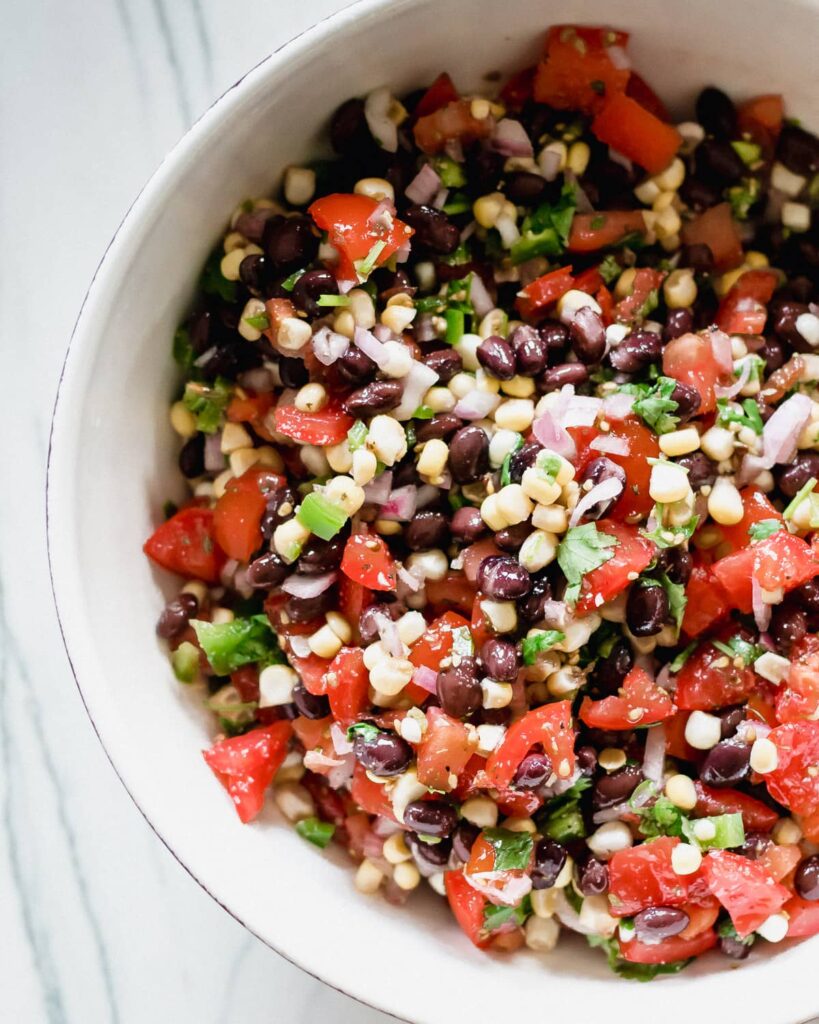 Salsa Ingredients
Your salsa is going to be as good as your fresh ingredients. So select fresh sweet corn from the farmers market versus corn that has been sitting for a long time. If you do not have fresh corn, you can leave it out. However, I highly recommend finding some when its in season.
Select tomatoes that are ripe and juicy. If you are having a hard time finding good tomatoes, find the Campari tomatoes at your store. Campari tomatoes are wonderful in this salsa. Sometimes, even when tomatoes are in season, I add some Campari tomatoes for their sweetness.
I don't bother deseeding tomatoes unless they have very large seeds. This is a personal choice, however, if you decide to de-seed your tomatoes, make sure you have about 3 cups for this recipe.
Hot sauce is optional but definitely adds some great flavor to this. Depending on the hot sauce, I use quite a bit but start with the one teaspoon that the recipe calls for and go from there.
I make this Sweet Corn and Black Bean Salsa many times each summer and it never disappoints! I hope you try it!
More summer party ideas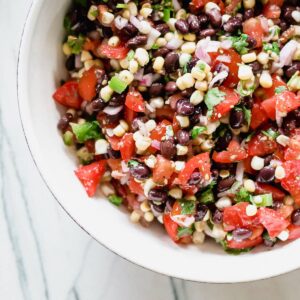 Sweet Corn and Black Bean Salsa
This salsa is always a hit at parties! Sweet corn, black beans, juicy tomatoes and lots of spices make this easy to customize and very flavorful!
Ingredients
3

large

tomatoes,

or 3 cups

2

ears

raw sweet corn

2

jalepeños,

seeds removed, diced finely

1

(15.5 ounce) can

black beans,

drained and rinsed

½

cup

red onion,

diced

¼

cup

cilantro,

chopped

1

lime,

juiced

1

teaspoon

garlic powder

1

teaspoon

hot sauce

(or to taste, see notes

1

teaspoon

sea salt

½

teaspoon

black pepper

½

teaspoon

dried oregano
Instructions
Dice tomatoes and reserve as much of the juices as you can. See recipes notes about seed removal, it's really up to you. Add tomatoes and juices to a medium size bowl.

Remove the kernels of corn by laying the corn on its side and slicing kernels off. Alternatively you could you do it lengthwise by standing on end and using a bowl to catch the kernels.

The jalepenos are optional.  You may want to dice both up but only add in 1/2 – 1 jalepeño and taste it before adding more.  Some jalepeñnos are spicier than others.  The smaller the jalepeno, the spicier it will be.  If you add two jalepeños, the salsa will be somewhere between mild and medium depending on how spicy the jalepeños are.   Make sure you deseed the jalepeños.  Cut them lengthwise and scrape out the seeds.  Dice very finely. 

Add all remaining ingredients and stir thoroughly.

Serve immediately or store in fridge until use. Store leftovers in the fridge, covered, for up to five days. If you want to make this recipe in advance, see the last note in the recipe notes section.
Video
Notes
When fresh sweet corn and tomatoes are not in season, I make this recipe without the corn and I use Campari tomatoes instead of other tomatoes.  Campari tomatoes are so small, I don't bother deseeding them.  Their sweet flavor makes a great addition to this recipe. If your tomatoes have lots of large seeds, you may want to deseed them a bit. Maybe remove half of the seeds. Sometimes even when tomatoes are in season, I still use some Campari tomatoes because they are so sweet and work so well in this recipe.
Hot sauce- I know some people are sensitive to too much heat so I keep the recipe to 1 tsp.  However, when I make this for parties, I add 2 tablespoons and everyone always loves it.  It will also depend on how spicy your hot sauce is.   I highly recommend using Tabasco Chipotle Pepper sauce.  It is delicious in this recipe.  
If you want to make this recipe the day before, I recommend cutting up everything except the tomatoes. Add to a dish, cover and store in fridge.  Cut the tomatoes up the day of and add the lime, salt and hot sauce. Everything else can be prepped and stored in the fridge until you are ready for it. You can enjoy this right away or set it in the fridge for an hour or more to let the flavors develop.