This post may contain affiliate links. Please read our disclosure and privacy policy.
This juice is so smooth! If you love coconut water, you will love this juice. It is refreshing, full of electrolytes and really hydrating. This juice is also packed with greens and hydrating cucumber. I think you will really enjoy its lightly sweet coconut flavor!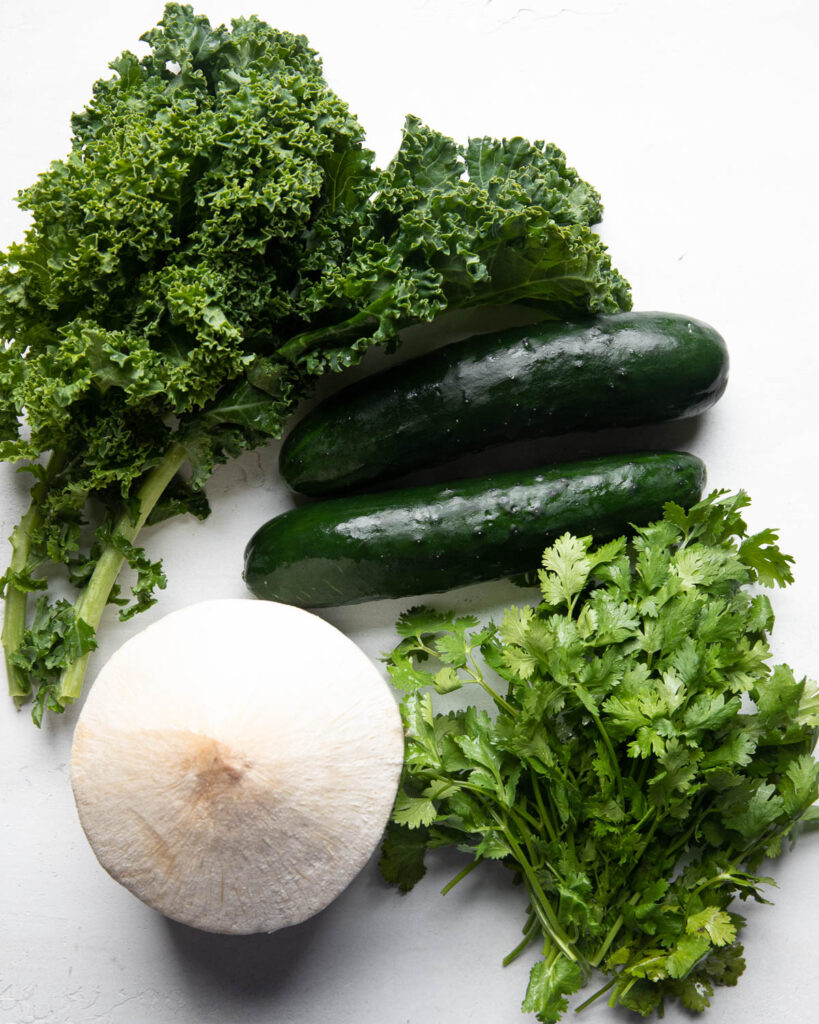 Young Thai Coconut
This recipe calls for a young Thai coconut. A young Thai coconut is a green coconut that has not matured yet and does not have the thick brown husk. You will find the in the store, in the refrigerated produce section. The green hull is removed, revealing a more tender white husk.
The white husk is still fairly tough, it takes a bit of careful knife skills to remove the husk. The easiest thing to do is to watch a video of it. I will tell you how I do it. I place the coconut on its side on a cutting board. Using a very thick, heavy knife, I shave down the pointed top with the knife. Then I hack into using the back corner (the corner at the bottom closest to me). If this is your first time attempting this, it would be good to use some safety gloves. I keep hacking around the top to make a circle then pop the top off. Once you get into the practice of this, it takes less than one minute, but it can definitely be intimidating!
Canned or boxed coconut milk is not the same unless you can find some unpasteurized coconut water. Canned or boxed varieties are pasteurized and do not contain the living enzymes that fresh young Thai coconuts contain.
Once you get your water out, if you want to eat the coconut "meat," you can cut the coconut open and scoop it out! It's great just to eat, blend into a smoothie or add into desserts.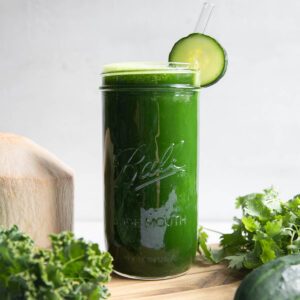 Coconut Green Juice
This Coconut Green Juice is so smooth and refreshing! It's very lightly sweet, contains lots of greens and is very delicious!
Ingredients
1

young Thai cococnut

(they are white and the husk is already peeled, you can find them in the refrigerated section)

3

cups

greens,

packed (swiss chard, spinach, kale)

1

large

cucumber

(or two small/medium cucumbers

½

bunch

cilantro
Instructions
Open the top of the young Thai coconut (search how to open a young Thai coconut)

Juice all other ingredients.

Combine the juiced ingredients with the coconut water. Enjoy!