This post may contain affiliate links. Please read our disclosure and privacy policy.
This chocolate hemp seeds thick shake is a healthier chocolate milkshake packed with superfoods!
This is a superfood chocolate hemp seed thickshake that is packed with protein and even a sneaky serving of cruciferous veggies. Don't worry, you won't even taste the veggies! When your whole family loves something, you know you have a winner. My mom also loves this smoothie and took some in for her coworkers to try and they all loved it as well.
This shake packs a serious nutrition punch! It honestly surprised me when I plugged in all the ingredients and looked at the nutrition profile. I knew it kept me satisfied and full for a long time and really gave me long lasting energy but WOW! It is definitely a meal, as it packs 539 calories, so keep this in mind. This particular smoothie is best consumed right away or kept in the fridge and consumed within one hour of making it. Otherwise, it is no longer a milkshake type consistency.
Some quick nutrition facts:
19 g of protein, 38% daily value
20 g of fiber, 83% daily value
18 g of fat, 28% daily value (full of healthy fats from the raw cacao and hemp seeds, optimal omega 3 to omega 6 ratio)
798 mg of calcium, 80% daily value
531 mg of magnesium, 133% daily value
61 mg of vitamin C, 103% daily value
8.65 mg of iron, 48% daily value
This is just the tip of the nutrition iceberg!
I hope you enjoy this chocolate hemp seed thickshake! It is:
Thick and chocolatey
Sweet but not too sweet
Filling and satisfying
Packed with protein, healthy fats, minerals and antioxidants!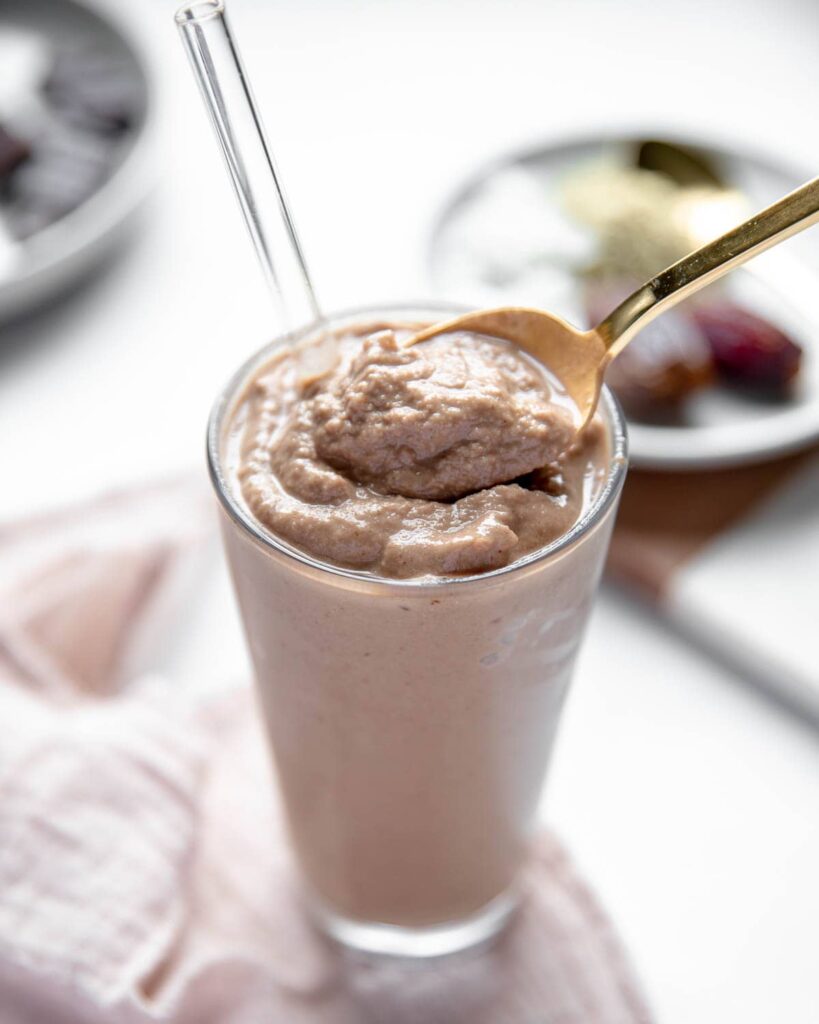 Looking for more smoothies?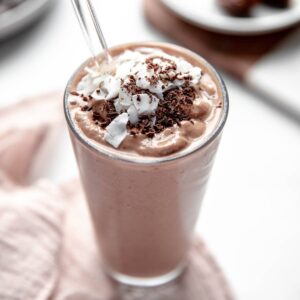 Chocolate Hemp Seed Thickshake
This chocolate hemp seeds thick shake is a healthier chocolate milkshake packed with superfoods!
Equipment
High speed blender (i.e. Vitamix, Blendtec)
Ingredients
1 ½

cups

almond milk

2

tablespoons

hemp seeds

2

tablesoons

cacao powder

2

medjool dates,

pits removed (if your dates are small, add one more)

1

cup

frozen cauliflower florets

1

frozen banana,

broken in thirds

½

cup

ice
Instructions
Add the ingredients to a high speed blender in the order listed above.

Blend thoroughly for 1-2 minutes until the ingredients are thoroughly combined. If you have a Vitamix, you may need to use the tamper to help blend it. If you do not have a high speed blender, you may need to add a bit more almond milk if it is too thick to blend. If you want a milkshake type consistency, don't add too much almond milk.

Best enjoyed immediately.
Video
Notes
If you like things super sweet, add 1 additional date. For a coffee version, substitute some cold brew for a portion of the almond milk. If you want it even thicker, you can add more frozen cauliflower, frozen banana, or ice.
This is meant to be consumed immediately. If you let it sit in the fridge for too long, it will become very runny and will no longer be similar to a milkshake.
If you are sensitive to caffeine (like me), I would not recommend drinking this the latter half of the day. You could substitute carob for the raw cacao or make this a different flavor by adding some strawberries, cherries, etc.