This post may contain affiliate links. Please read our disclosure and privacy policy.
Homemade almond milk is creamy, delicious and easy to make!
Have you ever tried fresh homemade almond milk? I think it tastes so much better than store bought. This particular recipe calls for a touch more almonds than what most recipes call for. The addition of more almonds makes the milk ultra creamy and more delicious!
Almond milk will keep up to 4 days in the fridge or you can freeze it for later use. You will find the more often you make it, the easier it becomes. When I first started making it, I thought it was more pain than it was worth and now I find it very easy!
Common almond milk additives
By making your own almond milk you are avoiding some of these common additives:
Carrageenan – used as a thickener, derived from seaweed and may cause inflammation, it has ben linked to intestinal inflammation and cancer
Natural flavors – an umbrella term for chemicals that were originally found in a naturally occurring source
Ascorbic acid – a preservative that may have been grown using GMO corn
Added sugar – if you buy the original almond milk, they typically contain added sugar
Gellan gum and guar gum – seem to be safer thickeners versus carrageenan, however they have been linked to bloating, gas and other intestinal issues.
What to do with leftover almond pulp
There are a few things you can do with leftover almond pulp! You can find recipes that use almond pulp with a little bit of searching. Here is an Almond Pulp Hummus. There are also cookie recipes that call for it (check this one out) and you could also add it to a smoothie! If you don't use it in anything, you can always compost it.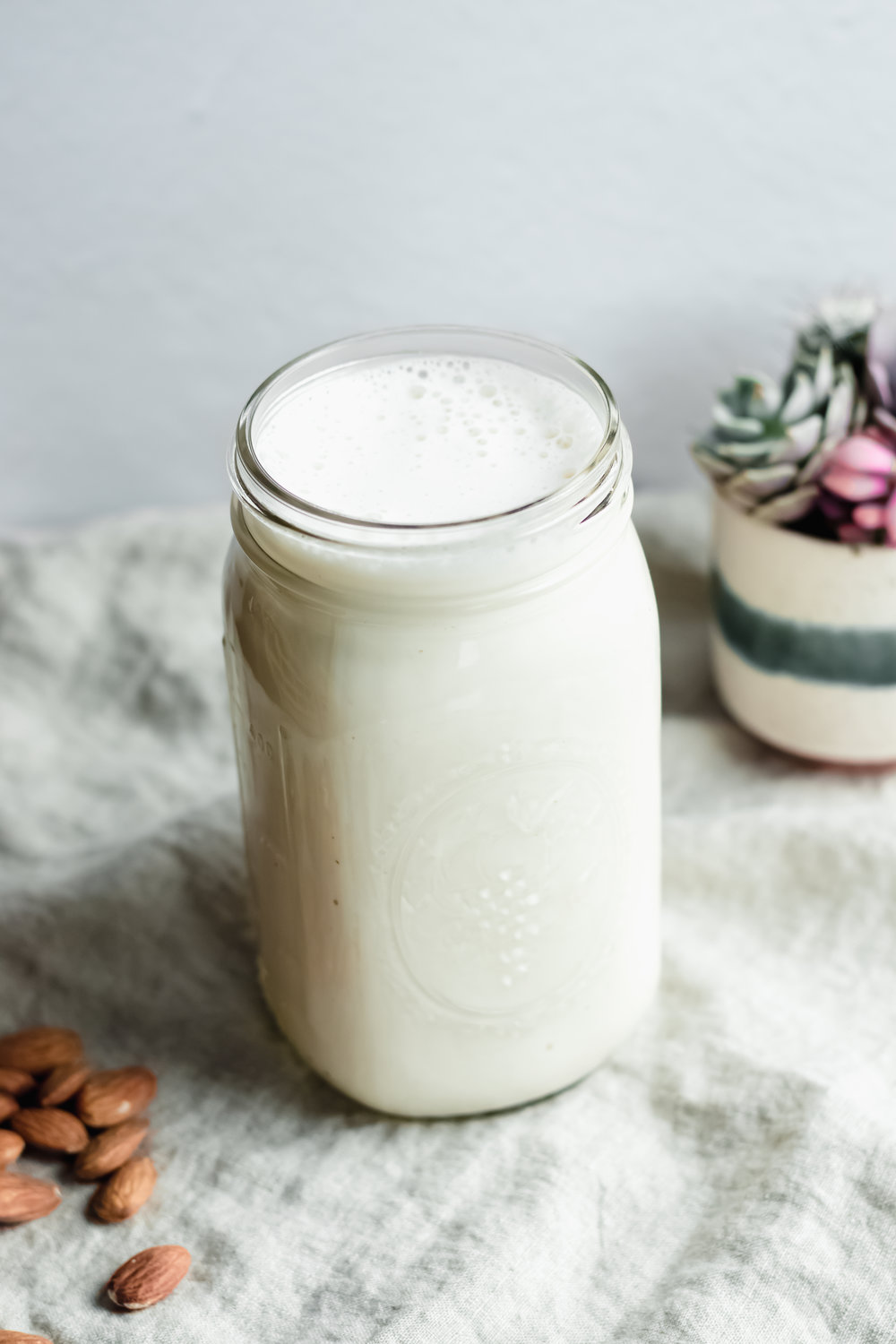 What to make with homemade almond milk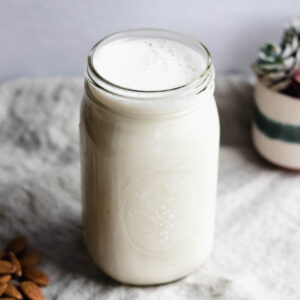 Homemade Almond Milk
This homemade almond milk is creamy, delicious and easy to make! Only 4 ingredients and had no preservatives or refined sugar.
Ingredients
1 ¼

cup

raw almonds

4 ½

cups

filtered water

1

medjool date,

pit removed

Pinch fine sea salt
Instructions
Add almonds to a 32 oz mason jar, cover with water and soak overnight or at least 4 hours. If you soak overnight, place the jar in the fridge.

After they have been soaked, drain the water from the soaked almonds.

Add all ingredients to a blender and blend till thoroughly combined. In a high speed blender, one full minute is sufficient. In a regular blender, I would blend it for about two full minutes.

Place a nut milk bag in a medium sized bowl. While holding the nut milk bag open, pour the mixture into the nut milk bag. Squeeze the bag until you have removed all the milk.

Pour into a 32 oz jar, secure the lid and store in the fridge for up to 4 days. You could also freeze it in ice cube tray to use as needed for recipes or smoothies.
Video