This post may contain affiliate links. Please read our disclosure and privacy policy.
This is a delicious vegan version of strawberry jello. It is the perfect summer treat!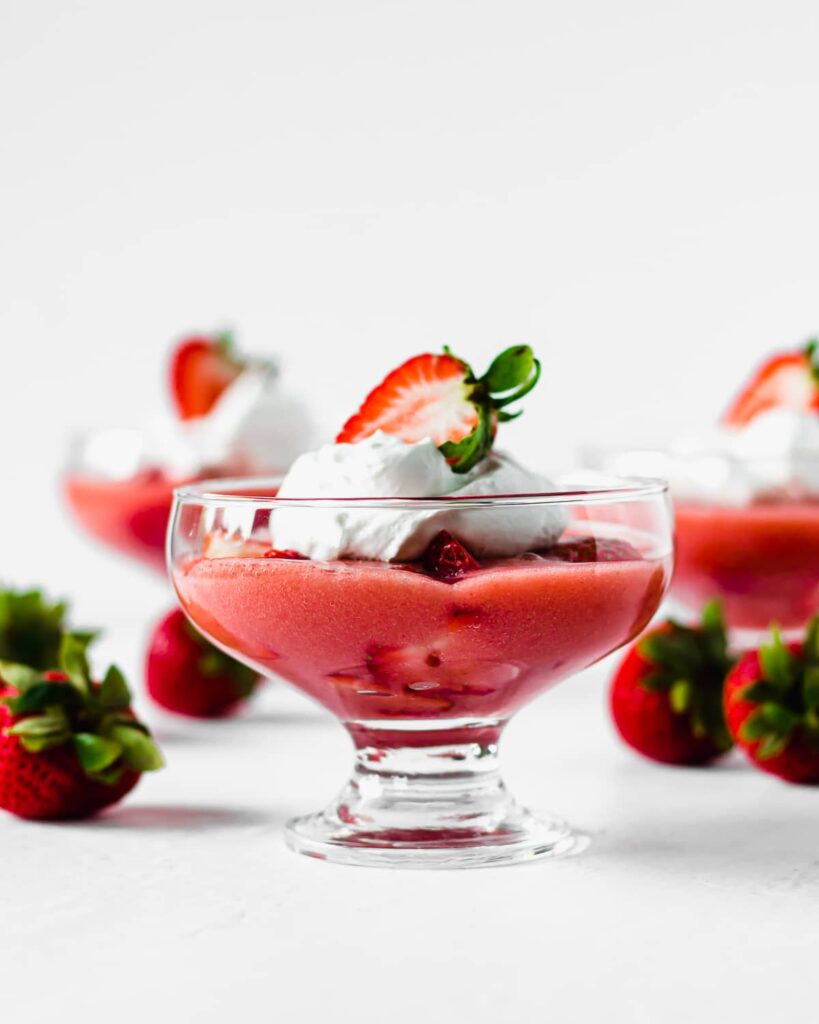 Do you remember those strawberry jello pops? This dessert reminds me of them so much! They used to be one of my favorite treats. This dessert is light, refreshing, and is the perfect substitute for gelatin desserts. avoid commercial gelatin products due to the artificial food coloring and the sugar that you use to sweeten them. I also don't love the idea of eating ground animal bones and cartilage so I decided to use agar agar. Agar agar is a natural gelling agent. It is a healthy sea vegetable that you can pick up in most health food stores or order online. This sea veggie promotes digestive health, is high in calcium and supports detoxification. One little package will last you a long time.
I love to use fresh local strawberries when they are in season or Driscoll's strawberries. It's naturally sweetened with strawberries and maple syrup. This also makes for an amazing strawberry pie. All you need is your favorite crust. Hull your berries and put them stem side down and then pour the mixture over the top. Save any extra in bowls for another treat for later.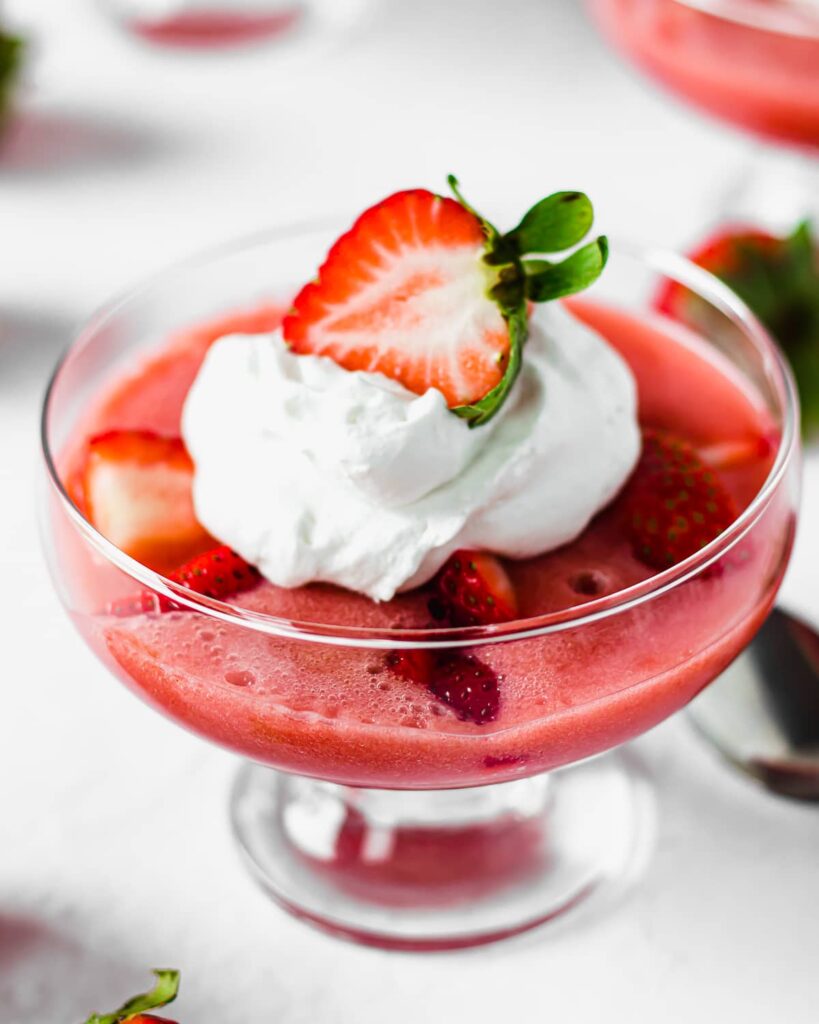 You will need four dessert cups or small bowls. If you will not be using this on the day you are making them, you may want to choose some bowls or other containers that have lids for easy storage.
I wanted to mention that when you let the boiled mixture cool, up to 10 minutes is fine, but eventually the mixture will start to set up on its own and you don't want it to set up before you blend it with the strawberries and maple syrup.
We like to top this with coco whip. You can find it in the frozen section.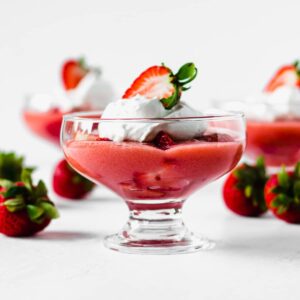 Very Strawberry Dessert
This Very Strawberry Dessert is a delicious vegan version of strawberry jello. It is the perfect summer treat!
Ingredients
2

cups

strawberries,

washed, hulled and halved

2

cups

strawberries,

washed, hulled and quartered

1 ½

cups

water

⅓

cup

maple syrup

4

teaspoons

agar agar
Instructions
Add water and agar agar to a saucepan. Bring to a boil and then reduce to low and simmer for 4-5 minutes until the agar agar is dissolved. Let cool for a few minutes.

Add the water and agar agar mixture to a blender. Next, add the halved strawberries and maple syrup. Blend for one minute or until thoroughly blended.

In four small bowls, evenly divide the quartered strawberries. Pour the mixture over the berries and put in fridge for two hours to set.

Top with your favorite toppings or enjoy as is.