This post may contain affiliate links. Please read our disclosure and privacy policy.
This Maple Roasted Brussels Sprouts Salad is my go to holiday salad! It is sweet, tangy, savory, hearty and totally delicious. You may find yourself going for seconds! The blueberries, and pomegranate balance out the tart dried cranberries and a fresh lemony dressing.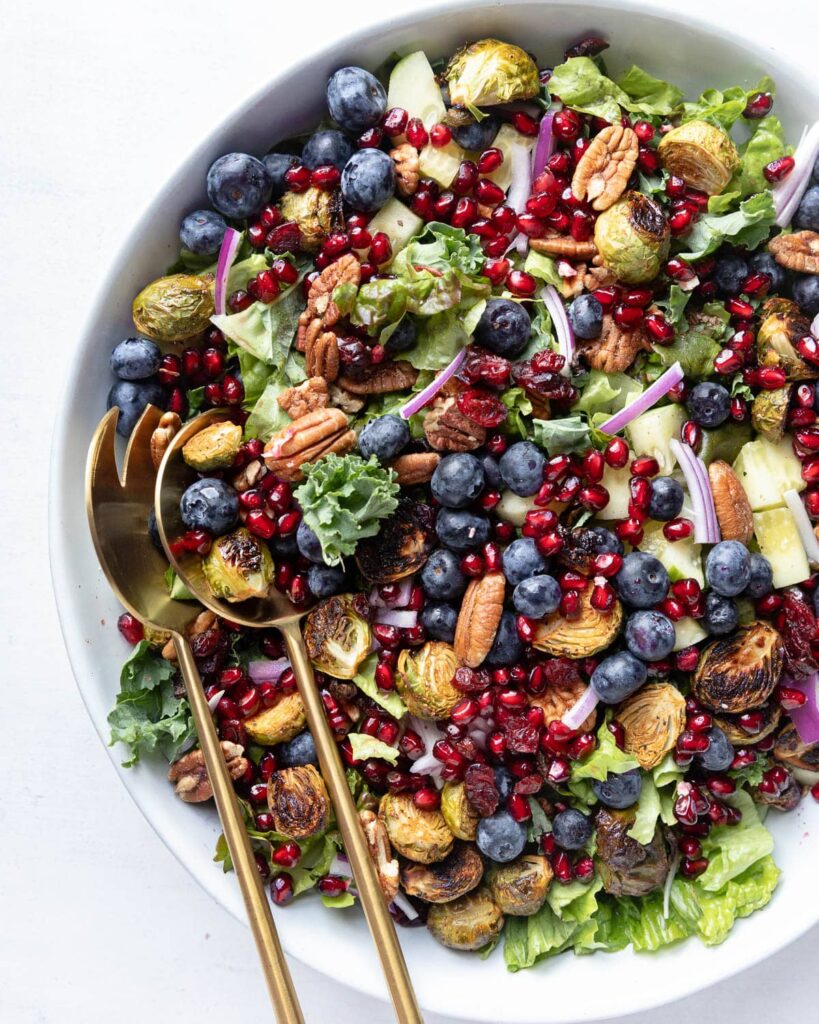 It's all about the freshest ingredients!
A great salad starts with crispy fresh greens. In this salad we use a head of red leaf lettuce. Make sure you get a large head! From a large head you should end up with 6-8 generous cups of chopped lettuce. Whole head lettuce so much crispier and fresh compared to boring old spring mix. I used to use spring mix all the time and have noticed that I like salads so much more when they are prepared with fresh romaine, red leaf, or butter lettuce.
This salad calls for some kale for added texture and greens. You can use curly kale or the flat leaf laciento kale. I always buy whichever one that looks the freshest. Make sure you remove a good portion of the thick stem before cutting it up.
When you pick your blueberries, you are looking for large, firm berries. The sweetest, juiciest blueberries are definitely a must for this salad!
The maple roasted brussels tho!
The feature of this salad is the maple roasted brussels and let me warn ya, you are going to be making these as a side on the regular after you taste them! My son eats them like potato chips! The seasoning includes lemon juice, maple syrup, cumin, paprika, garlic powder, paprika and black pepper. They are what makes this holiday salad extra savory and delicious!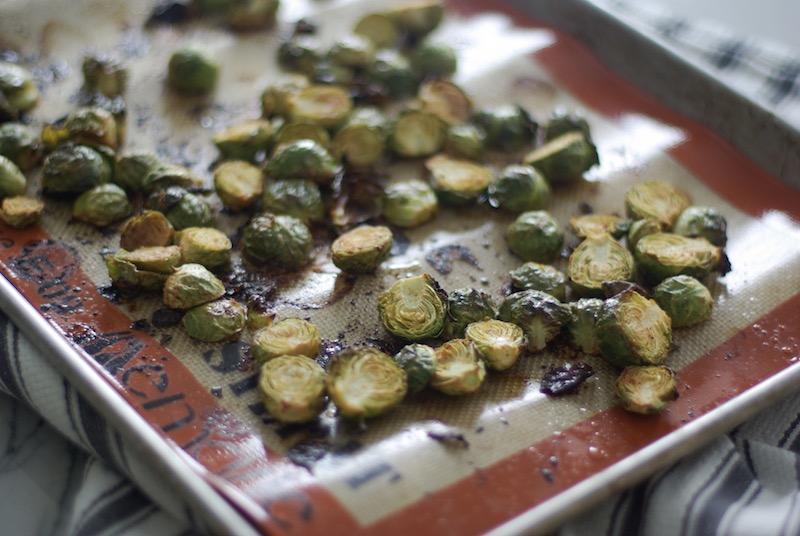 It can be time consuming to remove all the pomegranate arils (or seeds) from the pomegranate. You have a couple options here; you can buy them already de-seeded, do it yourself, or you can ask your significant other to help you out! This is one of the few things I ask my hubby to help with and he actually doesn't mind a bit. He is really good at it and to be honest, it kinda frustrates me, so it works out!
I hope you enjoy this Roasted Maple Brussels Sprouts Salad as much as we do! I've taken this salad to many holiday parties over the past three years and it is always a hit!
This holiday salad is:
sweet & savory
lemony
fresh & crispy
very festive
and always a hit!
Love this holiday salad?
Try this Wild Rice Holiday Salad. It features persimmon, pomegranate, wild rice and a similar vinaigrette.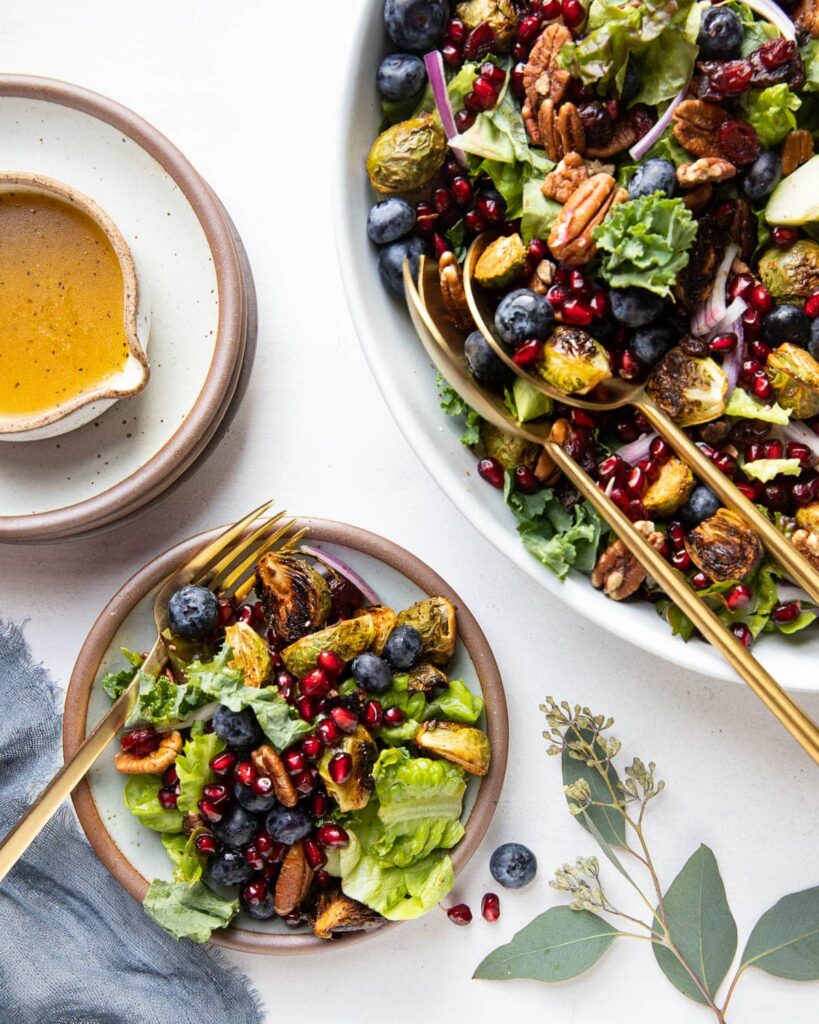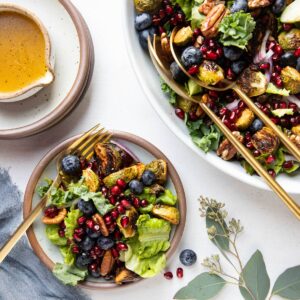 Maple Roasted Brussels Sprouts Salad
This is my go to holiday salad! It is sweet, tangy, savory, hearty and totally delicious. You may find yourself going for seconds! Blueberries, pomegranate , roasted brussels, cucumbers, red onion, cranberries, and tender lettuce combine with a fresh lemon vinaigrette for a holiday salad you will want to bring to every get together.
Ingredients
Brussels Sprouts Marinade
1

tablespoon

maple syrup

2

teaspoons

fresh lemon juice

1

teaspoon

avocado oil

¼

teaspoon

black pepper

¼

teaspoon

cumin

¼

teaspoon

garlic powder

¼

teaspoon

paprika

¼

teaspoon

sea salt
Salad
1

pound

brussels sprouts

1

large

head red leaf lettuce

3

large

kale leaves

1

cup

dried cranberries

1

cup

toasted pecan pieces

1

pomegranate,

seeds/arils only

6

ounces

blueberries

½

medium

cucumber,

partially peeled and chopped

½

red onion,

thinly sliced
Dressing
1

cup

extra-virgin olive oil

½

cup

fresh lemon juice

⅓

cup

honey

⅓

cup

water

2

tablespoons

raw apple cider vinegar

1

tablespoon

dijon mustard

2

cloves

garlic,

minced

½

teaspoon

sea salt

¼

teaspoon

black pepper
Instructions
Preheat oven to 400°F and line a baking sheet with parchment paper or use a silicone liner.

Combine the brussels sprout marinade ingredients and whisk together with a fork or small whisk.

Remove the ends from the brussels sprouts and cut them in half. Pour the marinade over the brussels sprouts and stir. Add to baking sheet and bake for 25-30 mins, or until golden to your liking.

Meanwhile wash and dry the lettuce and kale. Chop the lettuce to your liking. Remove the stem or main vein from the kale leaves and tear the leaves into small bite size pieces. Place in a large salad bowl.

Combine the dressing ingredients in a blender and blend thoroughly for about one minute. Pour into a jar or salad dressing container.

After 25-30 minutes or when the brussels sprouts are slightly browned and crispy, remove from oven.

Add the cucumber, onions, pecans, cranberries, blueberries, Brussels sprouts and pomegranate to the salad.

Serve with the salad dressing on the side or mix some of the dressing in with the salad shortly before serving. This salad will keep for several days in the fridge (as long as there is not dressing on the salad), so you could make this in advance of a holiday party or get together. If making in advance, I would recommend making it no earlier than the day before to ensure maximum freshness of your ingredients.
Video
Notes
Recipe Notes: You can prep the brussels sprouts in advance and store them in the fridge until you are ready to make the salad. You could also make the dressing in advance.
Try to find cranberries sweetened with apple juice versus sugar. I have seen them both online and in health food stores.