This post may contain affiliate links. Please read our disclosure and privacy policy.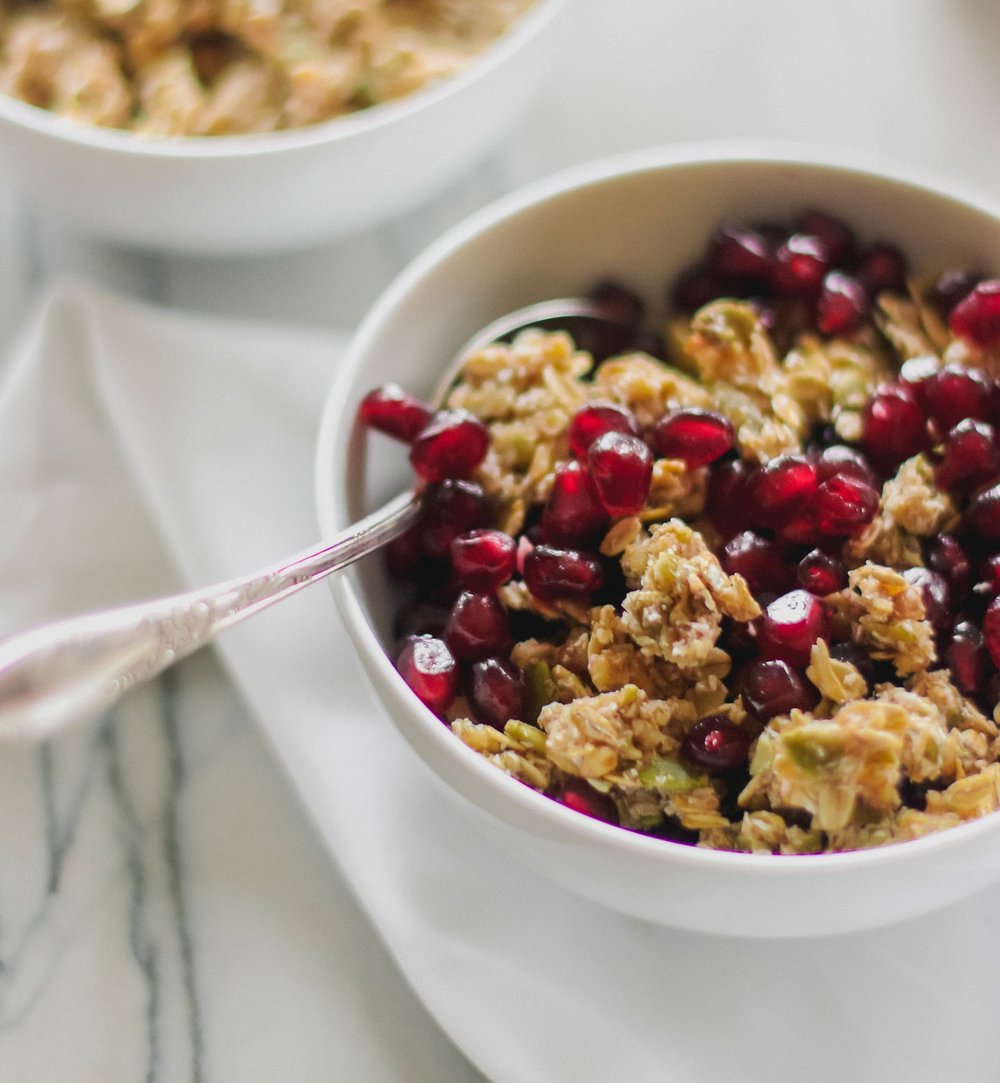 If you like your granola crunchy and chewy, this Healthy Crunchy and Chewy Granola is for you. This granola is cooked at a lower temperature to preserve the healthy oils in the pumpkin seeds and walnuts and it also helps reduce the amount of acrylamide produced during baking. The low temperature also helps make it chewy.
In case you are wondering, acrylamide is a chemical that can form in some foods during high-temperature cooking processes, such as frying, roasting and baking. It has been found to cause cancer in animals when they were exposed to very high doses. Starchy foods baked above 250 degrees, results in acrylamide formation. Baking this at 225°F helps to reduce acrylamide formation.
You only need seven ingredients to make this recipe and ten minutes or less. If you want to keep this recipe gluten-free, definitely purchase certified gluten-free oats. The addition of coconut makes this granola extra delicious. Make sure you select sulfite-free coconut. Sulfite is a preservative that is often added to dried fruit and dried coconut.
This Healthy Crunchy and Chewy Granola is naturally sweetened with maple syrup! The pumpkin pie spice gives it a delicious flavor!
More Healthy Breakfast Options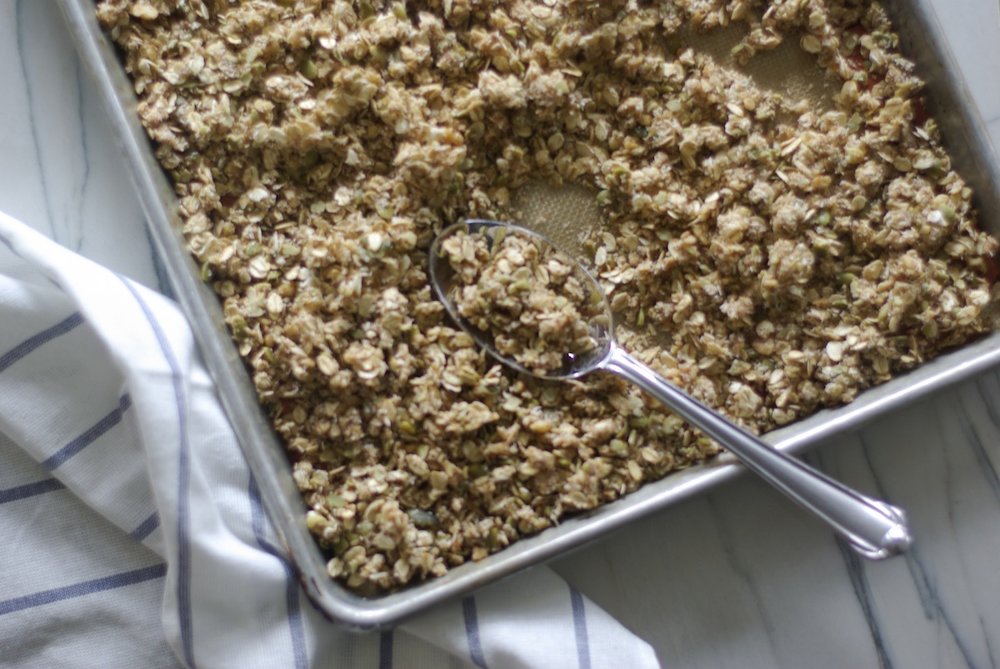 Healthy Crunchy and Chewy Granola
This Healthy Crunch and Chewy Granola is decliousy crunchy and chewy with a hint of coconut and naturally sweetnened with maple syrup. Gluten-free and perfect for your smoothie bowls and yogurt.
Ingredients
2

cups

rolled oats

(gluten-free if needed)

1

cup

finely shredded coconut or coconut flakes

(sulfite-free)

1

cup

pumpkin seeds

(green pepitas)

1

cup

walnuts or pecans

2

teaspoons

pumpkin pie spice

½

teaspoon

fine sea salt

½

cup

maple syrup
Instructions
Line a large baking sheet with parchment paper or use a silicone liner.

This step is optional, however, this is how I like it and I think it helps the texture. Add the 1 C walnuts and 1 C pumpkin seeds to a high speed blender. Pulse 5 or 6 times to roughly chop.

In a large bowl, add all dry ingredients (rolled oats, 1finely shredded coconut, pumpkin seeds, walnuts, pumpkin pie spice, sea salt). Stir thoroughly.

Drizzle in the maple syrup while continuing to stir. Work the maple syrup into the dry ingredients by pressing the spoon into the mixture. Do this until the mixture is less crumbly.

Bake for 45 minutes. Remove from oven and let cool completely. I let it sit out for an hour or two.

After the granola is completely cooled, use a spoon to break the granola up into pieces. Store in a glass container or jar in the fridge for up to one month. This can be stored on the counter in a sealed container for up to one week.
Notes
This recipe is adapted from Detoxinista's Healthy Granola recipe.