This post may contain affiliate links. Please read our disclosure and privacy policy.
If you are trying to eat more greens and beans, look no further. These lunch bowls are equal parts fresh and delicious!
Why you should try these easy quinoa bowls
These quinoa salad lunch bowls make your lunch decision so easy. Imagine waking up and realizing you don't have to worry about lunch! Having a lunch ready to go gives me extra time to exercise, work on my projects or anything else I need to get done that day. It is a nice feeling and it is one less decision to make during the day.
It also helps me make a healthier choice. When I already have something that is both delicious and healthy ready to go, it is a no brainer.
Why beans?
Beans are an amazing source of nutrition and fiber. It's no wonder they are considered a superfood! "Beans are packed with fiber, folate, and phytates, which may help reduce the risk of stroke, depression, and colon cancer." (Dr. Michael Greger, How Not to Die). Also of note in Dr Greger's article on www.nutritonfacts.org titled Eat Beans to Live Longer, he stated that there is "an 8% reduction in risk of death for every 20 gram increase in daily legume intake. That's just two tablespoons's worth!"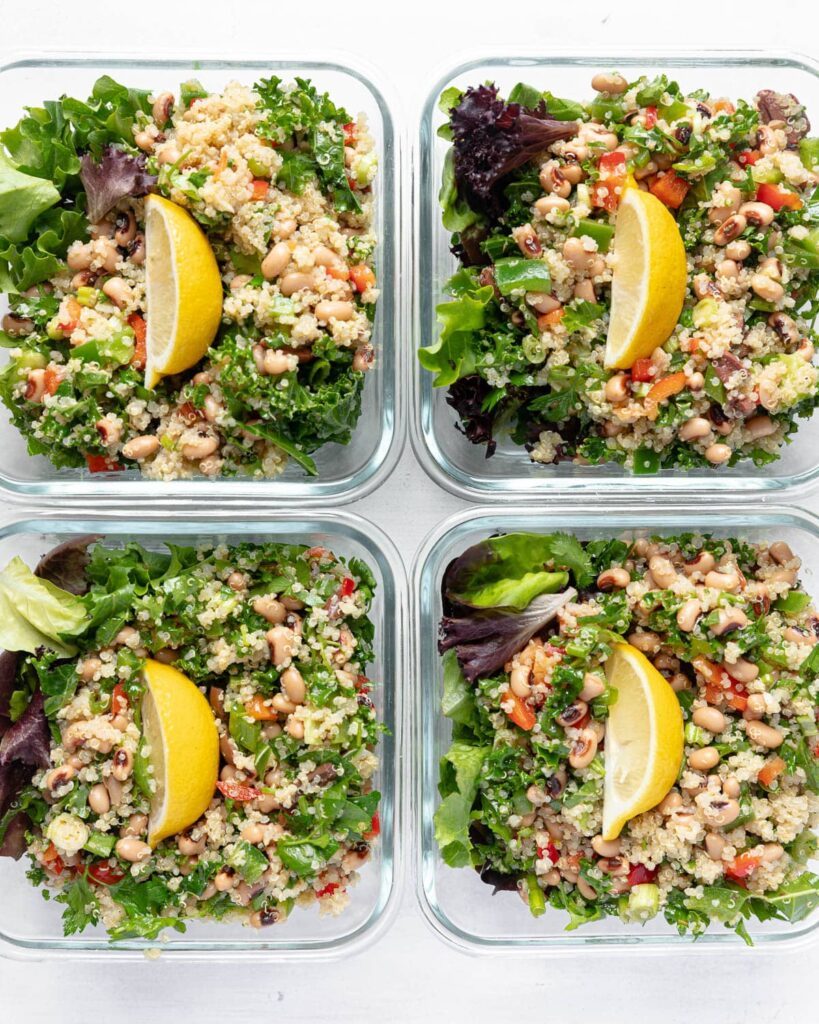 What you need to make these bowls
The beauty of these bowls is we are using many common pantry ingredients like quinoa, black eyed peas, olive oil and red wine vinegar. We also use fresh ingredients that you may already have on hand. I recommend using fresh produce versus produce that has already been sitting in your fridge for a week. Especially for the lettuce that you choose. I recommended used baby lettuce mix or arugula in this recipes but a whole head lettuce like red leaf would work well, just make sure whatever you buy that you either check the date for freshness or make sure it is very fresh looking. Remember you are going to prep these bowls and then be eating them throughout the week.
You can find quinoa in the grain section of any grocery store. Quinoa is actually a seed and is a complete protein. You will also need two cans of black-eyed peas and kalamata olives. The fresh vegetables you will need include green pepper, red bell pepper, kale, green onions, curly parsley, baby lettuce mix, and a lemon.
For the dressing you need extra-virgin olive oil, red wine vinegar, lemon juice, dried oregano, 2 cloves garlic, dijon mustard, onion powder, sea salt and freshly cracked black pepper.
How to make these meal prep bowls
It is helpful to prepare the quinoa in advance and put in in the fridge so it is ready to go and you don't have to wait for it to cool. If you prep it while you are preparing the veggies, this works too, you just need to wait till it has cooled off before you combine it with your veggies.
Prepare quinoa
First, you will rinse one cup of quinoa in a fine mesh strainer and add it to a medium sized saucepan. Add two cups of water and bring it to a boil. Turn the heat down to low and add a lid. Let it cook for 15 minutes then remove from heat. Let it sit, with the lid on, for 5 minutes. Then fluff with a fork and let cool. You can also check the package for their cooking instructions. In addition, I've included Instant Pot cooking directions in the recipe notes.
Prep other ingredients
Next, you will prep all the other salad ingredients. Open two cans of black-eyed peas, drain the liquid and rinse them thoroughly. Dice red bell pepper and green pepper. Wash your kale leaves, remove the stems and chop into small pieces. Dice your green onions, chop your parsley and slice the olives. Wash a lemon and cut it into quarters.
Make the dressing!
Add all the dressing ingredients to a jar and shake vigorously. Mix the salad together then add the dressing and combine thoroughly.
Finally, in four separate bowls (similar bowls to the ones I use here, affiliate link) add a large handful of lettuce and divide the salad mixture evenly. Add a lemon on top, secure lids and store in the fridge.
I really hope you love these lunch bowls! They make the work week so much easier!
More lunch bowls to try

Easy Mediterranean Lunch Bowls
Fresh Tex Mex Lunch Bowls
Ramen Veggie Lunch Bowls
Roasted Veggie Lunch Bowls
Healthy Harvest Lunch Bowls
Thai Tofu Lunch Bowls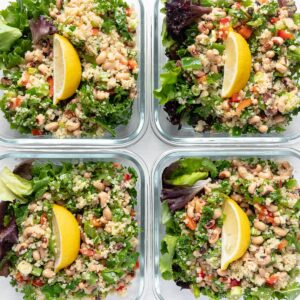 Easy Quinoa Salad Lunch Bowls
If you are trying to eat more greens and beans, look no further. These quinoa salad meal prep lunch bowls are equal parts fresh and delicious!
Ingredients
Salad
1

cup

quinoa,

dry

2

(15.5 ounce) cans

black-eyed peas,

drained and rinsed

½

green pepper,

diced

½

red pepper,

diced

2

large

kale leaves,

de-stemmed and chopped

4

green onions,

sliced

½

cup

curly parsley,

chopped

⅓

cup

pitted kalamata olives,

sliced

1

lemon,

quartered

4

cups

baby lettuce mix or arugula
Dressing
⅓

cup

extra-virgin olive oil

2

tablespoons

lemon juice,

freshly squeezed

2

tablespoons

red wine vinegar

2

cloves

garlic,

minced

2

teaspoons

dijon mustard

1

teaspoon

dried oregano

½

teaspoon

onion powder

¾

teaspoon

sea salt

½

teaspoon

black pepper,

freshly cracked
Instructions
Rinse quinoa in a fine mesh strainer and cook per package directions. For cooking directions, see recipe notes (stovetop and Instant Pot methods included). After cooking, let cool.

While the quinoa is cooking, prepare all veggies and add them to a large bowl.

Add all dressing ingredients to a medium sized jar and shake until combined.

Add cooled quinoa to the veggies and toss. Add dressing and stir until combined.

Divide lettuce and quinoa salad evenly between 4 bowls. Add one quarter lemon slice per bowl. Seal with lids and store in fridge for up to 5 days.
Notes
Quinoa cooking directions:
If your quinoa is not pre-rinsed, rinse it by putting it in a fine mesh strainer and rinsing it in the sink under running water. The package should say if it is pre-rinsed. 
Instant Pot: To the Instant Pot, add one cup quinoa, one cup water, and stir. Secure lid and turn the valve to sealing. Set for one minute high pressure and let it release for 10 minutes. If the red indicator has not dropped, carefully move the valve to release. Wait for the indicator to drop and remove the lid. Fluff it with a fork and let it cool.
Stovetop: In a pot combine 1 cup quinoa and 2 cups water. Bring to a boil. Reduce heat, cover and simmer until liquid has evaporated (approximately 15 minutes). Remove from heat and let it rest, covered, for 5 minutes. Fluff with a fork and let it cool.