This post may contain affiliate links. Please read our disclosure and privacy policy.
A fun twist on a traditional pad Thai, this dish features a savory peanut sauce, tofu and noodles on top of crisp romaine lettuce!
I'm not sure what made me decide to put a delicious creamy and savory Peanut Pad Thai dish on top of lettuce but that I did and years later I am still doing it. Creamy noodles and crunchy romaine is an amazing combo. If you are looking for a Thai inspired dish and love peanuts, this one is for you!
This recipe is super versatile!
Years ago I used to make this with eggs and shrimp! Feel free to make this recipe your own and use your protein of choice. However, I will guarantee you that this is really good with the tofu! You could also use crumbled tempeh, which would save some time and reduce pan frying the tofu.
My husband is definitely more omnivorous than I, so I make him some chicken on the side to add to his. I reserve two tablespoons of the sauce to add to the chicken after it is cooked through.
You also have the option of making this super spicy or as mild as you want! I make this pretty mild because of the kiddos and then I add more spice to my portion. Traditionally Pad Thai is not a spicy dish, but I love this one spicy.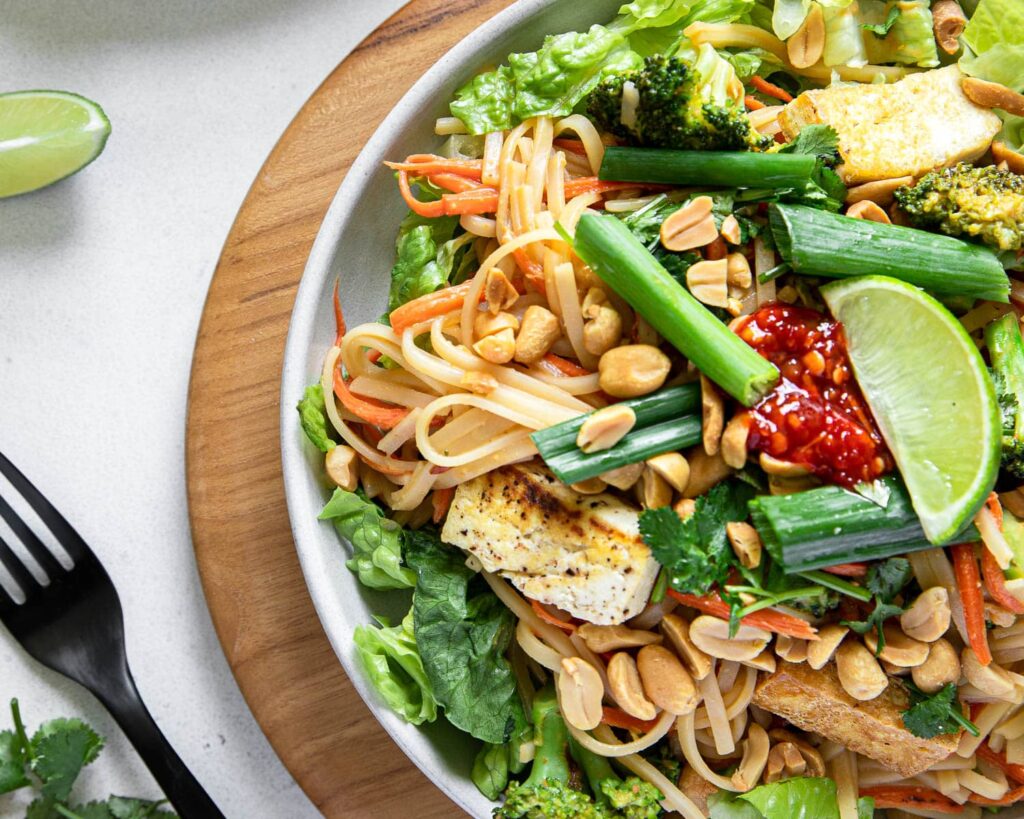 Let's Talk Tofu – Is Soy Healthy?
Speaking of tofu…make sure you buy extra firm tofu and organic! The reason why I buy organic is most soy products are made with genetically modified soy beans. If that is something you want to avoid, you definitely want to purchase organic soy products. If you are wondering whether or not tofu is good for you, please check this article, "Is Soy Healthy?"
To properly pan fry tofu, you need to press it to remove some of the water. I have pressed tofu for only 15 minutes and up to one hour. Both actually work fine. The longer you press it the more firm it will be but honestly (at least to me), it does not matter a whole lot.
An Easy Way to Press Tofu
This should be your first step when getting out your ingredients. First, drain the liquid from the container, set it on a kitchen towel and press lightly. Move the tofu to a non-saturated portion of the towel. Wrap the towel around the tofu so there is toweling on top of the tofu. Next, grab a frying pan and set it on top of the tofu, add four cans of beans on top and let it sit. Let it sit until you are ready for it but try to wait about 30 minutes.
After you have your tofu pressing, it's time to chop up your veggies and get your toppings ready. You will be chopping up broccoli, green onions, cilantro and julienning your carrots.
Make peanut sauce
Next, you will make your peanut sauce. The only surprise ingredient here that you may not have heard of before is the chili garlic sauce. It usually comes in a small 8 oz. container and you can find it in the asian section of your neighborhood grocery store. This recipe calls for 2 teaspoons which results in a mildly spiced dish. I add an additional teaspoon to my serving before eating, sometimes more! If you like spice, you will love this particular sauce.
Prepare noodles and tofu
Now it's time to boil a pot of water to cook your Pad Thai noodles. I follow the directions on the box.; bring a pot of water to a boil, add noodles, remove it from the unit and let it sit for 10 minutes or until the noodles are tender. I always test the noodles to make sure they are done.
After you have most things ready, you will start pan frying tofu. I start with two teaspoons of avocado oil in a non-stick pan. I rarely use non-stick pans, however, I do use them for tofu because the tofu will really stick to a stainless steel pot (which is the other kind of pots that I own).
Now this Peanut Pad Thai is coming together!
Once you get the tofu going, in another pan you will stir fry the veggies. While those are going, I chop and wash the romaine. Now things are starting to come together! When the veggies are tender you will add the sauce, then the noodles and tofu and you are in business!
We really love this dish! I hope you love it as much as we do!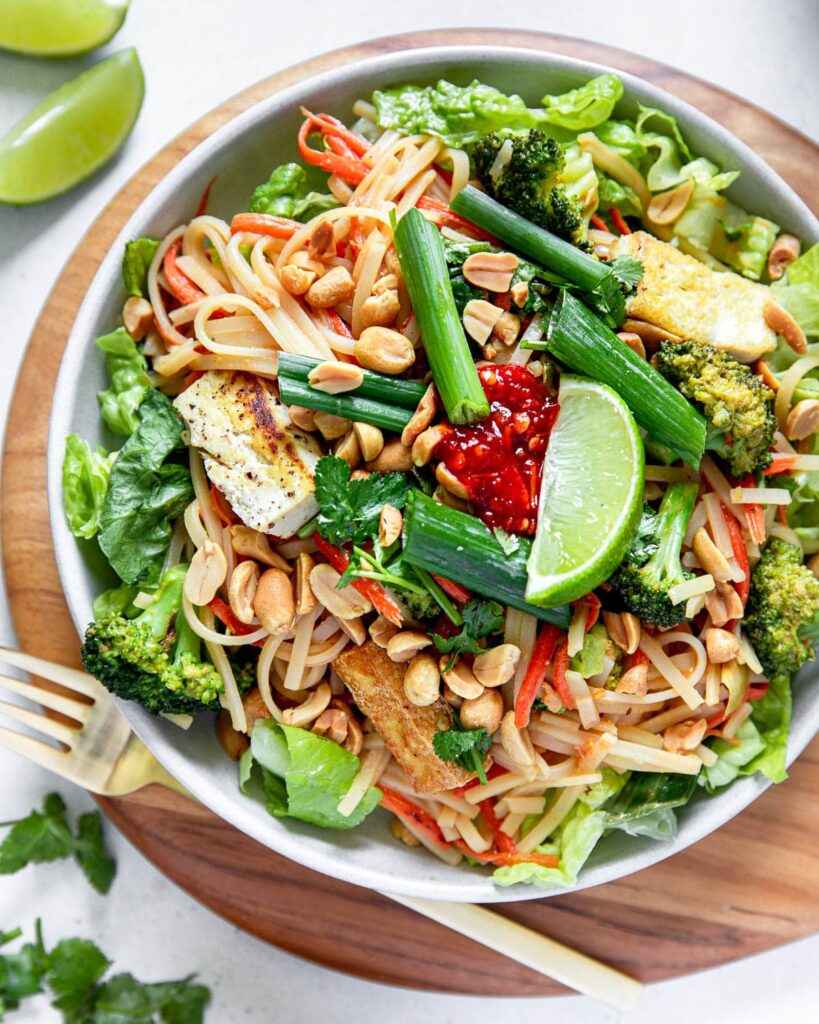 Some more savory dinner ideas for you! This Honey and Ginger Tofu Stir Fry has a delicious sauce that you will want to eat all over everything! These Orange Chickpeas and Vegetables are so easy! Everything gets throws in one pan!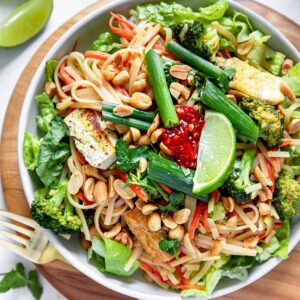 Peanut Pad Thai
This peanut pad Thai is a fun twist on traditional pad Thai. It features a savory peanut sauce, tofu, rice noodles, of course lots of veggies, all atop a bed of lettuce! Trust me on the lettuce!
Ingredients
1

(14 ounce) container

extra-firm organic tofu,

pressed

14

ounces

pad thai rice noodles,

or other stir fry noodles

1 ½

tablespoons

avocado oil,

divided

3

carrots,

peeled and juilienned

1

head

broccoli florets,

(3-4 cups)

1

bunch

green onions,

sliced in 1 inch pieces

2

medium

hearts of romaine,

washed, dried, and chopped

½

bunch

cilantro,

chopped

¾

cup

peanuts,

roasted and salted, roughly chopped
Sauce
½

cup

natural peanut butter

(just peanuts and salt)

⅓

hot water

6

tablespoons

Tamari or soy sauce

¼

cup

lime juice

3

tablespoons

maple syrup

2

teaspoons

chili garlic sauce

1

tablespoon

avocado oil

2

cloves

garlic,

minced

1

inch

ginger,

peeled and minced
Instructions
Press tofu (if you have not already). Drain and rinse tofu. Set tofu on a towel and press lightly. Move to a clean part of the towel and wrap the towel around the tofu, add a frying pan with some cans on top, and let set.

To make the sauce add the 1/2 cup peanut butter and 1/3 cup of hot or boiling water to a bowl and stir to soften the peanut butter. Add all other ingredients, stir and set aside.

Steps 4 and 5 should be done almost simultanteously. Once you start the water for the noodles, also start pan frying the tofu. To prepare the pad Thai noodles, follow the directions on the box. The kind I buy from Thai Kitchen calls for bringing a medium pot of water to a boil, add the noodles, remove from stove and let sit for 10 minutes or until tender. Always try the noodles to make sure they are done. Drain the excess water, run cool water over them and set aside.

Warm a non-stick pan to medium high heat and add ½ tablespoon of avocado oil. Slice the tofu into approximately 1 inch pieces. Sprinkle with black pepper and pan fry until golden on both sides., adding small amounts of avocado oil as needed.

In a large sauté pan, add one tablespoon of avocado oil to the pan and turn to medium-high heat. When warmed, add the broccoli and sauté for 4 minutes. Add the carrots and green onions and sauté everything until almost done (approximately 3 minutes). If you need additional moisture to cook the veggies, add a bit of water..

Add the peanut sauce, cook for two minutes then add the noodles.

Stir in the tofu. Serve on a bed of romaine and garnish with cilantro and chopped peanuts

Store leftovers in the fridge for up to five days. For best results, warm in a sauté pan. You may need to add a bit of water or oil to the pan.