This post may contain affiliate links. Please read our disclosure and privacy policy.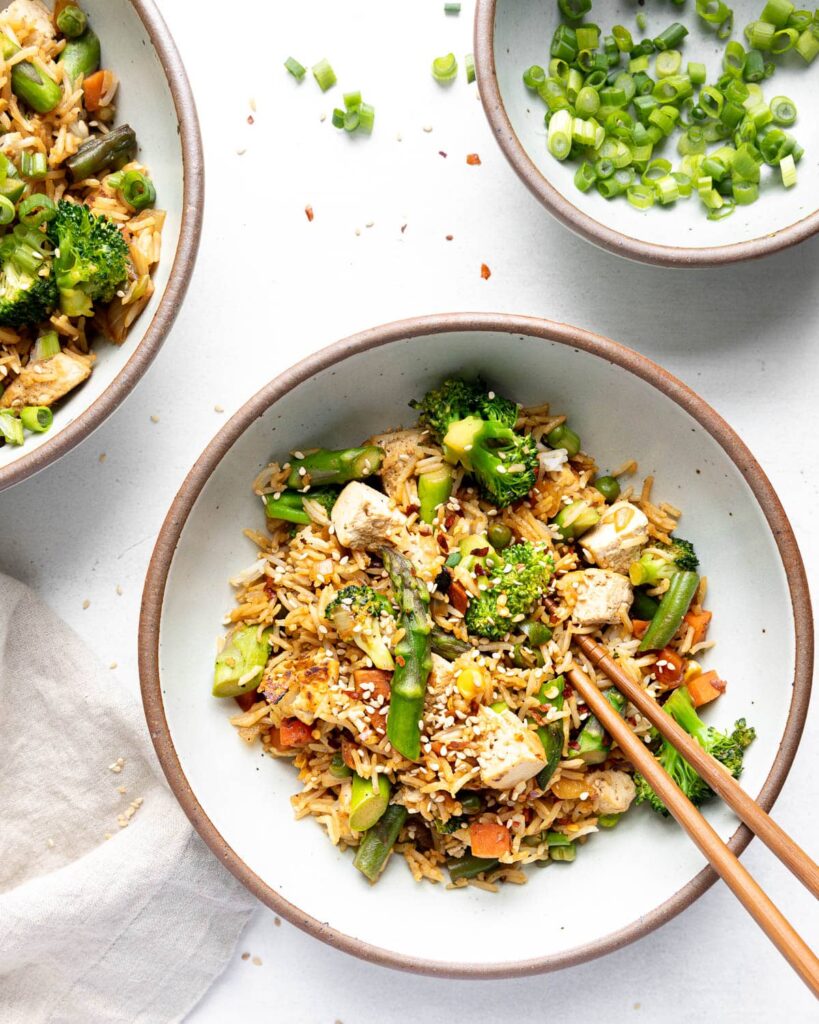 I call this Not Fried Rice because it only uses minimal oil and it is not greasy like typical fried rice. It has a nice light texture and includes lots of veggies. You can even sub some riced cauliflower or butternut squash for part or all of the rice. It is especially good with riced butternut because the subtle sweetness helps balance the savory flavors in this dish.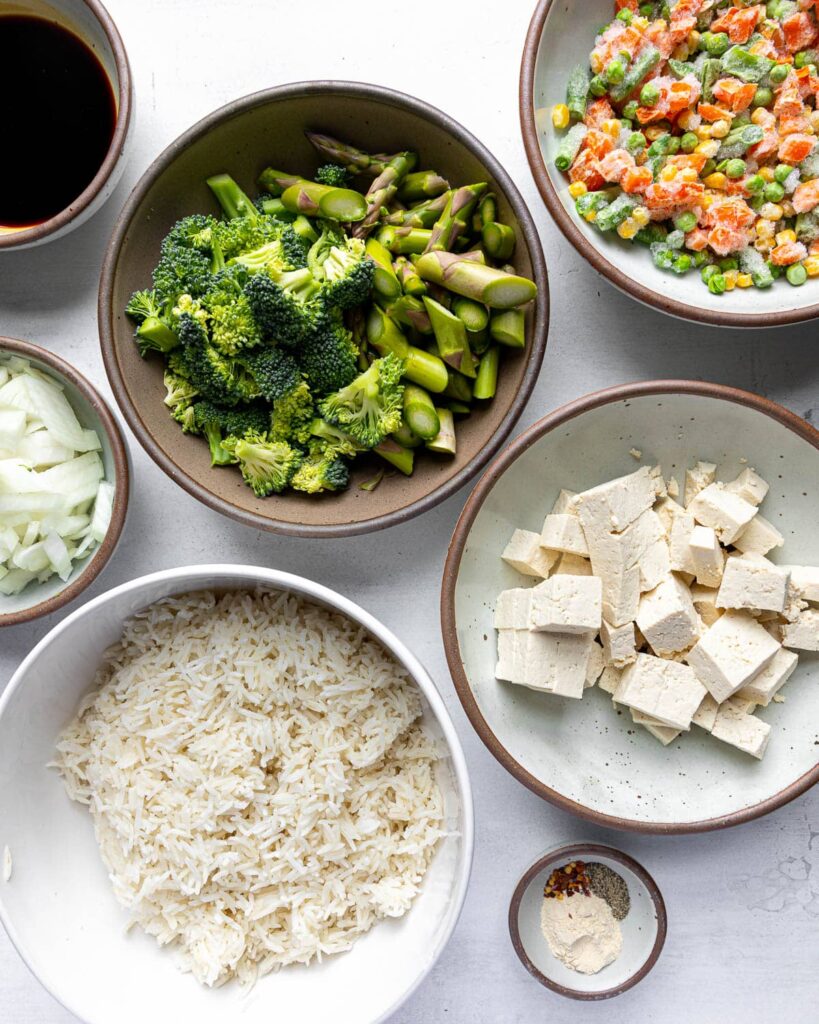 WHAT YOU NEED TO MAKE NOT FRIED RICE
WHY I USE BASMATI RICE
Typically fried rice is made with a short grain white rice or jasmine rice. I prefer to use basmati rice. Basmatic rice is less sticky and ends up resulting in a fried rice dish with nice separated grains all without using a lot of oil. Also this lets you cook it and use it in the same evening. Many people make their fried rice using leftover cold rice. Using basmati rice helps to reduce the stickiness and results in having to use less oil. You can use white or brown rice. Brown rice will have a much longer cook time, so just keep that in mind.
REDUCED SODIUM TAMARI
I use reduced sodium organic Tamari. Tamari is just soy sauce that is also gluten-free. Traditional soy sauce is made with gluten as well as soy. Using organic soy products is important to me as most soy is genetically modified. By nature, soy sauce is very salty so feel free to reduce the soy sauce and add some at the table if needed. Due to the sodium content I try to limit soy sauce dishes to once per week.
VEGGIES
You will use a combination of fresh and frozen veggies. The fresh includes onion, asparagus and broccoli. The frozen mixed vegetables that I recommend includes carrots, corn, green beans, and peas. Back in my pre kids days I would make this not fried rice and chop all the veggies by hand. In the summer I would even use fresh corn. If you have the time on your hand, it definitely makes this dish next level. However, if you are a busy parent you will appreciate the frozen veggies like I do!
SPICES AND OIL
In addition to a few spices like garlic powder, red pepper flakes and garlic powder, you need a neutral cooking oil. I recommend cooking with avocado oil due to its neutral flavor and its high smoke point. Vegetable and canola oils are not hearty healthy and I do not recommend cooking with them or using them at all. If you need some advice on health alternatives, just message me!
Omnivore friendly
Not fried rice is definitely a weeknight staple in our house. I make this every 1-2 weeks and love that my kids eat this because of all the veggies. Sometimes I make this and an omnivore version at the same time. I double all the veggies, and add 1/2 lb ground turkey and one scrambled egg to the other version. This keeps my omnivores happy and results in lots of leftovers.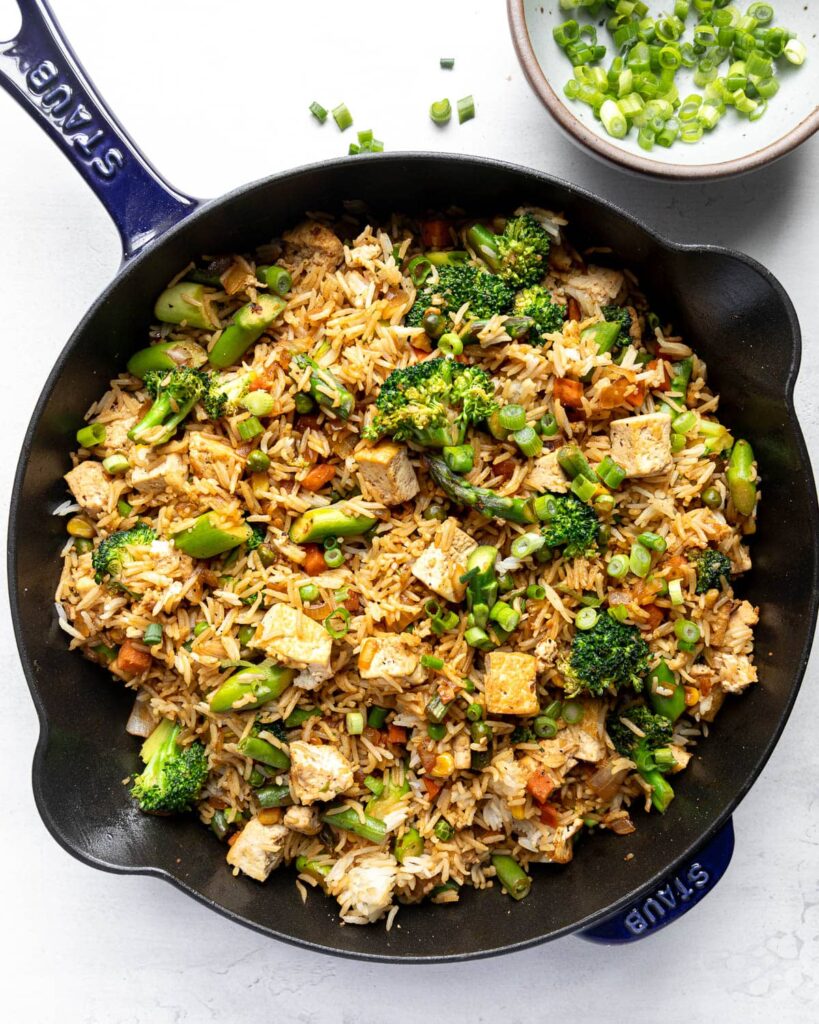 GREAT FOR MEAL PREP
This is great for meal prep and warms up nicely as leftovers! If you want my containers, get them here.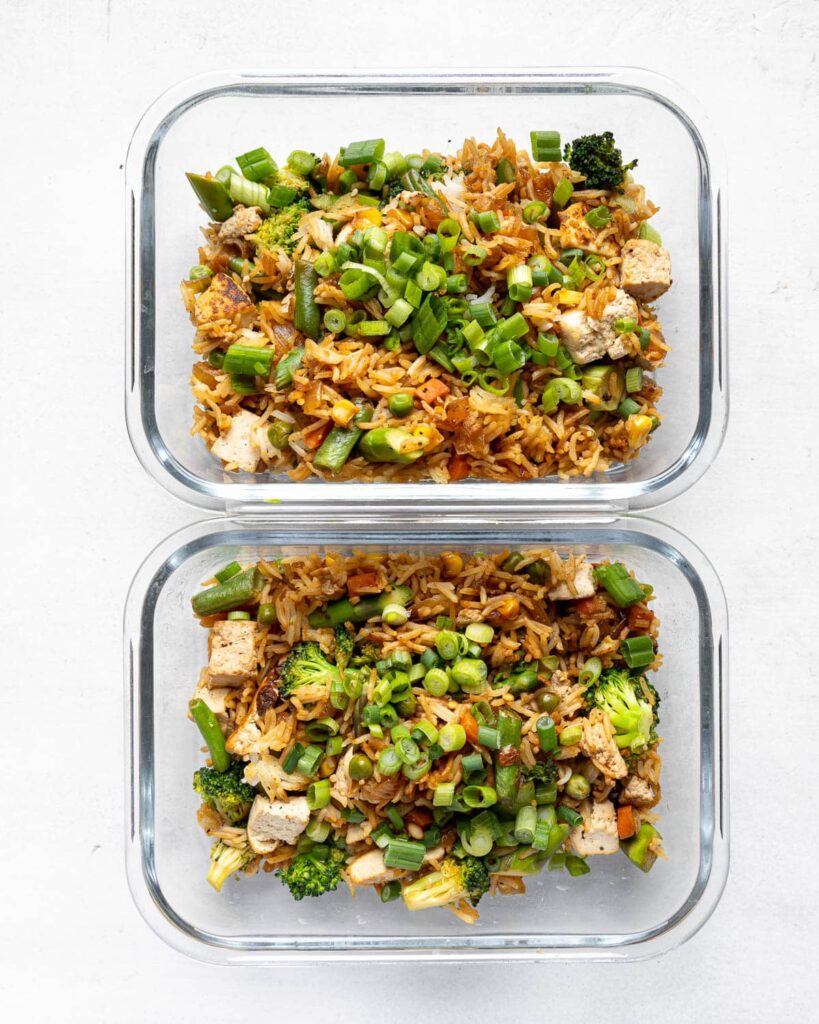 More weeknight meal ideas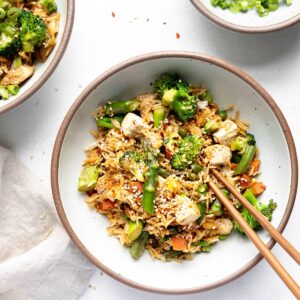 Not Fried Rice
This Not Fried Rice is just as delicious as traditional fried rice but has very little oil, lots of veggies, added protein from tofu and lots of flavor!
Ingredients
1 ½

cups

white basmati rice,

uncooked (should have 4 cups once prepared)

14

ounces

extra-firm organic tofu,

drained

4

teaspoons

avocado oil,

divided

½

yellow onion,

diced

2

cups

broccoli florets

½

bunch

asparagus,

chopped (1 cup)

½

bag, or 8 ounces

frozen mixed vegetables

(corn, carrots, green beans and peas)
Seasonings
5

tablespoons

organic reduced sodiuam Tamari

(or soy sauce)

1

teaspoon

garlic powder

¾

teaspoon

black pepper

Crushed red pepper to taste
Optional Garnishes (one is plenty)
Green onions, sesame seeds, crushed red pepper, avocado
Instructions
Cook rice per the instructions on the bag. See my note below about the type of rice I use. Fluff the rice when done.

Prepare tofu. Drain water and press slighlty with a clean dry towel to remove some of the water. Slice in ½ ich cubes.

Add 1 teaspoon of oil to a large non-stick frying pan. Add tofu to pan. Do not let tofu pieces touch or they will stick together. Brown each piece on a few different sides. Add another teaspoon of oil if needed. Remove tofu from pan and set aside.

Add 2 teaspoons of avocado oil to the same pan. Add onion and sauté until translucent.

Add broccoli, frozen mixed veggies and asparagus. Cook 4-5 mins till just tender, stirring occasionally.

Add in seasonings (Tamari/soy sauce, garlic powder, black pepper, and red pepper flakes). Add in tofu. Stir for a minute

Fluff rice with a fork then add it to your veggies. Stir to combine. Remove pan from heating element. Taste it and see if you need to add any more seasonings. Adjust to your liking.

Serve with any additional toppings you enjoy. I really like some diced avocado on top or some green onions!
Notes
For this recipe, I use white or brown basmati rice. Seems strange I know (versus using jasmine or sushi rice like most places), but using this rice results in fluffier fried rice and the rice doesn't stick together as much. Everyone really likes it with this type of rice. Give it a try!  Alternatively, you can cook your rice in advance, place it in the fridge and then add it to this dish.  
To reduce sodium content, use reduced sodium tamari or soy sauce. Also you could reduce the amount you add while cooking and add more at the table as needed.
This post was originally posted on January 2, 2019 and was updated on March 4, 2021.