This post may contain affiliate links. Please read our disclosure and privacy policy.
This fresh peach salsa is everything a salsa should be! Sweet, savory, juicy and crisp with a kick of heat!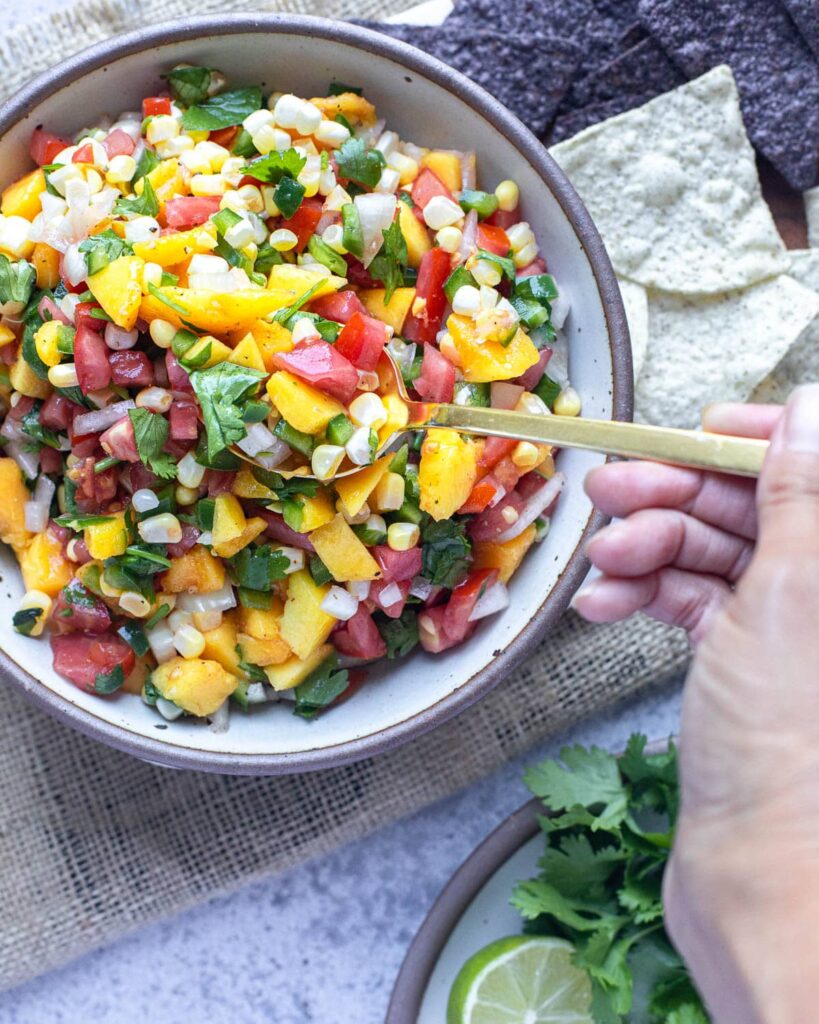 Fresh peach salsa in the summer is one of my favorite things! I love salsa super juicy so I actually leave all the seeds in the tomatoes which helps make my salsa extra juicy. This one includes fresh, in season peaches which is the perfect compliment for crisp raw corn and spicy jalapeño
How to pick perfectly ripe peaches
Picking perfectly ripe peaches is pretty easy. Around where we live there are lots of orchards that sell fresh peaches, so we always make sure to buy them at the orchards. Luckily, while we are there we can also pick up fresh tomatoes and sweet corn.
If I need peaches that are ripe right when I purchase them, I call ahead to make sure I get some ripe ones. Otherwise, they are typically hard and take anywhere from a couple days to a week to finish ripening. They are ripe when the the peach is slightly soft and gives some when you press on it gently. It will have have a sweet aroma. To speed up the ripening process you can put a few in a brown paper bag. If ripe peaches are not available, you can also use mango or pineapple.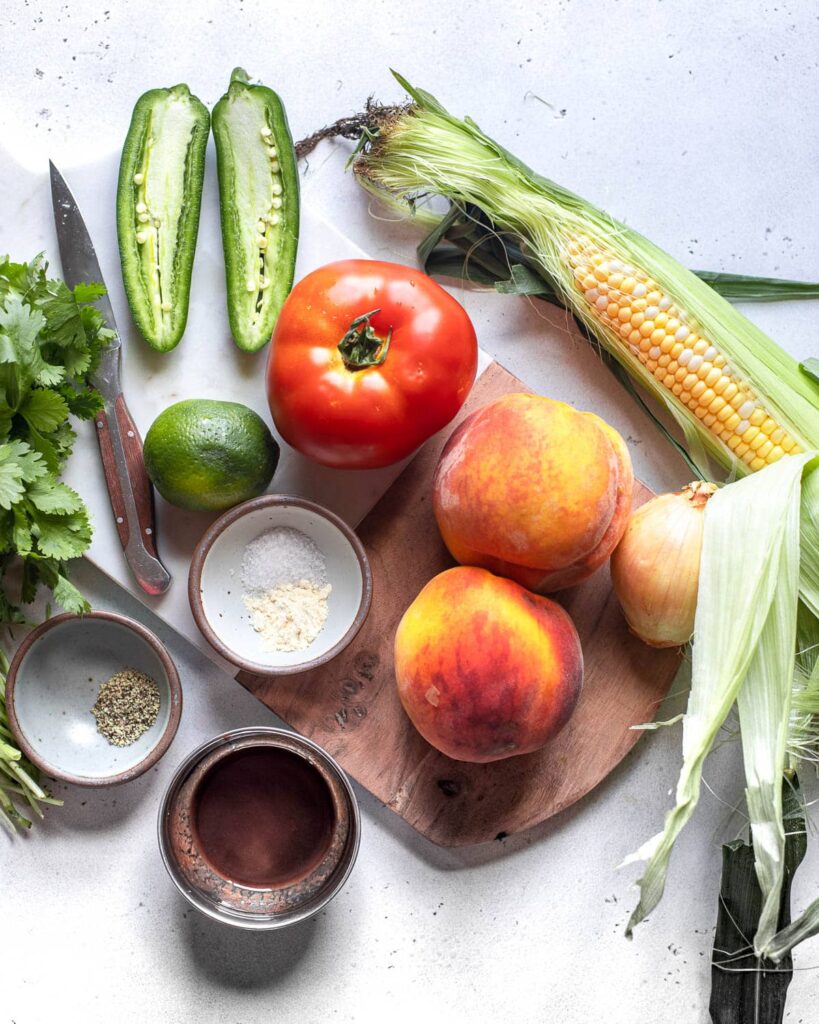 How to make fresh peach salsa
Making fresh peach salsa is as easy as chopping and dicing. No need to use the stove or oven which is always nice in the summer. Peel and dice your peaches to your desired size. I dice mine pretty small.
Some people prefer to deseed their tomatoes. I prefer to leave the seeds in because they don't bother me and I like my salsa extra juicy. Leaving the tomato seeds in helps preserve the juices and keeps them in the salsa. To remove the kernels from the ear of corn, place the ear of corn flat on its side. Using a large knife, slice the kernels off, rotating the ear around until all kernels are sliced off. For the jalapeño, slice it in half and remove all of the seeds. Mince it very finely. Wash your hands after touching jalepeños…just trust me!
Just a quick tip on hot sauce, I like use a variety of hot sauce. At any given time, I have up to 5 bottles of different hot sauces in the fridge. I like to use a little bit of several different ones and I think it helps the flavor. As you prepare each ingredient, add them to a medium sized bowl.
Add all ingredients, including the spices, and stir thoroughly. We have eaten this right away and also let it sit in the fridge for an hour before serving. Any way you do it, I promise it will be delicious!
Love Salsa?
Me too! Try this Sweet Corn and Black Bean Salsa! It is my go to for parties and get togethers.
Try this Fresh Peach Salsa or the Sweet Corn and Black Bean Salsa on these Vegetarian Burrito Bowls. So versatile and easily one of my families favorite weeknight meals.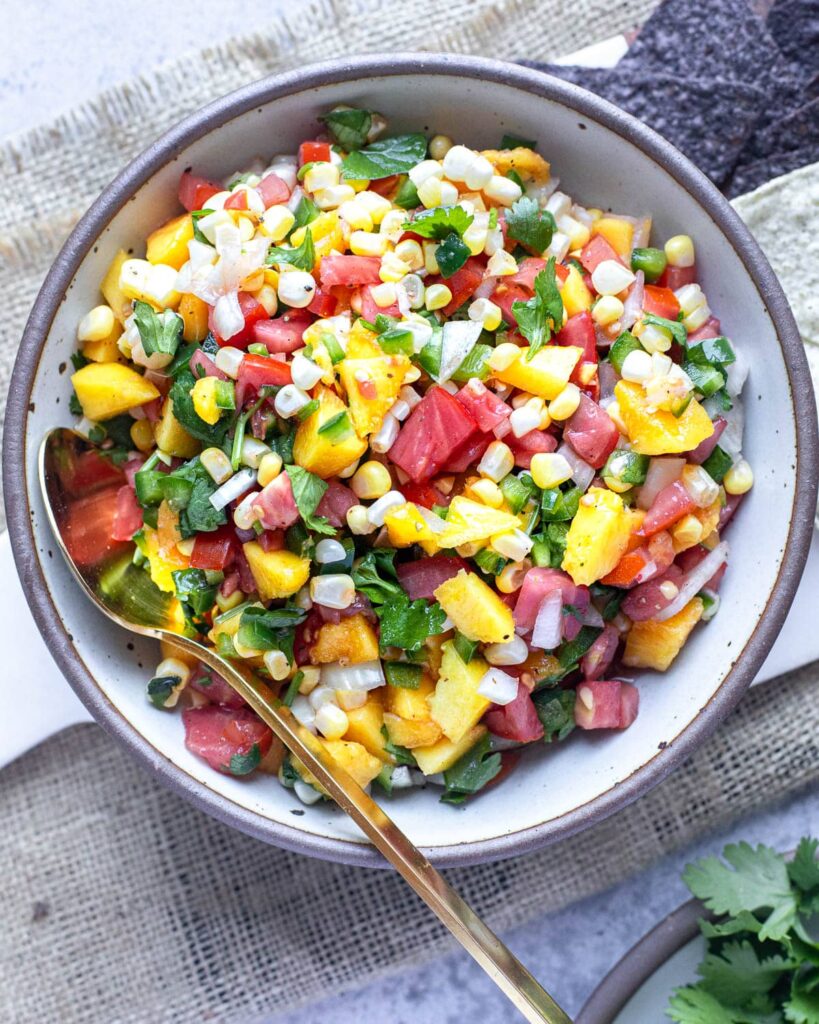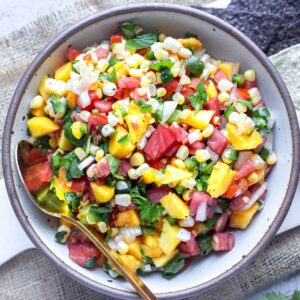 Fresh Peach Salsa
This fresh peach salsa is everything a fresh salsa should be! Sweet, savory, juicy and crisp with a kick of heat!
Ingredients
2

large

peaches,

peeled and diced

1

medium

tomato,

diced

1

ear

raw corn,

kernels only

½

medium

vidalia or yellow onion,

diced

1

jalepeno,

seeds removed, minced

⅓

cup

cilantro,

minced

2

tablespoons

hot sauce,

or to taste

1

lime,

juiced

½

teaspoon

garlic powder

½

teaspoon

sea salt

½

teaspoon

black pepper
Instructions
Combine all ingredients in a medium bowl and stir thoroughly. Set it in the fridge until you are ready to serve it. It's best enjoyed the same day but it keeps very well for several days in the fridge.