This post may contain affiliate links. Please read our disclosure and privacy policy.
Mediterranean lunch bowls that are ready in 20 minutes! This is literally the easiest lunch I have ever made for myself! All you have to cook is the quinoa. The only two items you have to cut up are the red onion and the cucumber. Many items are staples you may already have on hand!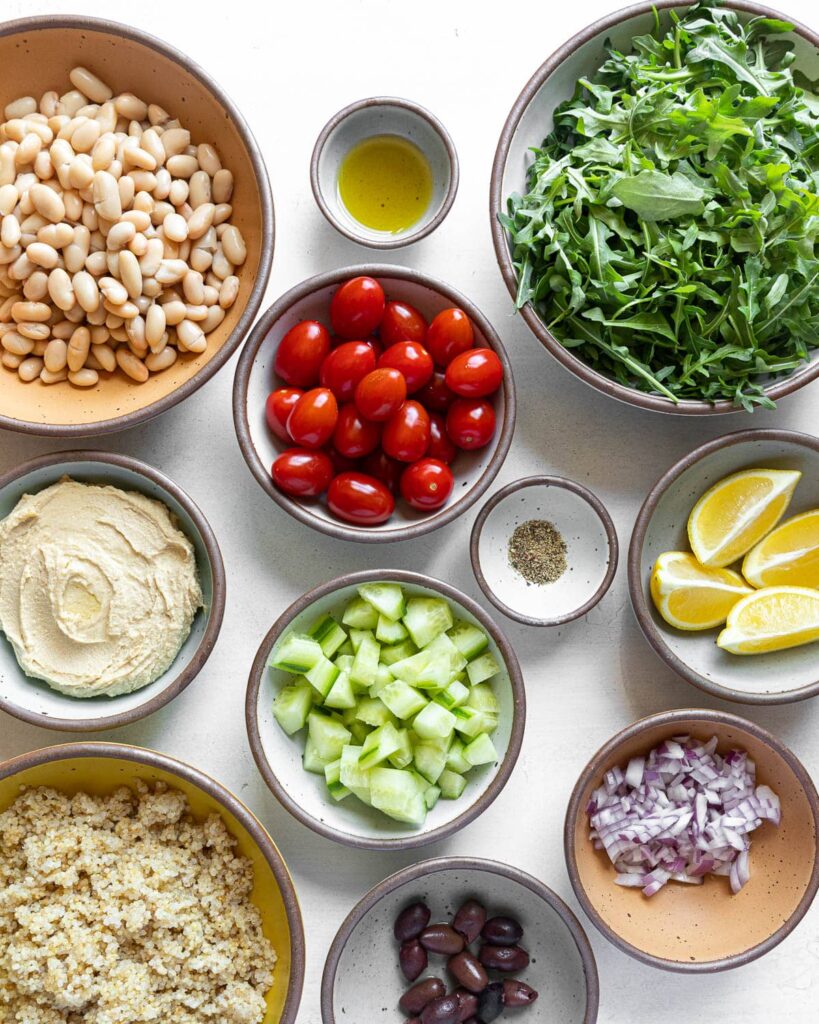 Mediterranean Lunch Bowls Ingredients
Quinoa is usually considered a whole grain but it's actually a seed! It is a complete protein as it contains all of the essential amino acids. It is naturally gluten-free and it contains many vitamins, mineral and flavonoids. I have included both the stovetop and the Instant Pot cooking methods in the recipe notes.
You can use store bought or homemade hummus. There are many flavors to chose from. A roasted red pepper hummus or a spicy hummus would be delicious in these bowls. The hummus when combined with the lemon and olive oil serves as the "dressing" for these bowls.
The fresh ingredients include cherry tomatoes, cucumber, red onion, lemon and arugula. The pantry items include Great Northern beans, Kalamata olives, olive oil, and black pepper. Any other mild white bean will work such as cannelloni or chickpeas.
How to customize these bowls
This Mediterranean bowls lunch prep makes four bowls but you can easily make an additional bowl to have five for each day of the week. I can get a little bored with having the same lunch, so I though four was a good number. You can serve this with some avocado, a piece of crusty sourdough, a healthy treat, or just enjoy as is.
This is a super fresh, light lunch. The recipe makes bowls that are approximately 540 calories each. This is an estimate that can vary based on the type of hummus you buy or whether you are using the exact quantities. If you require less or more calories, adjust the ingredients as needed. You will end up with extra beans and quinoa so those are two ingredients that you can easily adjust the quantity of, if needed.
I usually require a bit more than that, so I add some avocado or have a sweet treat afterwards. If you find it helpful to track calories, consider using www.cronometer.com. They have a great tool to track calories and activity. You can even adjust it according to your weight loss or weight gain goals and it will tell you how many calories to consume. I honestly think it is a lot of work to track calories. I also do not like to be super strict about calories, especially when I know I am consuming nutrient dense, healthy foods. However, it can be helpful to see how many calories are in foods for awareness and to help with your goals.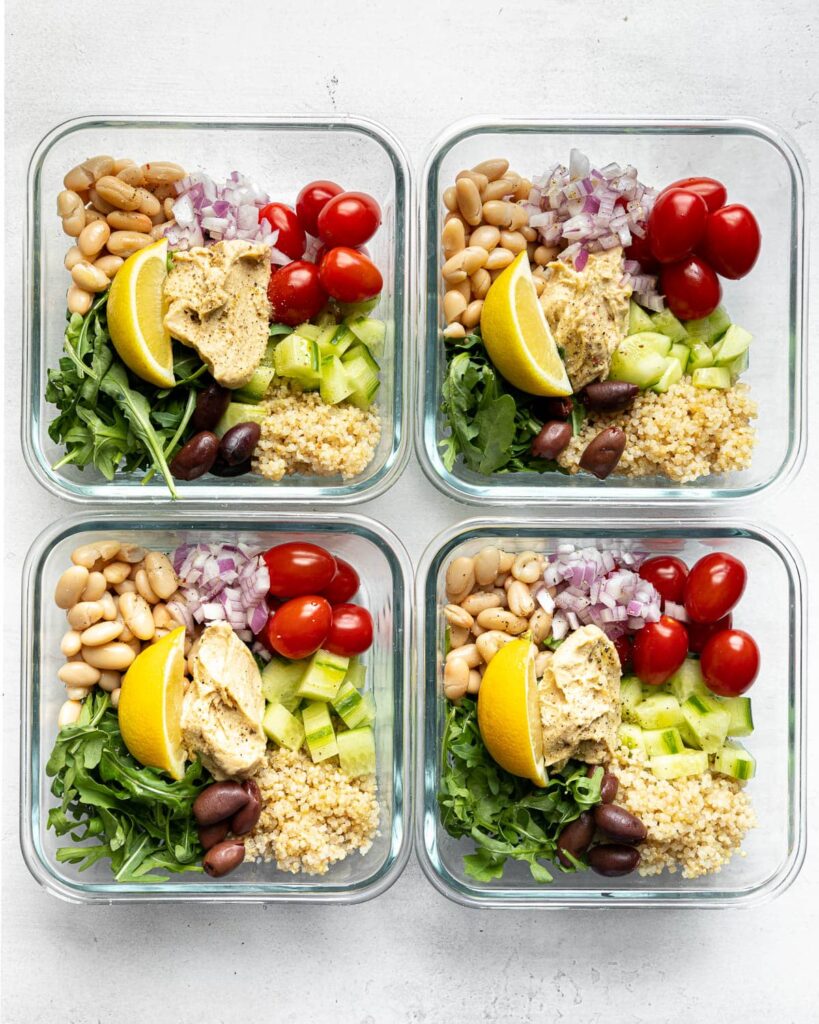 Mediterranean Bowls Tips
The quality of your produce is everything when it comes to a produce packed lunch like this. Pick the sweetest cherry tomatoes, fresh arugula, a very crisp cucumber etc. It makes a big difference and just adds to the depth of flavor in these lunch bowls.
My favorite cherry tomatoes are of course fresh ones right off my tomato vines but my next favorite are the cherry tomatoes sold still on the vine. I always find them to be riper, sweeter and more flavorful than other cherry tomatoes.
This recipe is versatile. You can replace the beans with any preferred protein, add a homemade or store bought Greek style dressing, or add any other veggies you like.
To get started, you will need four 4 cup containers to store your Mediterranean Bowls. The pictured square Pyrex containers are pretty old and I haven't been able to find them in sets. I have bought several sets of these 4.5 cup containers. You get 5 of them and I really love how the lids snap on. Check them out here.
If you want to make your own hummus, try my homemade Classic Hummus. Always check the label on store bought hummus and try to purchase a brand that only uses olive oil versus canola or sunflower oil.
Reasons to eat more beans
Beans are a type of legume. Other legumes include lentils and peas. You may know that beans contain protein, fiber and various vitamins and minerals. Some of the world's longest living people consume beans on a regular basis. If you haven't read The Blue Zones by Dan Buettner, I highly recommend it! They studied the longest living populations in the world and looked for correlations between them. There are some great tips in the book.
As if you needed more reasons to eat beans, let me give you a few more! "Beans are packed with fiber, folate, and phytates, which may help reduce the risk of stroke, depression, and colon cancer." (Dr. Michael Greger, How Not to Die). Also of note in Dr. Greger's article on www.nutritonfacts.org titled Eat Beans to Live Longer, he stated that there is "an 8% reduction in risk of death for every 20 gram increase in daily legume intake. That's just two tablespoons's worth!"
This recipe calls for 1/2 cup of beans for each bowl and if you include the hummus it's just under 3/4 of a cup of legumes!
More lunch bowl recipes to try
Easy Quinoa Salad Lunch Bowls
Tex-Mex Lunch Bowls
Ramen Veggie Lunch Bowls
Roasted Veggie Lunch Bowls
Healthy Harvest Lunch Bowls
Thai Tofu Lunch Bowls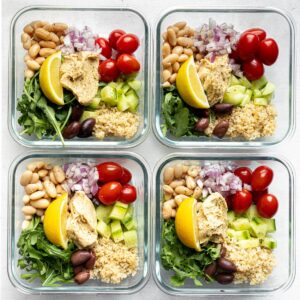 Easy Mediterranean Lunch Bowls
Easy Mediterranean Lunch bowls ready in just 20 minutes! Packed with veggies, so fresh and tasty, and easy to customize!
Ingredients
1

cup

quinoa

1-2

cups

vegetable broth or water

(varies based on cooking method)

1 ⅓

(15.5 ounce) cans

Great Northern beans (or other white beans),

drained and rinsed (2 cups)

12

kalamata olives

8

ounces

hummus,

store bought or homemade

4

ounces

arugula

1

pint

cherry tomotoes

1

medium

cucumber,

partially peeled and diced (I leave some green)

½

medium to large

red onion,

diced (about ½ cup)

1

lemon,

quartered

4

teaspoons

extra-virgin olive oil,

divided

Freshly cracked black pepper to taste
Instructions
Prepare quinoa per package instructions with vegetable broth or water. For stovetop and Instant Pot directions, see notes. Let quinoa cool some before adding it to bowls.

Assemble ingredients evenly into four 4 cup containers. Per bowl add: 1/2 cup cooked quinoa, 1/2 cup beans, 1/3 cup cherry tomatoes, handful of arugula, 2 tablespoons red onion, 1/2 cup diced cucumber, 1/4 cup hummus, one slice of lemon, drizzle 1 tsp olive oil on top, and add freshly ground pepper.

Cover and store in fridge for up to 5 days.
Video
Notes
Try my homemade classic hummus.
Quinoa cooking directions:
If your quinoa is not pre-rinsed, rinse it by putting it in a fine mesh strainer and rinsing it in the sink under running water. The package should say if it is pre-rinsed. The kind I purchase from Costco is pre-rinsed.
Instant Pot: To the Instant Pot, add one cup quinoa, one cup vegetable broth or water, and stir. Secure lid and turn the valve to sealing. Set for one minute high pressure and let it release for 10 minutes. If the red indicator has not dropped, carefully move the valve to release. Wait for the indicator to drop and remove the lid. Fluff it with a fork and let it cool.
Stovetop: In a pot combine 1 cup quinoa and 2 cups vegetable broth or water. Bring to a boil. Reduce heat, cover and simmer until liquid has evaporated (approximately 15 minutes). Remove from heat and let stand for 5 minutes. Fluff with a fork and let it cool.
If you are trying to reduce sodium, consider cooking your quinoa with low sodium broth or with water. Another idea is to look at the sodium content of the olives you buy and consider omitting them. They are considerably high in sodium. In addition, consider making your own hummus and reduce the quantity of salt you add. My classic hummus can be found here.
You will have leftover quinoa and beans. You can make extra bowls or save for an easy side dish.