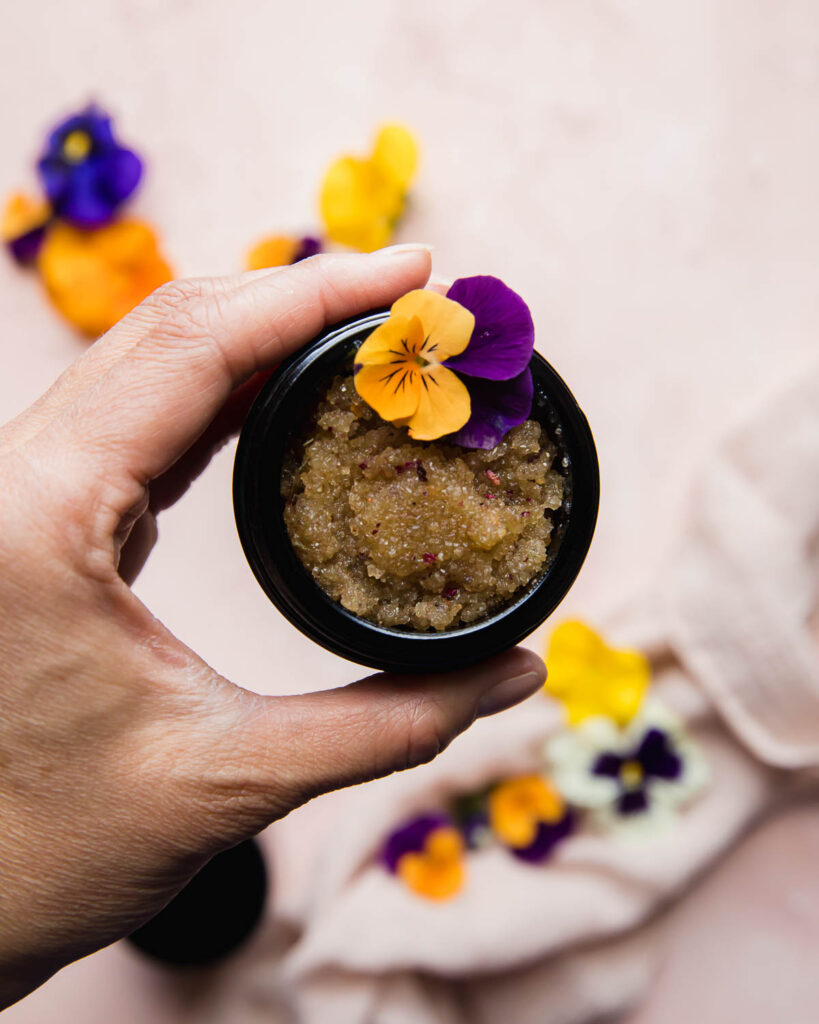 Try this easy salt and sugar body scrub to help you get rid of your wintery dry skin! Exfoliation reveals fresher, younger looking skin, and increases circulation giving you a GLOW! This super simple recipe takes 5 minutes, will save you money AND prevent exposure to some of the preservatives, chemicals and other ingredients found in some store bought brands. I hope you give it a try! It really is super easy and would make a great gift for friends!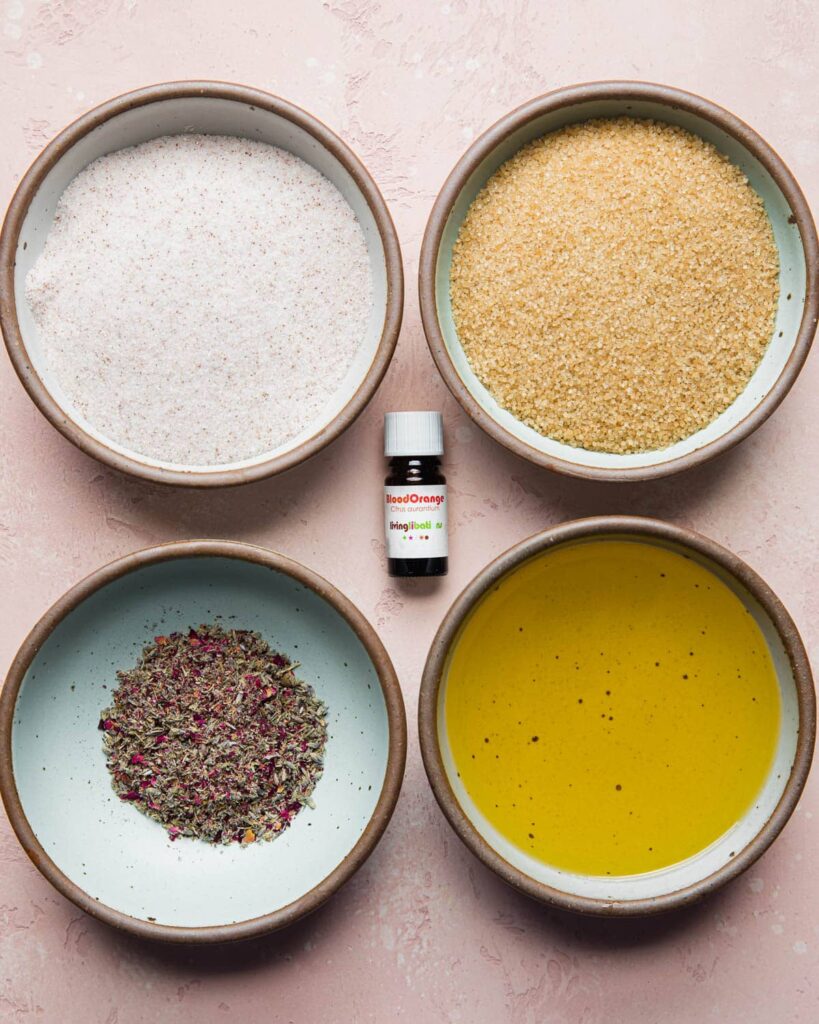 Tips for making this scrub
I like to pick a sugar and a salt with different size granules to make the scrub more effective. I used pure cane Turbinado sugar which has a larger grain and fine sea salt. The type you pick is up to you.
This recipe calls for jojoba oil which is wonderful for skin because it is one of the oils that is closest to your skin's natural oil, or sebum. You can use other oils but I highly recommend using jojoba.
If you want to use the ground flowers, add the petals to a small coffee grinder or blender and pulse them until you have smaller pieces.
You can use any essential oil of your choice as long as it is not irritating to the skin. Some good options are lavender, orange, or eucalyptus.
This recipe will end up being somewhat of a medium consistency meaning it won't be super dry but it also won't be swimming in oil. I've used brands that are swimming in oil and I find them hard to use because when I put my hand it them, they just kind of run through my hand. Just know that you can make this any consistency you want by adding more oil or using less oil.
I recommend putting this in four separate containers instead of one large container. It keeps the ingredients fresher for longer.
For a super smooth shave, use this salt and sugar body scrub before you shave.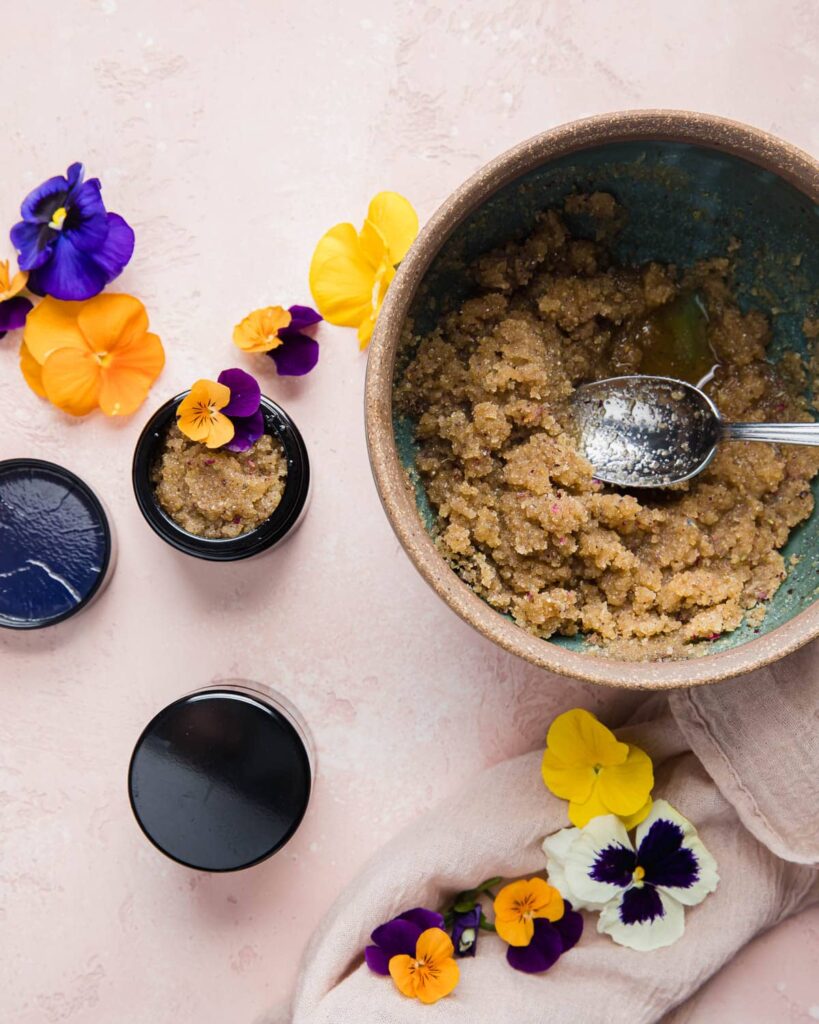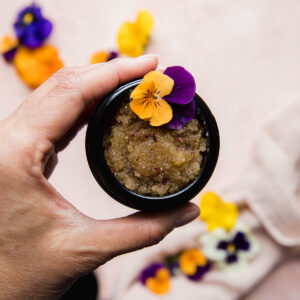 Salt and Sugar Body Scrub
This body scrub only requires five minutes to make and is a great way to bring the glow back to your skin. Customize the scent or leave it scent free!
Ingredients
1

cup

sea salt

(I used Redmond acient fine sea salt)

1

cup

sugar

(I used pure can Turbinado)

1

scant cup

jojoba oil

(just under one cup)
Optional Ingredients
20

drops

essential oil of your choice

¼

cup

dried flowers,

roughly ground
Instructions
In a medium bowl, stir together the salt and sugar.

(Optional) In a coffee grinder or blender, pulse the ground flowers until small (but not a fine powder). Add to mixture and stir.

Add jojoba oil until you reach your desired consistency. You can use less or more to your liking. Note that if you use too much oil, your mixture will be swimming in oil and it will be difficult to scoop it out with your hand.

Add essential oil(s) of your choice.  Stir to combine. 

Store in four glass 4 ounce containers.