This post may contain affiliate links. Please read our disclosure and privacy policy.
Loaded bowls that are packed with flavor and lots of delicious veggies and tofu
If you love big bowls filled with all the things, this is a must try! This is a plant-based version of a poke bowl. Poke (pronounced poh-kay, rhymes with okay) is a Hawaiian dish that is traditionally made with raw tuna and not a lot of veggies. Of course, I had to up the vegetable game. This is not a traditional poke bowl, but I think you will find it very satisfying and flavorful.
How to make plant-based poke bowls
You will start by cooking your brown rice. You can cook it on the stove using the directions on the back of the bag, or you can cook it in a rice cooker or an Instant Pot. I love to use my Instant Pot for cooking rice. Its great for hands off cooking, you just add the ingredients, set it and forget it. There is nothing to keep an eye on while cooking on the stove. The consistency always comes out perfect every time.
When using the Instant Pot, you want to use one cup of liquid for every one cup of rice. When cooking on the stove, you have to use more water due to evaporation. Using an Instant Pot, one cup of rice will make just over 2 cups of rice.
On the stove, one cup of brown rice will make 3 cups. Seems crazy I know, but true story. So you have to adjust the amount of rice depending on what method you are using and how much rice you want for each of your bowls.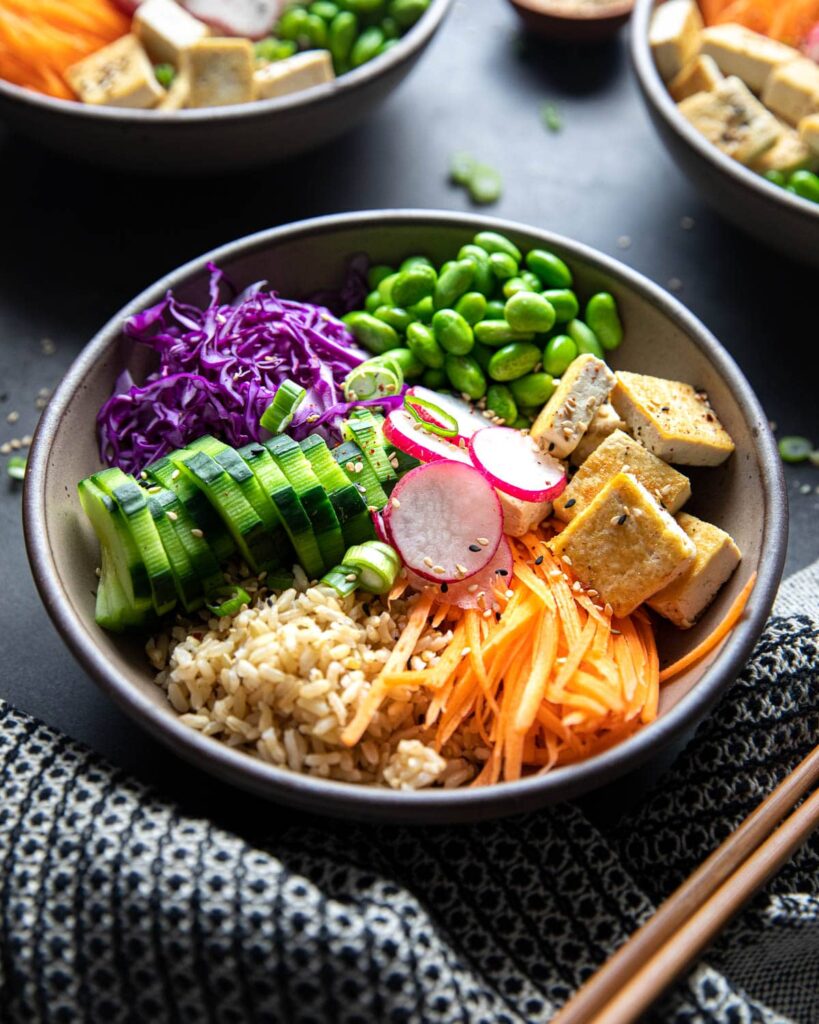 It's all about the sauce!
The sauce features macadamia nuts, green onions, freshly grated ginger, Tamari, freshly squeezed orange and lemon juice. It is really delicious and puts this meal over the top! This sauce would be great drizzled over other grain and veggies bowls too!
I've said before that I do not recommend using non-stick cookware due to the chemicals released while using these types of pans. However, the pans I have are stainless steel and every time I have used them while browning the tofu, I end up with a mess. So in this one instance, I recommend using a non-stick pan. If you have ceramic pans, those may work great for this. I've never tried cooking with ceramic; they are next on my list to try!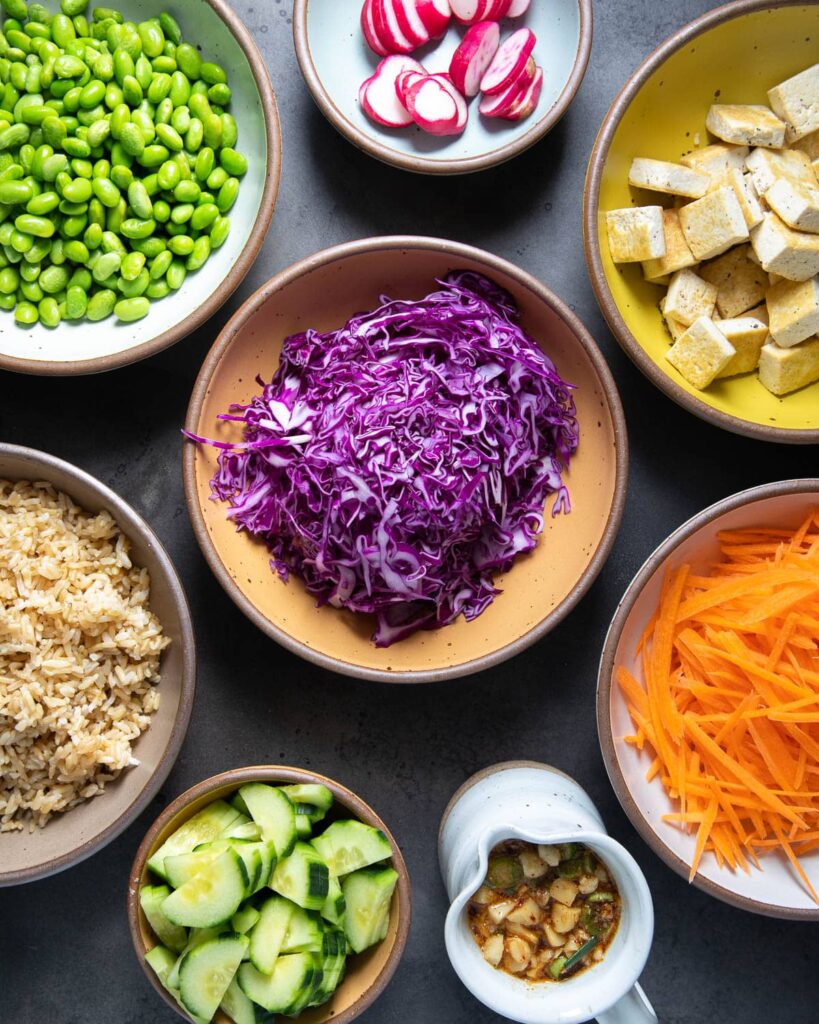 How to store plant-based poke bowls leftovers
If you have leftovers, store the sauce separately. In addition, you can store the tofu and rice in one container and the veggies in another. In this way, you can warm up the rice and tofu later.
These poke bowls are
satisfying
plant-based
savory
so fresh!
If you love these bowls, try these Thai Tofu Lunch Bowls! Delicious black rice, tofu, fresh veggies and an amazing peanut sauce.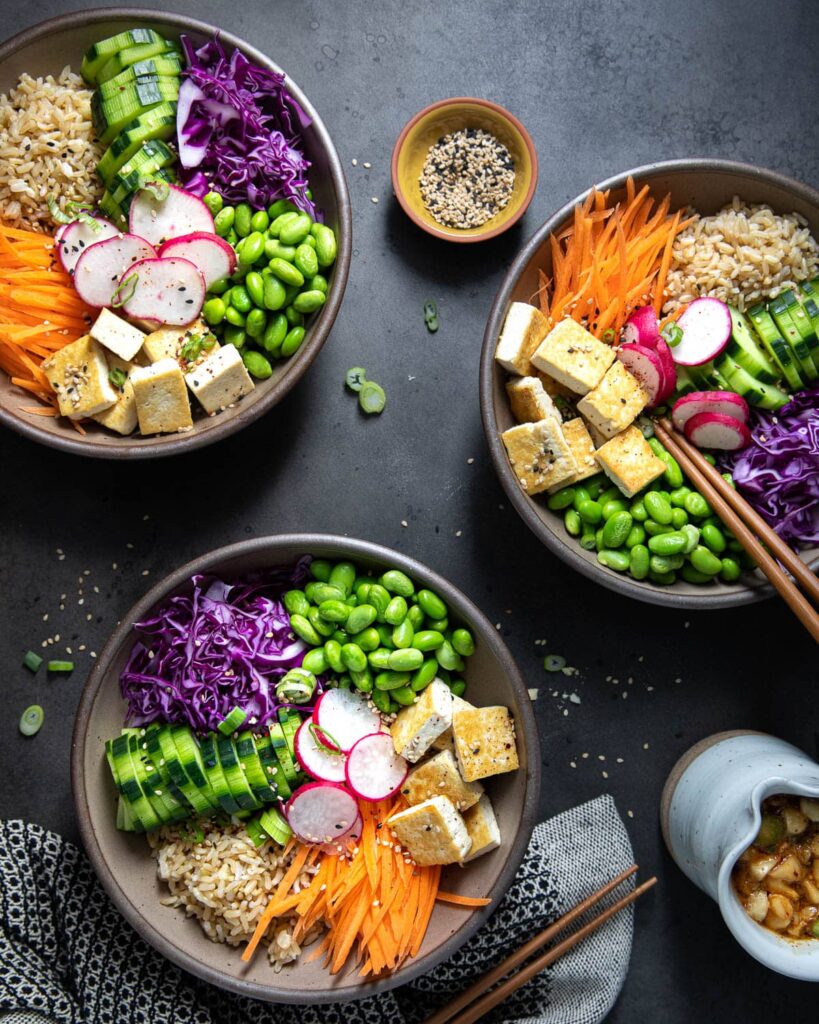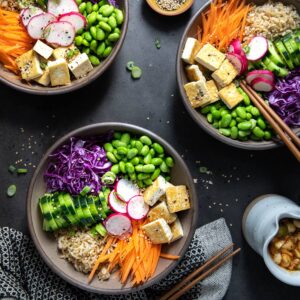 Loaded Plant-based Poke Bowls
Loaded plant-based poke bowls that are packed with flavor and lots of delicious veggies, tofu and brown rice!
Ingredients
1

cup

brown rice

(see notes)

1 ½

cups

water

1

(14 ounce) package

extra-firm tofu

Black pepper to taste

2-3

teaspoons

avocado oil

2

cups

red cabbage

3

large

carrots

1

medium

cucumber

4

radishes

2

cups

shelled edamame

(thawed)
Sauce
⅓

cup

orange juice,

freshly squeezed

¼

cup

lemon juice,

freshly squeezed

¼

cup

reduced sodium Tamari

(or soy sauce)

1

tablespoon

toasted sesame oil

2

teaspoons

ginger,

peeled and grated

¾

cup

macadamia nuts,

coarsely chopped

3

green onions,

sliced

½

teaspoon

gochuru (Korean chili powder) or ¼ crushed red pepper
Optional Toppings
additional sliced green onion, sesame seeds, seaweed (nori)
Instructions
In a 3 quart saucepan, cook one cup of brown rice per instructions on bag. Brown rice usually calls for 2 cups of water for one cup of rice. I would recommend using 1 ½ cups of water. Bring water and rice to a boil and cover. Reduce heat to a simmer and cook for 25 minutes. Remove from heat and let sit for 10 minutes, covered. Fluff rice with a fork when done.

While the rice is cooking, drain the tofu and place on a clean dish towel. Remove the excess water then wrap the tofu in a clean dish towel. Set aside.

Combine the sauce ingredients in a bowl and stir to combine. Set aside.

Slice the tofu 3 times through the middle to get 3 even large rectangles. Then slice each 3 to 4 times both directions to get 1" slices. Heat a non-stick pan on medium high heat. Add 1-2 tsps oil. Add tofu to pan, sprinkle with black pepper and brown both sides of the tofu. Add additional oil as needed. Place tofu on a plate and set aside (while tofu is cooking you can start preparing the veggies, see step 5)

Prepare the veggies; slice the red cabbage thinly, peel and julienne the carrots, slice the radishes, and slice the cucumber into thin half moons.

Combine equal portions of each item into 4 bowls. Top with sauce and any other optional toppings. If you are storing for later use, please store the sauce separately. You can also store the rice and tofu separately and warm them before consuming. All other ingredients can be stored together. Will keep in the fridge in covered container for up to 5 days.
Video
Notes
I tested this recipe using the stovetop method and Instant Pot for the rice. I found that the Instant Pot makes 1 cup less rice than making it on the stovetop. It could be the additional water that is used for the stovetop method. The stovetop method will make 3 cups of brown rice and the Instant Pot will make 2 cups. Adjust the amount of rice you make to the method you are using and how much rice you want to serve in each bowl.